I never really considered myself a runner. Even now that I am running regularly and training for races, I still have a hard time calling myself a runner. I'm not sure why. Maybe because I've done it off and on for years and never really stuck with it? Your guess is as good as mine!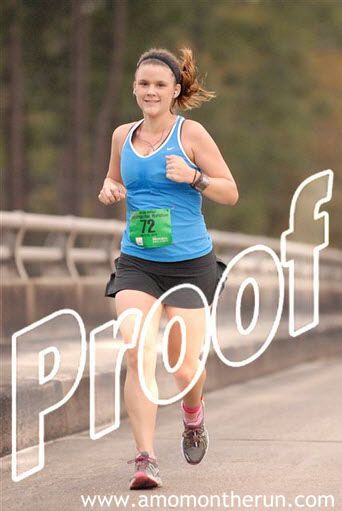 I started running again in the summer of 2010. Adam and I were trying to get pregnant with our second baby and things weren't working out the way I planned. It gave me something to focus on other than temperatures, cycles, charts, ovulation, etc.. then once I got pregnant I was so scared of miscarrying that I quit cold turkey. I didn't run once throughout my entire pregnancy with Mackenzie or for her first (very sleepless) year. When she turned one, after a year of horrible sleep and crazy weight gain, I told Adam it was his turn. I night weaned her and Adam took over all of the night wakings. I started getting up at 5AM to run again and it felt SO good.
Sometimes it's hard to find time to run.  I do struggle sometimes with spending an hour or two a few times a week doing something that seems so selfish and something that my family can't always enjoy with me, but I know in the end it is best for us all. When I'm strong and healthy and happy, it makes me a better wife and a better mama.
Personal Records:
Upcoming Races:
Run Diva 5K – September 12, 2015
Fall Frolic 5K – October 3, 2015
Disney's Wine & Dine Half Marathon – November 7, 2015
Run Turkey Run 5K – November 26, 2015
Space Coast Half Marathon – November 29, 2015
Gingerbread Man 10K/5K – December 5, 2015
2015 Races:
2014 Races:
2013 Races:
My favorite gear:
Asics GEL-Kayano 21
Garmin Forerunner 220
Feetures! Running Socks
Inspire for Women Yurbuds
Lululemon Pace Setter Skirt
Lululemon Cool Racerback Tank
Sweaty Bands