This past weekend, Adam and I (along with some friends) ran the Sweetheart 5K at the St. John's Town Center. The race started and ended at Moxie Kitchen + Cocktails and while it was small, it was probably one of the most fun local races that I've run.
I didn't have a time goal going into the race since my "training" (yes, in quotes, because I can't really call it training without laughing a bit) has been so off.  And also, I hadn't run since the ZOOMA 12K.  I was so burnt out and really just sick of things hurting all the time.
So instead of having a time goal, I decided to use this race to gauge where my fitness is.  I wanted to run the whole thing without stopping for walk breaks, but my body said no.  When I run, my body seems to go on auto-pilot and wants to settle into a comfortable 9:30-9:45 pace.  Right now, my cardiovascular system is so undertrained though that I can't hold that pace for more than a few minutes at a time.  I tried to run slower but I felt a twinge in my knee, so I decided to just go with what felt good and embrace the walk breaks.  For now.
The course was nice – there were two water stops and volunteers at every turn so even the directionally challenged folks, like myself, couldn't get lost.  It wasn't crowded at all and even at the start, I had plenty of room.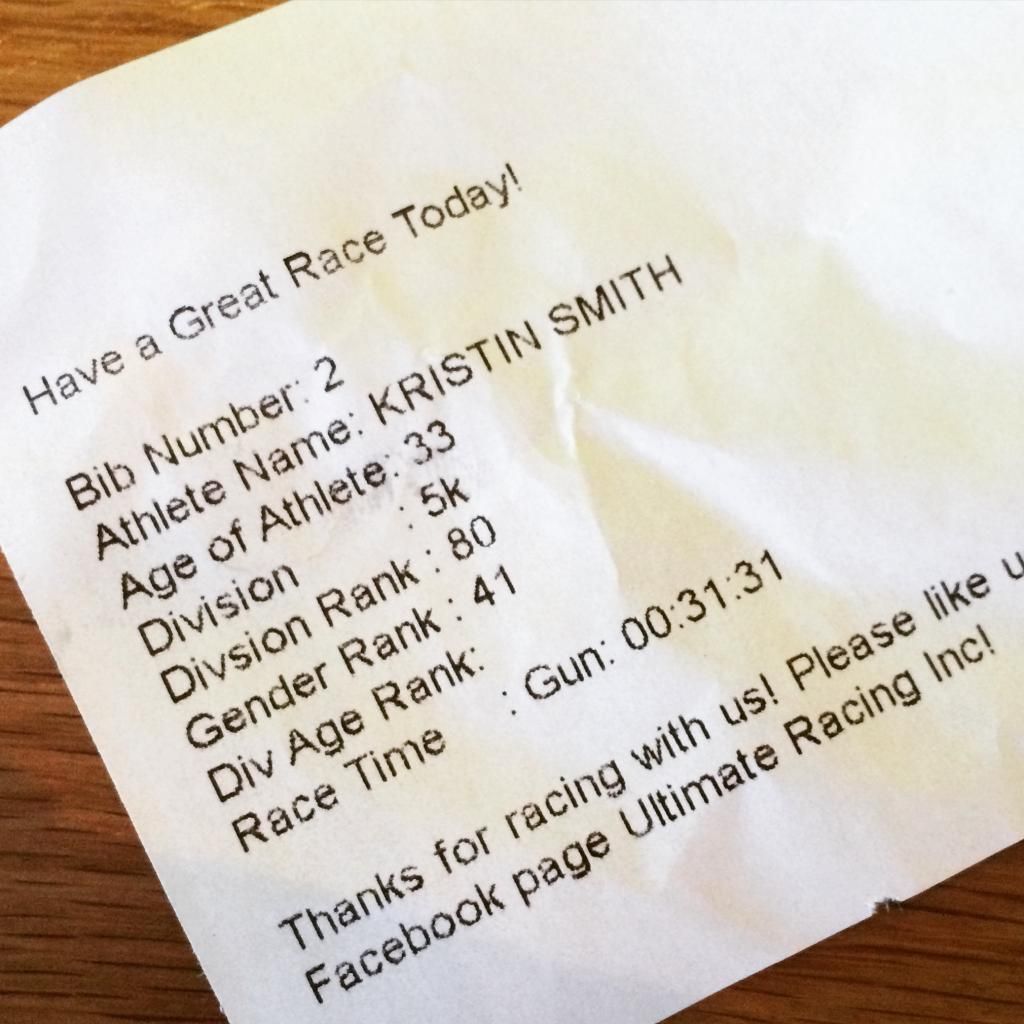 In typical Kristin style, I forgot to start my watch until a bit after we finished, so it shows that I ran 2.97 miles in just under 30 minutes.  My official finish time was 31:31.  I'm happy with it – I have a lot of work to do to get back where I want to be, but I'm not in as bad of shape as I thought I was.
The Sweetheart 5K is an Ultimate Racing, Inc race and prior to this I had never run one of their races.  I was really, really impressed.  I really liked the print outs with our finish times on them.  It's so much nicer than having to download random apps to view your finish time!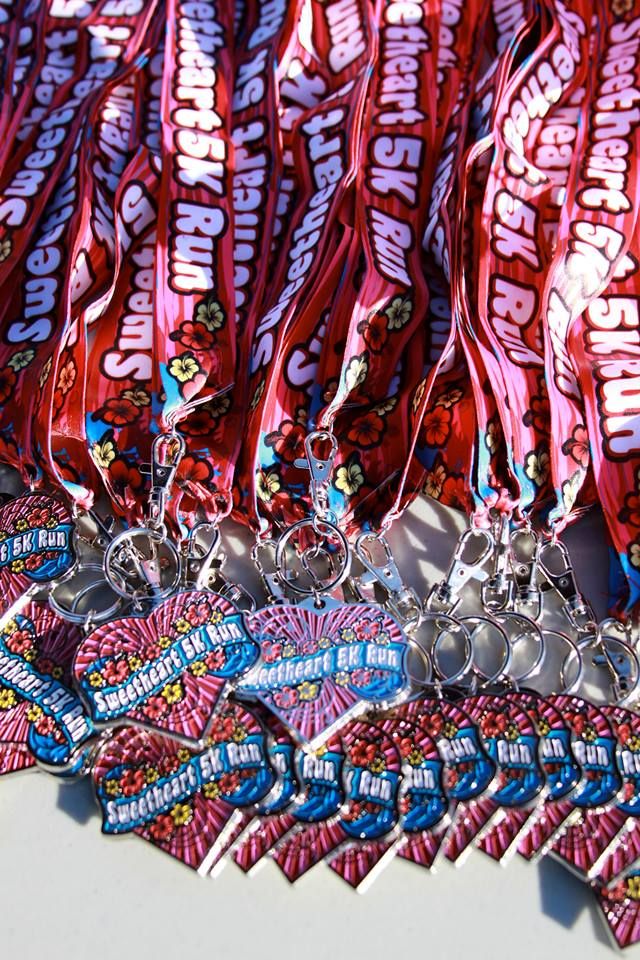 And for those of you who like bling, you really need to check out the Ultimate Racing, Inc race calendar.  They have custom die-cast medals for all of their signature events and they're really nice.  Durable too.. I know, since Mackenzie chucked mine across the living room when we got home, ha!
I think my favorite part, by far, was the after party.  Part of what I love about running is the community.  Runners are just really great people and when you give us a reason to hang around after a race and mingle, it makes the event a lot more fun.  It makes me a lot more likely to return to run it again too.
I think these boys single-handedly polished off at least half of the mimosas.  I have to admit, they were delicious.
Since the race ended at Moxie, they had a table set up with amazing cheddar biscuits and cinnamon raisin scones.  There was also a really sweet lady there from Edible Arrangements with fruit.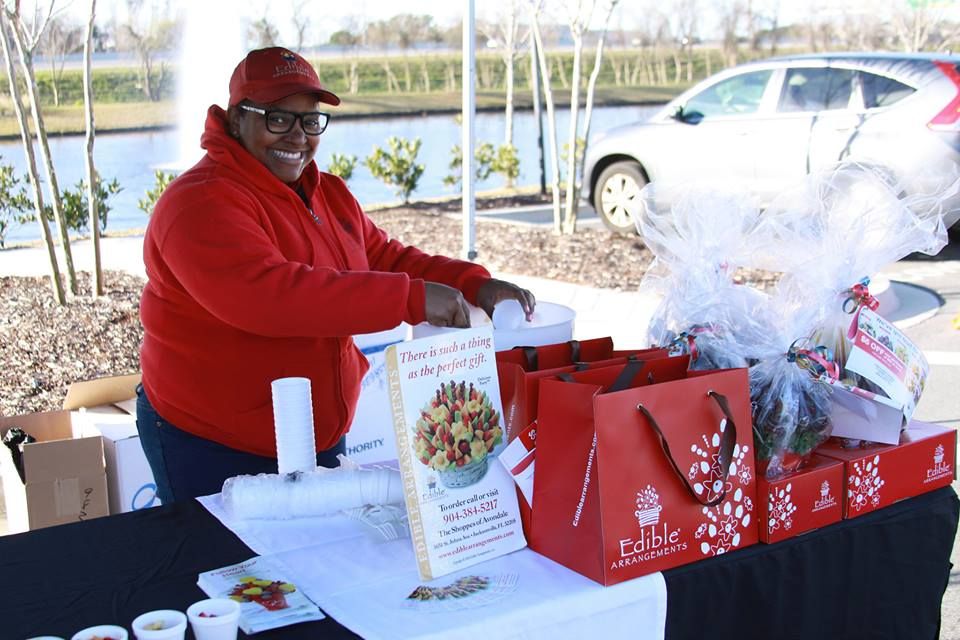 In addition to the yummy food, there was a DJ and several booths with vendors to buy all kinds of fun stuff.  If I hadn't been with just guys, I'd definitely have taken the time to check them out.  There was a group from Orange Theory there doing a push-up contest (the guys were party-poopers and wouldn't enter!) and free massages.
The prizes were insane too — definitely a good reason to work on getting faster!  The overall winners all took home edible arrangements, massage gift cards, Jacksonville Running Company gift cards.. even the age group winners got $10 gift cards to JRC.  I was a little lot jealous!!  Since it was a Sweetheart 5K, they also let you register as teams (Adam and I were Mr. & Mrs. Smith — so creative!) and you were eligible for even more prizes.
We hung around for a bit afterward and had a chance to chat with the race director.  He's a super nice guy and really passionate about bringing events to Jax that really focus on the runners and what we want.  Adam and I both told him that he and his team are doing just that, and quite well!  I'm looking forward to my next race with them in a few weeks!
Disclosure: As a brand ambassador for Ultimate Racing Inc, I received a free entry into this race. As always, all opinions are my own!