If you read my Enchanted 10K recap, you know that I went into the Disney Princess Half Marathon not feeling my best.  I'd been battling a nasty sinus infection and was super stressed with work.  Despite all of that, I was really excited to run the half.
If you've been reading for a while, you know that last year I ran the Princess Half and it was my very first half marathon. At the end of the race last year, I was hurting.  I actually wasn't sure how I'd managed to finish the race because my foot (boo achilles tendonitis that I'm STILL battling!) hurt so bad that I was limping while walking.  My goal this year was to finish strong and maybe beat my time from last year.
We stayed off property at Caribe Royal (loved it, definitely recommend it!) so that we'd have a separate room for me to get ready in the morning so I didn't wake up Adam and the kids.  I know a lot of people love staying on property because Disney offers buses from the host resorts to the race start, but we get much nicer rooms for the same price as a Disney value resort (and often times cheaper) and I don't find that driving to the race is a hassle at all. Anyway, I left the hotel headed to my car and the humidity hit me in the face, it was brutal.  I changed my goal to finish and have fun, which is pretty much always on my list of goals.  I got to my car and found this sweet surprise from my hubby waiting for me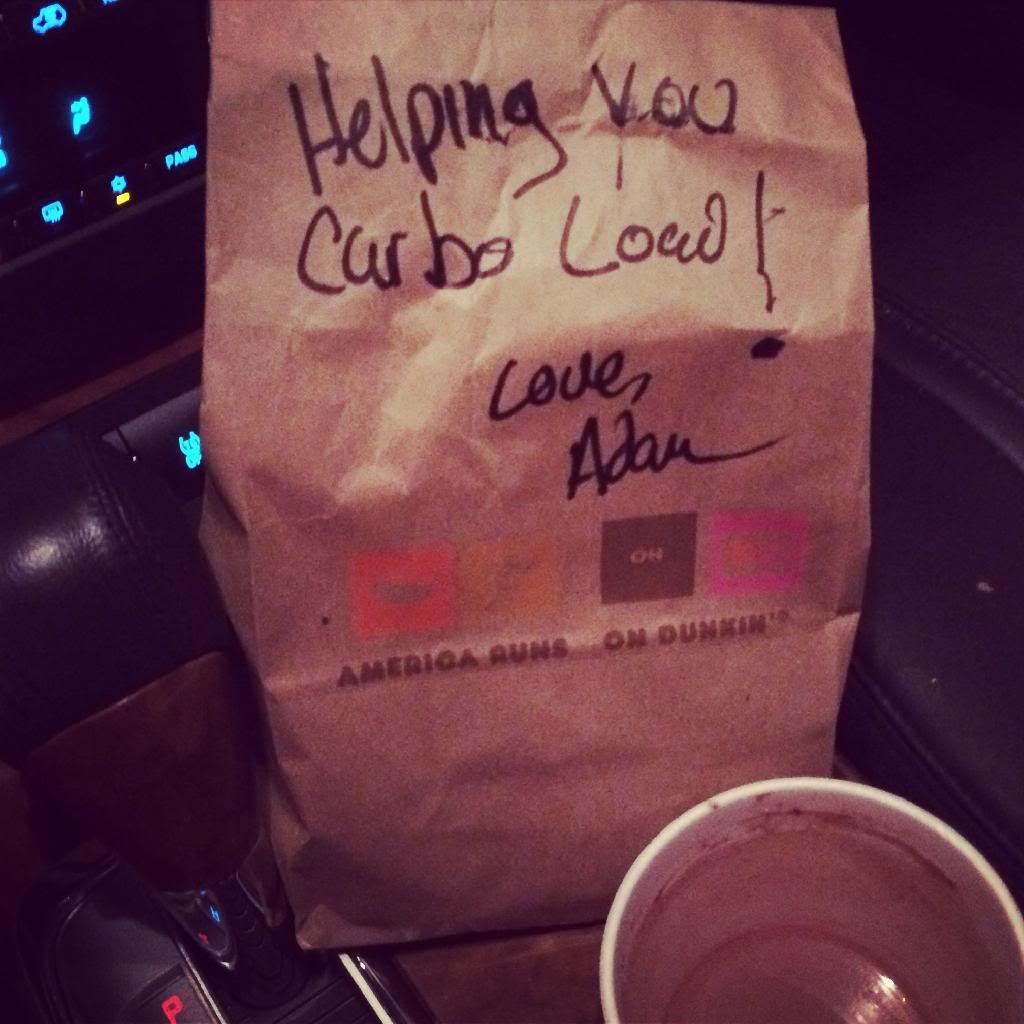 I got to the Epcot parking lot, found a place to park, and decided to sit in my car and wait for a bit since I had a good bit of time to spare.  I finished my coffee and bagel with peanut butter and about that time, Andrea texted me to let me know that she and Cori were there so I headed over to meet up with them.
We hung out and chatted for a bit before we made a quick stop at the port-o-potties and then over to the corrals.  I'd planned to meet up with my running buddy TK in the corral, but she didn't have her phone with her and I couldn't find her so I finally just found a place near the front to sit and waited for the race to start.  Shortly after 5:30, we were off!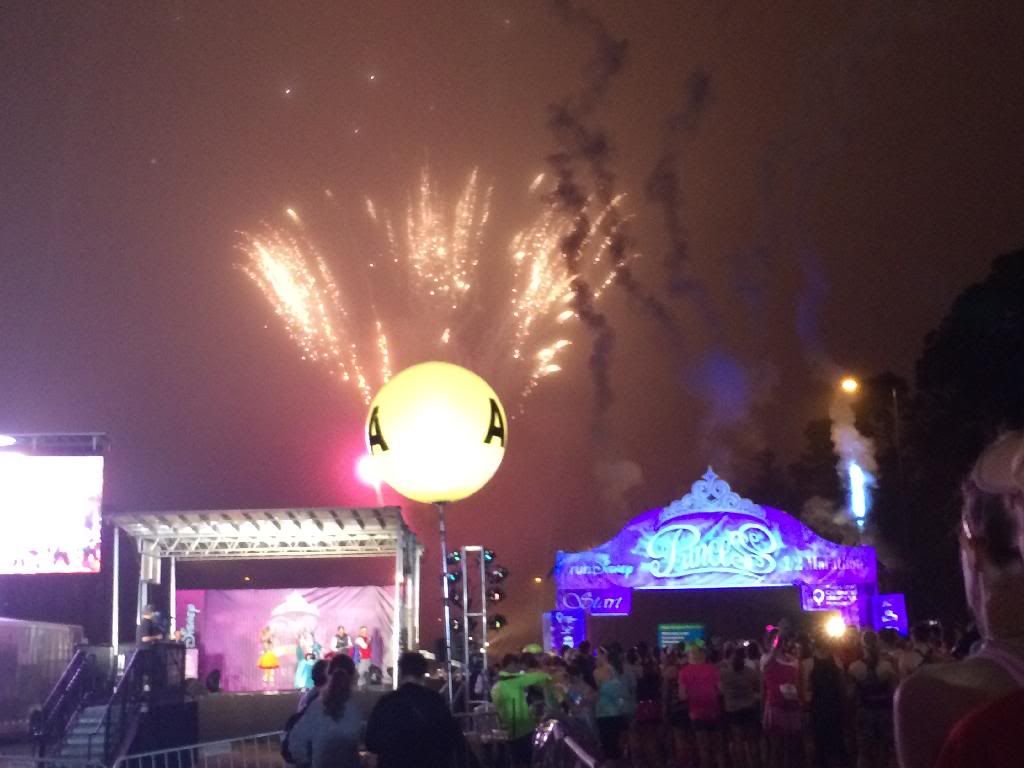 I was a little bummed that I couldn't find TK since I really didn't want to run the entire race alone.  I knew with the humidity I was going to slow down quite a bit from my normal pace, and the thought of being out there plodding along for so long on my own was just not fun.  Thankfully, I caught a glimpse of her on the other side of the road before we hit the first mile marker and made my way across the road to her.  Yay for not running alone!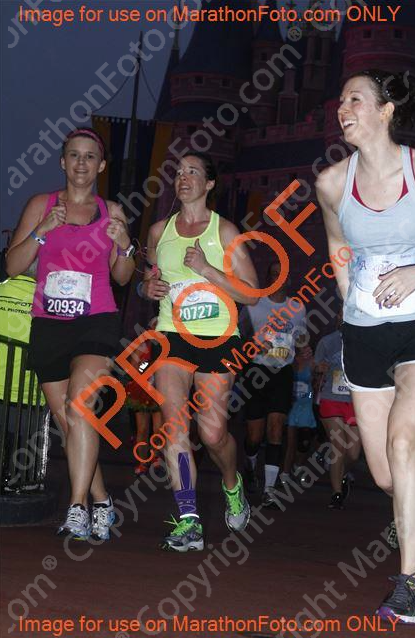 TK is a Galloway runner and runs 4:1 intervals, so we had a quick chat about our plan for the race (which was basically run the intervals and keep the pace slow) and then started chatting about all kinds of random things.  The miles were ticking by, I love how that happens when you have someone to talk to.  We both had to use the restroom, so we made a quick potty pit-stop at the Ticket & Transportation center (yay for real bathrooms!) and then headed toward the Magic Kingdom.
We only deviated from the 4:1's twice — we hit a walk interval when we were on Main Street and ran through it, then we took an extra walk break somewhere around mile 10.  The entire time we were running, TK kept a close eye on her pace and when we'd speed up she'd reign us in.  I kept thinking to myself that it was a little odd since she's a strong runner and a speedy one, but I didn't want to ask why she wanted to keep it so slow.  I just enjoyed the company and the easy run!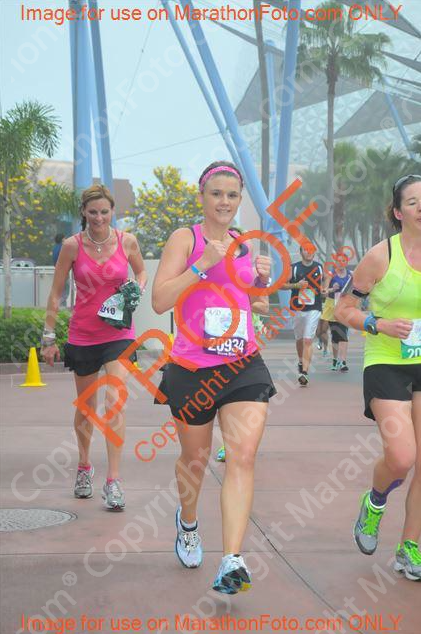 Seriously, before we knew it we were in Epcot.  When we realized where we were, we were both surprised that the race seemed to have gone by so quickly.  I loved running around the world in Epcot at the marathon in January and was a little bummed that we didn't get to this time.
As we exited Epcot and made our way toward the finish line, TK told me to go ahead and sprint to the finish if I wanted to but that she needed to keep it slow.  I told her no way, we were finishing together but thought to myself again that it seemed really out of character for her.  I remembered sitting with her husband and another friend at the finish line of the Tower of Terror race and seeing her FLY by other runners like they were standing still.  I had an idea of why, but didn't ask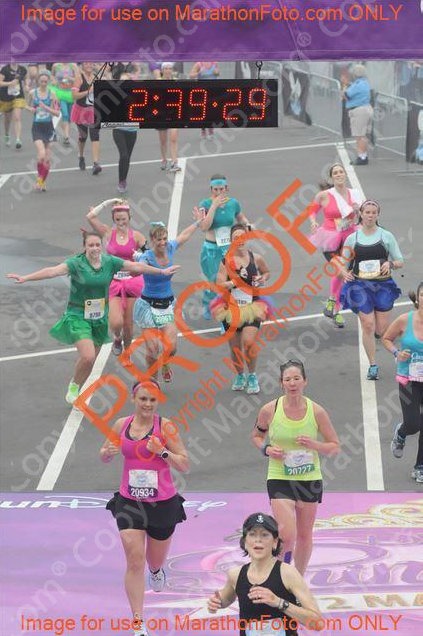 We finished together with an official finish time of 2:32:18.  Definitely not a PR and not even faster than last year, but I had fun and it was the first race that I ran without any music at all.  No texting anyone either!  We hadn't run together in a while and had lots to chat about so there was never a need for it.  You can see the details on of our race on Strava, and here are our splits:
1 – 10:39
2 – 10:47
3 – 11:10
4 – 12:11
5 – 11:35
6 – 11:13
7 – 11:06
8 – 11:13
9 – 11:26
10 – 12:28
11 – 12:23
12 – 11:34
13 – 11:13
.1 – 9:33
So if you're like me, you're wondering where I'm going with all of the talk about keeping it so slow and it being out of character for TK — turn out she wasn't the only one running with me that day!  In fact, we had a lovely little foursome!  Just a few days before the race she found out she was pregnant and then shortly after found out she is having TWINS!  I'm so, so excited for her and her family!
After the race, we hung out for a bit and caught up with Andrea and Cori again.  I was completely wiped out though from doing the Glass Slipper Challenge (I ran the 10K the day before) and being at the Magic Kingdom with the kids all day Saturday.  I went back to the hotel to shower and pick up Adam and the kids, we spent the morning at Magic Kingdom then headed home.  I passed out in the car and slept the entire way home, then went to bed at 8:30.  I don't know how you Dopey runners did it, I was dead after just two days!