Like I mentioned in my post about the day before the race, I'd really been looking forward to the Walt Disney World Marathon since the Space Coast Marathon.  I'd really been beating myself up about how I performed there and knew that I could do a lot better.  I think there were a lot of things that contributed to me not really being very motivated to push myself that day — I was bored, the hills were annoying, and I really just didn't feel up to it.  That wasn't the case the morning of the Walt Disney World Marathon.  I really wanted to do better, I wanted to do what I knew I was capable of and what I had trained for.
That being said, I went into the race with three goals:
A – 4:45
B – Under 5
C – Finish
They're a bit slower than my goals were at Space Coast, but I had a better idea of what I was getting myself in to and I wanted to be realistic.  A 4:45 finish would be a nearly 30 minute PR so I knew it was a lofty goal, but I thought it was within reach.  I thought 5 was definitely within reach.  And I knew that barring some crazy thing happening, I'd finish.
The Walt Disney World Marathon starts just outside of Epcot, heads over to the Magic Kingdom, then around the Speedway, past the waste facility, through Animal Kingdom, down a long, boring stretch of highway, into the Wide World of Sports, then on to Hollywood Studios, loops back around the Boardwalk, then finally around the World Showcase and ends in the parking lot at Epcot.
Since Disney added in new corrals to try to ease the congestion on the course, I had a bit of a wait once we made it to the corral.  It was about 30 minutes from the time the first runners started until my corral went.  I thought it was a little weird — I was in A for the Princess race with a slower time, but J for this race.  It ended up working out well because it kept me from starting too fast.
The first five miles took us right up to the Magic Kingdom.  I was well rested, well tapered, and full of energy so my legs just wanted to go.  I remembered all to well what it felt like to use up all of my energy in the first part of the Space Coast Marathon, so I tried really hard to keep myself at a slow, steady pace.  To hit my A goal, I needed to try to keep it around 10:53.  I kept checking my watch to make sure I stayed close to it without going over.
Mile 1 – 10:37
Mile 2 – 10:15
Mile 3 – 10:40
Mile 4 – 10:25
Mile 5 – 10:34
We hit Main Street in the Magic Kingdom right after Mile 5.  That's probably my most favorite mile of the entire race — I love running through the places we spend so much time with the kiddos, we have so many great memories there.  Add in the massive amounts of spectators cheering for you and it's really easy to zone out and just run.
Mile 6 – 10:34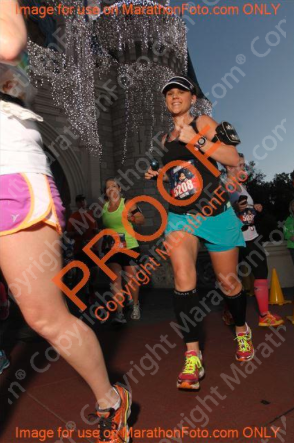 The next two miles take you backstage at Magic Kingdom, then past the Grand Floridian and Polynesian.  I ran past Andrea's parents here and yelled hi, but they missed me in the crowd of runners.  I was feeling really great and struggling to keep it slow.
Mile 7 – 10:23
Mile 8 – 9:59
Going into the Speedway there was an inverted hill.  It was so steep that most of us slowed to walk so we didn't fall down it.  Then the uphill was equally steep.  Thankfully it was short.  A lot of the other runners were frustrated that we slowed so much (the course narrowed considerably with the steep drop) but I'd rather take it easy than risk injury.
I caught up with Andrea on the Speedway as she shifted to a walk break (she's a Galloway runner), so I walked with her for a minute to see how she was feeling since she went into the race with an injury, she was doing great so we snapped a quick picture and I was on my way.
Mile 9 – 10:55
My knee was starting to bug me, so when I got to the water station right after the Mile 9 marker, I stopped to take some Advil.  It took FOREVER for me to figure out which pocket of my skirt I'd stashed it in.  I finally found it, took it, washed it down with some water and took off.
Mile 10 – 11:08
I couldn't decide if I should run a little faster to try to make up for the time I was stopped or if I should just keep going at a comfortable pace.  I decided to run at a comfortable pace, I kept reminding myself – go slow.  When you look at the course map, this part looks like you're running through the woods.  It was just a 2-lane road without much going on.
Mile 11 – 10:17
Mile 12 – 11:11
The next mile took us through Animal Kingdom.  There were handlers out with some of the animals, which was kind of fun to see.  I loved running through the park and especially loved that there were real bathrooms!  I saw one that was literally steps off the course and popped in really quick.  I think I probably over hydrated the day before.. oops.  A huge perk of Disney races is that there are actual bathrooms on the course – yay for not trying to get everything back in place while also trying not to touch anything in a port-o-potty.
Mile 13 – 10:31
I knew Adam was waiting for me outside of Animal Kingdom, so I started looking out for him as I exited the park.  I stopped to chat with him, told him I was feeling really great, and grabbed a bottle of nuun from him.  Disney provides Powerade on the course, but after having stomach issues at Wine & Dine, I decided to stick with what I knew worked for me.
I also stopped at the medical tent right before Mile 14 to put BioFreeze on my thighs.  I am actually not sure what made me decide to stop at that point, but I remembered my friend Carter telling me how good it felt and I was a few minutes ahead of the 4:45 pace group, so I figured why not.  He was right, it was amazing.  I even texted Andrea to tell her that she needed to try it too.
Mile 14 – 11:25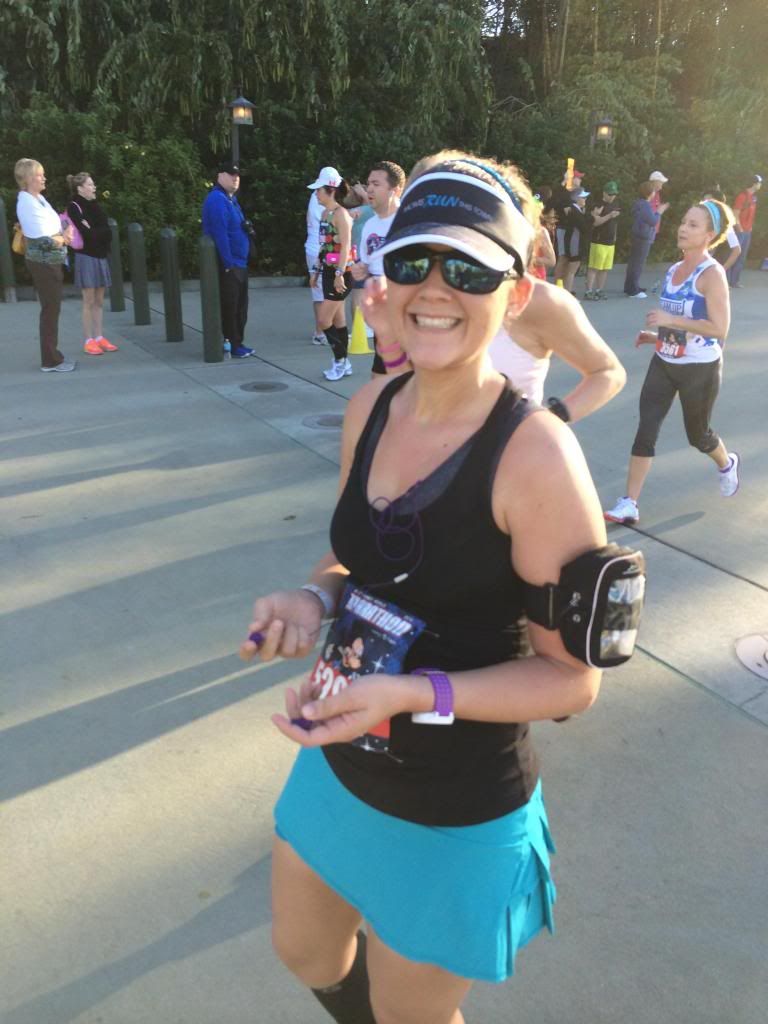 The next few miles are where you start to hit the overpasses and you're running on a highway and to be honest, it was boring.  I knew the hills at Space Coast wore me out, so I decided I'd walk up them.  There was a pretty long hill going into the Wide World of Sports and I walked the entire thing.  I could have run and in hindsight, probably should have, but I remembered how I felt at Mile 18 before and I didn't want to hit the wall again.
Mile 15 – 11:13
Mile 16 – 12:17
Mile 17 – 12:04
Right around Mile 17, they were passing out ice cold wash cloths. I had a flashback to how amazing that little blue cloth was at Space Coast and was so, so happy. One minor difference though, it wasn't hot. I started to wipe my arms off and got a chill. So instead I wiped my face, then decided I'd run with it in case I changed my mind and wanted it later. Dumb idea, Kristin.
The next five miles were the worst of the race. Not awful, but the constant twisting and turning on the sidewalks and the narrow paths, and random terrain in the Wide World of Sports was kind of annoying, then the ramp going into Hollywood Studios, it was just blah. I stopped during Mile 19 for another potty break and took a minute to splash some water on my face and stretch. I stopped again in Mile 22 to put more BioFreeze on my legs and chatted for a minute with another runner. I felt bad for her, she was hurt and wasn't going to be able to finish.. I felt really bad leaving her behind.
Mile 18 – 11:44
Mile 19 – 12:32
Mile 20 – 11:54
Mile 21 – 11:35
Mile 22 – 12:43
Around this time is when I realized that carrying the soaking wet wash cloth was not smart. It kept dripping water into my shoes, so now my feet were all soggy and wet and sore. Mile 22 also had an on ramp, so I walked up it. I was actually pretty proud of myself because up until that point, I'd been running most of the way without stopping except for walking at the water stops and up hills, to use the bathroom, and for BioFreeze. Okay now it sounds like a lot, but it didn't feel that way!
Mile 23 – 11:50
Just before Mile 23, the 5:00 pacer caught up with me. I heard her telling her group that there was chocolate up ahead and to only take one or two pieces because any more may make you sick to your stomach. I'm not really a fan of Hershey's miniatures, but those things were so, so good. I decided to be a rebel and not just take one or two, I grabbed one of each flavor (so 4 mini's) and took a little break to enjoy them. At that point, I also decided I'd let myself walk if I felt like it. I knew I wasn't catching up to the 4:45 time I wanted but I figured if I was around the 5:00 group here and felt okay, then I'd hit my B goal and I was good with that.
I soaked it all in going through Hollywood Studios, I gave lots of high-five's to the kids out cheering.  It was a lot of fun.
Mile 24 – 12:00
The next mile took us through the Boardwalk, which is always fun!  I ran past some of our friends (hi Mike & Rachelle!) who ran the half the day before, and past our hotel — and didn't even have the urge to stop!  There was a sweet lady here handing out pretzel rods and I took one, and took a quick second to reminisce about Mr. Pretzel at Mile 21 of Space Coast.
Mile 25 – 12:04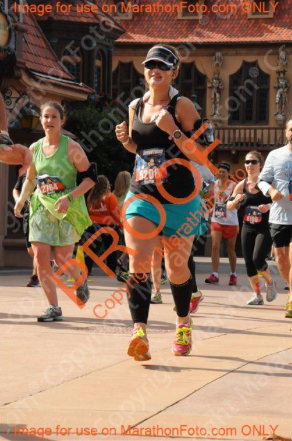 The last mile was through Epcot and I loved it.  There were a lot of people out cheering, so much to look at and take in.  So many amazingly delicious smells.  I realized I was really, really hungry.  I ran through China and seriously considered making a pit stop to get a snack, it smelled wonderful.  My friend Jessi ran the Disney Marathon in 2010 and she said all she wanted when she got to Epcot was a margarita and a turkey leg.  I totally understand now!  I really don't know why this split was so slow, I don't know what I was doing.
Mile 26 – 12:38
Oh wait, yes I do.  I was staring at my watch.  I was so, so annoyed.  I hit 26.2 miles and my watch was at 4:56.  I STILL HAD HALF A MILE TO GO!!  I literally stopped in the middle of running, took a [blurry] picture of my watch, and was just annoyed.  Who does that?!  Apparently I do!  I remember getting to the gate right after you hit the Mile 26 marker and thinking to myself "You're not going to be officially under 5 hours, so you might as well look good and strong when you finish!"  There was a fence just before you make the turn where all of the finish line spectators can see you, so I stopped for a second to stretch my legs and took off!
I high-fived Donald at the finish line and immediately started wondering when I could do it again.  Runners are crazy like that

 Seriously though, I want an official time that starts with a 4, gosh darnit.  Actually, being honest, I still want 4:30 but that's going to take some time and training.  I know I'll get there, eventually.
I really wanted to stick around and wait for Andrea and Cori to finish since it was their first marathon, but we had to get back to the hotel to shower and check-out.  We did that and headed back to Epcot to eat.
And I finally got the Chinese food that smelled SO good when I ran past it.  It tasted as good as it smelled too!  I'm not sure what was on those noodles, I think it was a spicy sesame dressing, but it was delicious and I've been craving it ever since.
Now that I have two marathons under my belt, I feel like I've learned a lot.  I told Adam after I finished that I knew I could do better.  The distance still intimidates me though, so I really struggle mentally.  I'm so scared to push too hard and run out of gas long before the finish line.  I'm not planning to run another marathon until next fall, so I think I'm going to take some time to really work on improving my mental game.  I need to start making myself work hard on my long training runs so I can hit my time goals for long races.
Also, I can't decide if I'm calling this a B or C goal day.  Maybe a B-?  Technically I did run 26.2 miles in under 5 hours, but.. my official time was 5:01:04.  What really gets me though is all of the random times I stopped that I didn't need to (the 2nd potty break, for BioFreeze, chatting with the injured runner, chatting with Adam) because I know all of that adds up to well over a minute and 4 seconds.  So yes, I'm kicking myself again. Don't get me wrong, I had a great time and that's what is important, but I still want to be under 5 hours!
The fun part will be deciding which marathon will be next one where I try to do it..
What's your favorite marathon?
Do you use your official race time or the time from your watch when determing if you met a goal?