Marathon training starts soon (next week, ack!) and I've been thinking a lot about what I want to do differently this training cycle.  I ran my first marathon last December and it was hard.  Really, really hard.  I ran my second marathon six weeks later and it wasn't so hard.  Physically demanding?  Definitely.  Mentally though, I was in a much better place.  I knew I could cover the distance and I knew that not hitting an arbitrary time goal that I came up with wouldn't kill me.
Something else happened in the six weeks between those races though, something that opened my eyes to what really happens at the finish line of a marathon.  I volunteered for a local race and got to see the other side of the finish line.  It is a really, really amazing place.  I learned a lot from it.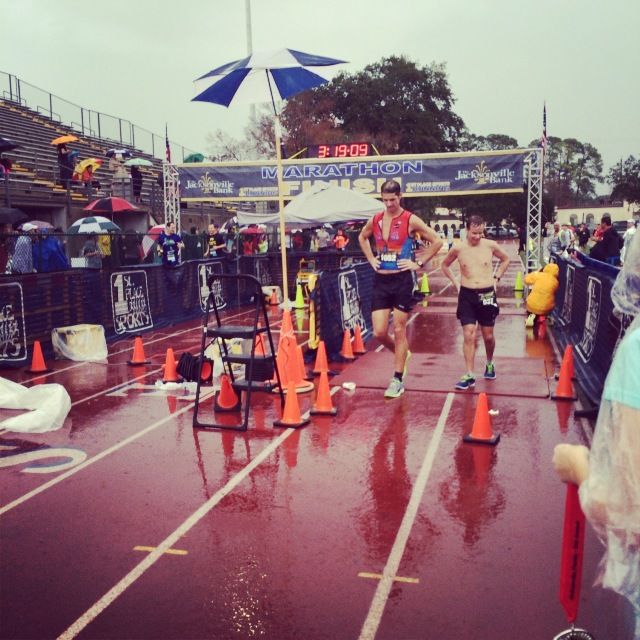 The finish line of a marathon is an amazing place.
A few weeks before Thanksgiving, I was chatting with my good friend Jenn (from Runs with Pugs) about the upcoming Jacksonville Bank Marathon.  I'd been toying with the idea of volunteering for a local race, as a way to give back to the local running community that has been so good to me, and I couldn't think of a better way to do it, than to hand out medals at the finish line of a marathon.
The big lesson I took away from the entire experience is that runners are an amazing group of athletes.  The running community is one that I am so glad to be a part of.  I cannot even begin to describe the overwhelming amount of emotion that I encountered, standing just a few feet beyond the finish line.  I hugged runners that killed their goals and earned huge PR's.  Total strangers that were so elated that they grabbed us in big bear hugs while they celebrated.  I didn't even mind that they were stinky and soaking wet (it poured that morning, not a little drizzle, but full on pouring down rain).
I loved watching runners loved ones meet them after they finished – watching them embrace and celebrate their accomplishment.  There was one guy that walked up to me and asked if it would be okay if he gave his wife her medal.  He told me she should be coming in any minute and that it was her first marathon.  The look on her face when she saw him standing at the finish line with her medal was something I will not soon forget.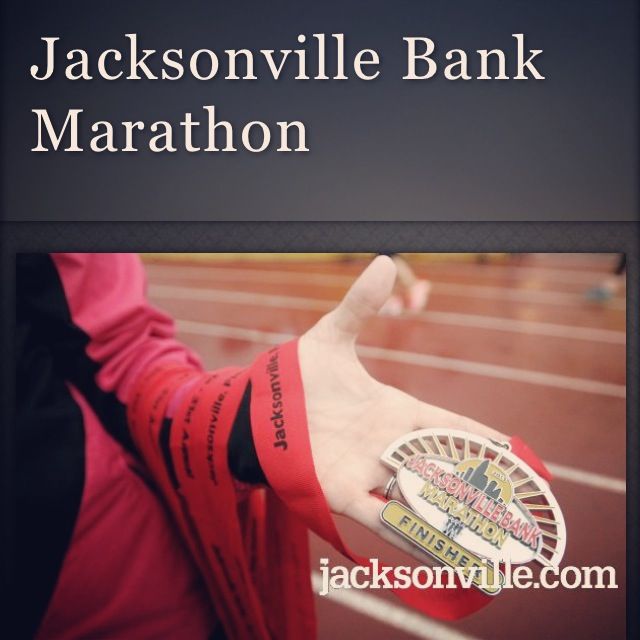 That's my hand, I'm pretty much famous now.
There was a guy there that completed his 300th marathon.  Beyond amazing.  There was an older gentleman, I'd guess he was probably in his 70's, that was really struggling as he approached the finish line.  (The finish was on a high school track, they ran halfway around it so we could see them coming.)  A few other runners went over to him to offer assistance and he wanted nothing to do with it.  He wanted to finish on his own, and he did.  I walked towards him to hand him his medal and he told me "No, I want you to put it on my neck."  So I did and he beamed.
My favorite part of the day, by far, was watching kids meet their parents on the race course just before the finish line and running in with them.  The excitement in their little faces as they watched their parents finish was worth standing out in the cold rain for hours.
The hard part of the day was watching the runners who struggled. As I tried to hand a medal to one guy, he yanked it out of my hand and stormed off, clearly upset. There were several runners who finished and looked like they were high on something. They had this crazy, dazed look on their face. One guy finished, then collapsed just a few feet past me and screamed like I've never heard anyone scream before. It was terrifying. Luckily, the medics got to him quickly and he was okay. (I was told later he had severe leg cramps.)
It wasn't just the runners, though. The family and friends that were there to support them stood in the rain for hours waiting. The volunteers were soggy and waterlogged. The race photographers lost a camera, because it was mounted on a tripod/ladder contraption and the strong winds blew it over. Regardless, we all stayed to greet the runners as they finished. I was soaked to the bone when I got home, but I couldn't imagine leaving any sooner. I wanted to hug them all.
Completely in a daze, some of the runners totally missed me at the finish line and didn't take their medals.
Actually, that's not entirely true. We met some not-so-kind people at the finish line too. There was one lady who came over while we were still opening the medals and hanging them on the rack and asked for hers. We all looked at each other kind of bewildered, because an hour hadn't even passed since the start and we were fairly certain that she hadn't run the half that quickly. She told us she didn't, she decided not to start due to the weather conditions, but she paid for her medal so she wanted it. We sent her over to the race director, who told her the medals were for finishers. A bit later, we caught her trying to steal a medal. For a race she never even ran. I don't get it.
There was another lady who came over to me at the finish line with her son (who finished the marathon, and who had his medal on) and asked me why he didn't get a medal for the half too. I explained to her that marathon finishers received the marathon medal and half finishers received the half medal. She argued and said he finished both distances.. I agreed but tried to explain that it's an either/or thing. You either ran the half or you ran the full, not both.. unless you went back and started again. She got agitated and left. She came back a few minutes later with paperwork showing that she'd registered her son for both distances and wanted his medal for both, as well as his official time for both. Apparently he was a high school runner and needed the times for something to do with college running, I was having a hard time understanding. I wasn't sure what to tell her, so I took her over to the race director and explained to him what was going on. They ended up giving the boy both medals, but unfortunately he wore the timing chip for the half (he was given both) but ran the full distance. It was a mess, I hope they worked it all out.
At the end of the day, I went home exhausted and inspired. I knew from watching as the runners finished, that I didn't give it my all when I ran Space Coast. It inspired me to push harder, run smarter, and to do better at the Disney Marathon (which I did). That day is one I think about often, even more so now that I'm heading into a new marathon training cycle. I hope to keep it fresh in my mind, to remember it when I'm struggling with speed workouts or long runs, so that I can take everything I saw that day and carry it with me across the finish line at marathon number three. I'm anxious, nervous, and excited to get this training cycle started.