Every time I start to write a race recap, I want to say it's one of my favorite races. I feel like I say that about all of the races.. perhaps I just like to run races? Who knows. Last year, I went into pretty great detail about the Bainbridge Half Marathon so I'll spare you this year. If you're not familiar with it though and you're anywhere near South West Georgia, you may want to check it out. I posted lots of pictures of the course last year and it's really pretty.  Adam was running the half this year too, along with my cousins Drew and Celia.  Technically I guess Celia is my cousin-in-law.  She's married to my cousin Daryl, but I like her so I claim her as my own

This race was my PR race last year.  I ran it in 2:08:54 and completely shocked myself.  I'd be lying if I said I didn't want to beat that time this year, but my training was lacking.  I lost a lot of motivation after the Disney Marathon (I guess that's what running two marathons six weeks apart will do to you!)
Going into the race, I didn't really have a goal.  I wanted to PR but I was like 97% sure it wasn't going to happen.  Then when we picked up our packets from my aunts house (Celia picked them up for us) I realized that the kids race started exactly two hours after the half.  Braden was registered for the kids race and I really wanted to watch him run.  I figured I'd give it a shot and see what happened.
For the first few miles, I ran a comfortably difficult pace.  I wasn't killing myself, but I wasn't taking it easy either.  I kept thinking that if I could just push and keep my pace under 10 minutes/mile that I'd finish in time to at least see Braden finish.  One of the great things about this race is how friendly the other runners were.  When I was struggling, there was always someone there to cheer me on and tell me I could keep pushing.  I had a really nice chat with a lady for a mile or so and all I wanted to do was take a walk break, but she kept me on pace.
Around mile 7.5, we passed the best spectators on the course.
I gave Mackenzie a high-five and Braden insisted on a hug, which I loved. Usually when I come home from running, neither one of them want anything to do with me until I've showered. Braden likes to tell me how smelly and sweaty I am. He wanted a sweaty hug though, so he got one.
A few of my aunts and cousins came out to cheer for us too – maybe one day I'll convince them to run it with us.
Somewhere in mile 8, I decided I was done pushing because I was miserable and wasn't having any fun and I stopped to stretch and to wait for Adam to catch up to me.  He was running a much smarter race than I was and was keeping a pretty even pace.  We made the loop around the college and ran back past my Aunt Threasa's house together.  My Aunt Kathy had her camera out and told us to do something fun.. so I attempted to do a leap/jump thing and that was not my best idea.  I did something weird to my hip and it hurt for the rest of the race.
Lesson learned — don't do new things on race day!  

 Adam and I just enjoyed the rest of the race together.  It was actually the first time we'd run a race together and it was nice to have him to talk to.  We took walk breaks when we felt like it and really had fun.
The only part of the day that wasn't great was the timing of the kids race.  I'm not sure what they were thinking.  The kids race used the same finish line as the half and started at 9AM.  When we made the turn onto the side road where the hospital is, we had to dodge kids, which was kind of frustrating.  We all know I love kids, but nobody wants to have to run around them at the very end of a race.  They did have volunteers out asking the kids to move to the side, but.. they're kids

We finished together in 2:16:35, which was unfortunately not in time to see Braden run at all.  I was happy to be finished though.  Drew ran his first half and finished in 2:05 and Celia beat her time from last year by a few minutes and finished in 2:11.
We missed seeing Braden in the kids race by just a few minutes.  I was bummed — I love watching him run!
My dad (he used to be a runner!) ran with him and they crossed the finish line just about three minutes ahead of us.  It stinks to be beat by your 56-year-old dad and your 5-year-old son 😉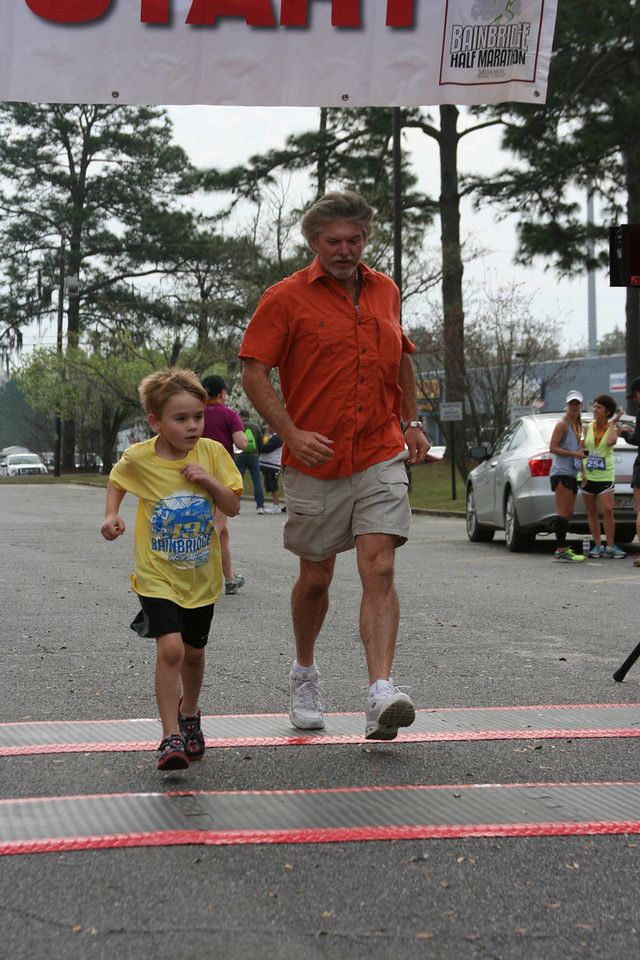 After the race, we hung out for a bit and chatted with our family then went to get much needed showers and lunch!  The Bainbridge Half is definitely one of my favorite races and I plan to run it again next year!
Hopefully I'll be fast enough by then to catch this little guy — how amazing would it be to finish with him??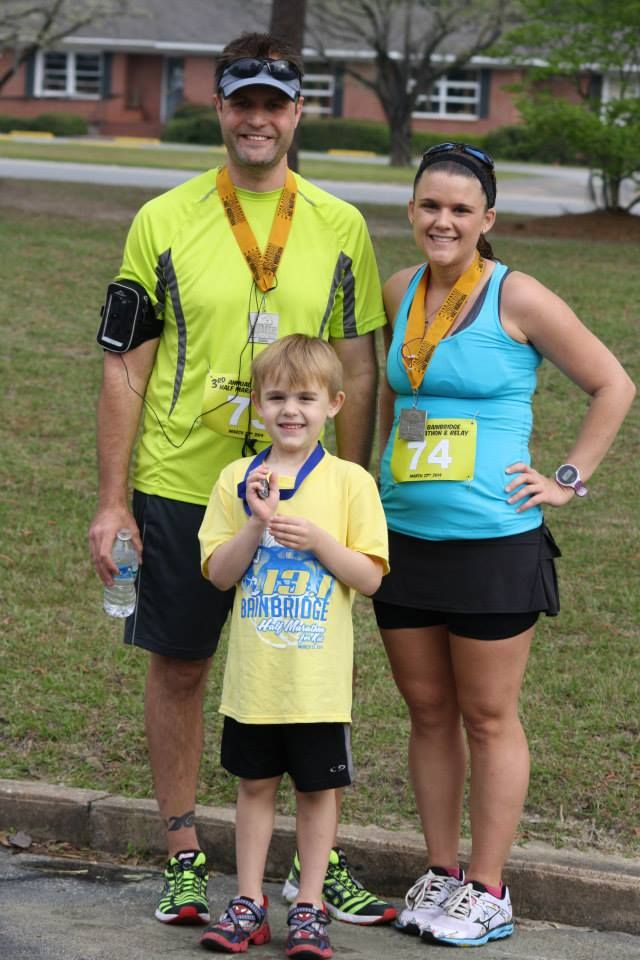 You can view the route and my splits on Strava, or below if you're interested

You can also see the picture that was on the front page of the local paper, The Post-Searchlight, along with the article here.
1 – 9:28
2 – 9:42
3 – 9:29
4 – 10:00
5 – 9:55
6 – 10:36
7 – 10:17
8 – 11:30 < — stopped to wait for Adam
9 – 10:39
10 – 11:25
11 – 10:50
12 – 11:13
13 – 10:50
.1 – 8:47