I kind of don't know where to start with my recap of the Disney Princess Half Marathon, so forgive me if my thoughts are scattered all over the place.  I was really worried about the early race time, I thought there was no way I'd be able to get to sleep early enough to feel well-rested for the race.  I didn't get to bed quite as early as I'd like, but I think I was finally out by 9:30PM and surprisingly slept until my first alarm went off.. and then the snooze.  Have I mentioned that I'm not a morning person?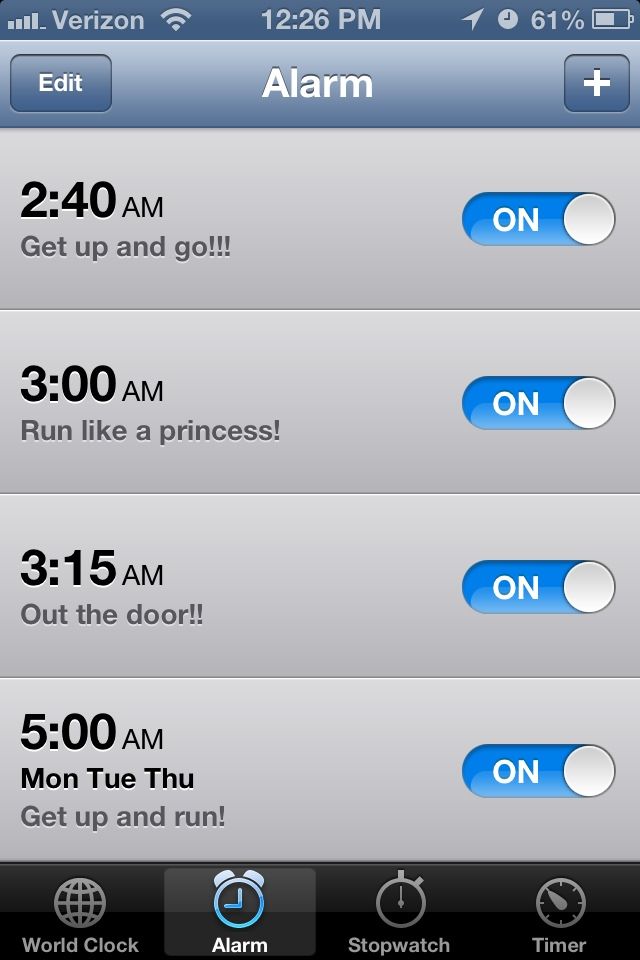 I have a hard enough time waking up at 5:30AM when I have my sweet girl to snuggle with and keep me company.. 2:40AM to run?? What was I thinking!?  I hit snooze a few times and got up with enough time to get dressed, grab a cup of coffee, and get out the door by 3:15.  The race doesn't start 'til 5:35, but you're supposed to be in your corral by 5AM and apparently traffic can be an issue.  I'm glad we left when we did, it took maybe 5 minutes to get from our hotel to the pre-race area. I heard that just a bit later in the morning, traffic was an issue and some girls ended up running to get to their corral!
Since this was my first race, I really didn't know what to expect.  Thankfully one of my good friends from high school runs a lot of Disney races with a friend of hers and we met up before we made the 20-minute trek over to the corrals.
I'm really glad that Andrea and Cori were there – they gave me a few tips that really helped out later in the race. It was nice to have people that I knew to chat with too, so I didn't psych myself out before the race started. They kept my mind off of what I was about to do, so when we did start I was totally relaxed. Thanks, guys

Right on time, the first set of fireworks went off. Before I knew it, they were firing them off for the start of Corral B and we were off! I was bumped up to Corral A at the expo, but I was worried that if I started there, I'd start off way too fast and burn out too soon. Plus, Andrea and Cori were in B. I'm glad I decided to start there with them! They're Galloway/interval runners and planned to stop for lots of pictures, so once we crossed the starting line, we said our goodbyes and I was on my way.
For most of my longer training runs, I listen to the Another Mother Runner podcasts.  Dimity McDowell & Sarah Bowen Shea (authors of Run Like a Mother and Train Like a Mother) had one podcast where they spoke about about A, B, and C race goals.  Basically, the idea is that you don't want to go into race day with just one goal.  There are so many factors that determine how you perform during the race, so it's important to set goals that take that into account.  So, your C goal is the "I barely slept, didn't hydrate, didn't fuel, don't feel well, etc" goal.  B goal is "I feel alright, I can do this, I prepped as best I can".  A goal is "I am totally going to kill this!"  I thought long and hard about what I wanted my goals to be, and this is what I came up with.
Race Day Goals:
A – To run the entire race (minus water stops) in under 2:30
B – To run the entire race (minus water stops)
C – To finish
Since this was my first half, I really just wanted to finish it.  I would have been happy with just hitting that goal.  If I could finish and run the whole thing, I'd be thrilled.  I never imagined I'd hit my A goal, so I didn't even think about how I'd feel if I ran a sub-2:30 half!
The first few miles were pretty uneventful and flew by.  There was entertainment on the course, but it was all highway running toward the Magic Kingdom and it was early on, so it really wasn't all that exciting.  Before I knew it we were passing the 5K flag.  Apparently I somehow missed the 5K timing pad because nobody got an update when I hit the 5K mark.  I swear I ran over it, I guess my chip didn't register.  According to my Garmin, I ran it in 31:35.  The next bit took us through the Magic Kingdom entrance, across the parking lot, then through the Ticket and Transportation Center.  Adam was there, just after mile marker 4 cheering me on.  I loved seeing him and all of the other spectators along the course.  I think my absolute favorite part was seeing the little kids though.  I high-fived pretty much every single one I saw.  Seeing their little faces light up made me miss my kiddos though!  I really wanted them to be there to watch, but the race was so early and like their mama, they are not morning people!
After passing through the Ticket & Transportation Center, we ran past the Contemporary (hello inverted hill, I was not expecting you!) and backstage toward the Magic Kingdom.  I was fully prepared to sob like a baby when I hit Main Street, but I didn't!  It was incredible running past the crowds, everyone yelling and cheering for you!  As cheesy as it sounds, it really was magical.  We made our way over to Tomorrowland, then through Fantasyland and toward Cinderella's Castle.  I got chills running through it – the trumpeters were right about the entrance playing and Prince Mickey and Princess Minnie were just off to the side.  The whole thing felt a little surreal.
I didn't plan to stop for any pictures, but they were taking them with the castle in the background and the line was pretty short so I stopped.  I shouldn't have, it was still dark outside so it is really just a picture of me standing in front of a big black nothing!   My split for the mile with the castle was a bit longer than normal due to the stop, but oh well, live and learn, right?!
We made our way through Frontierland and out the backside of the Magic Kingdom and were back on the highway.  I hit the 10K timing mat at 1:07:24 (10:51 pace, 2:22 estimated finish) and was feeling great – almost halfway done!  The miles between 10 and 15K weren't all that exciting either.  Mostly highway with some character stops thrown in here and there.  I got most of my entertainment from people watching.  There was one scary moment when a runner in front of me went down and turned a shade that I've never seen before.  Thank goodness she was running with friends and they quickly got her to the side and got the medics attention.  I hit the 15K timing mat at 1:41:15 (10:52 pace, 2:22 estimated finish) – over halfway done!
Right after I hit 15K, I got a bit nervous.  I'd been warned that there were 3 big overpasses that started at mile 11.  While waiting for the race to start, Cori warned me that running up them could be a bit painful because not only are they hills, but the pavement is slanted.  She said they run up them on the grass and it's much easier on your joints.  I'm SO glad she shared that with me, because as soon as I got halfway up the first ramp, my ankles were screaming.  I moved over into the grass and made it the rest of the way up relatively pain-free.  There were a lot of people walking the hills, but I run one (sometimes more) on my normal training runs so the incline really wasn't that bad and I was able to push on without walking – yay!
Once I got over the last hill, I knew I was in the home stretch.  Right around mile 12, I started thinking about how good I felt and how maybe a marathon wasn't so far out of reach.  I glanced down at my watch and realized there was a chance I may finish in under 2:15 if I really pushed hard, so I ran as hard as I could, but still kept a smile on my face! Believe it or not, I was actually having a blast!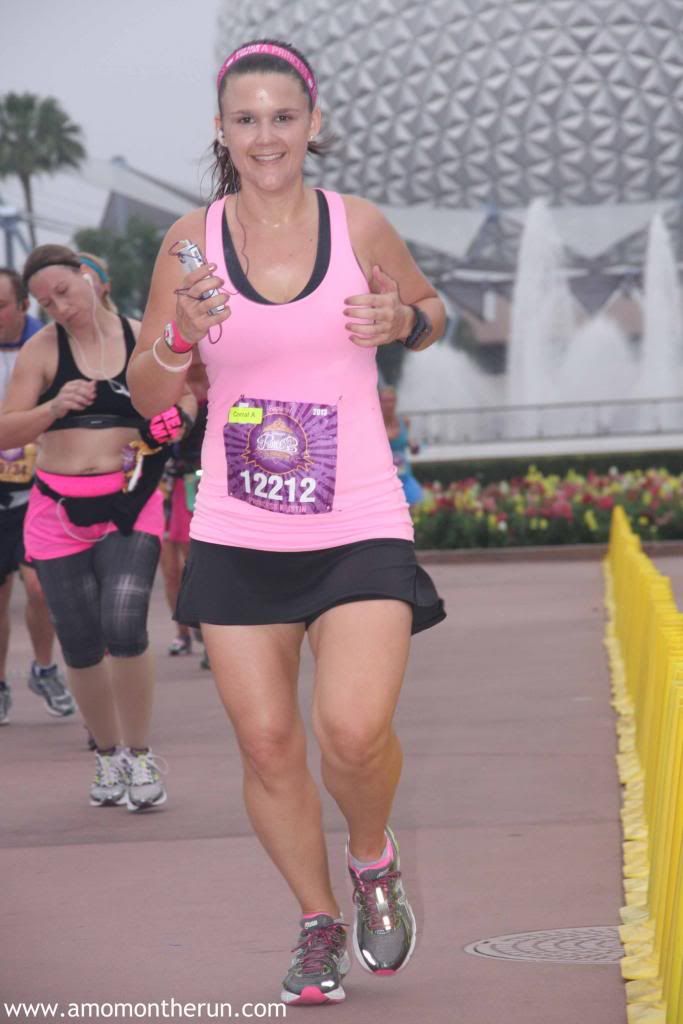 I rounded the corner out of Epcot and hit mile 13, where I saw Adam waiting to watch me cross the finish line.
I seriously thought I'd be sobbing, especially with the gospel choir singing, but I wasn't. I was just excited and running as hard as I could! I could not believe that I was about to not only finish my first half marathon, but also hit every single goal that I set for myself!!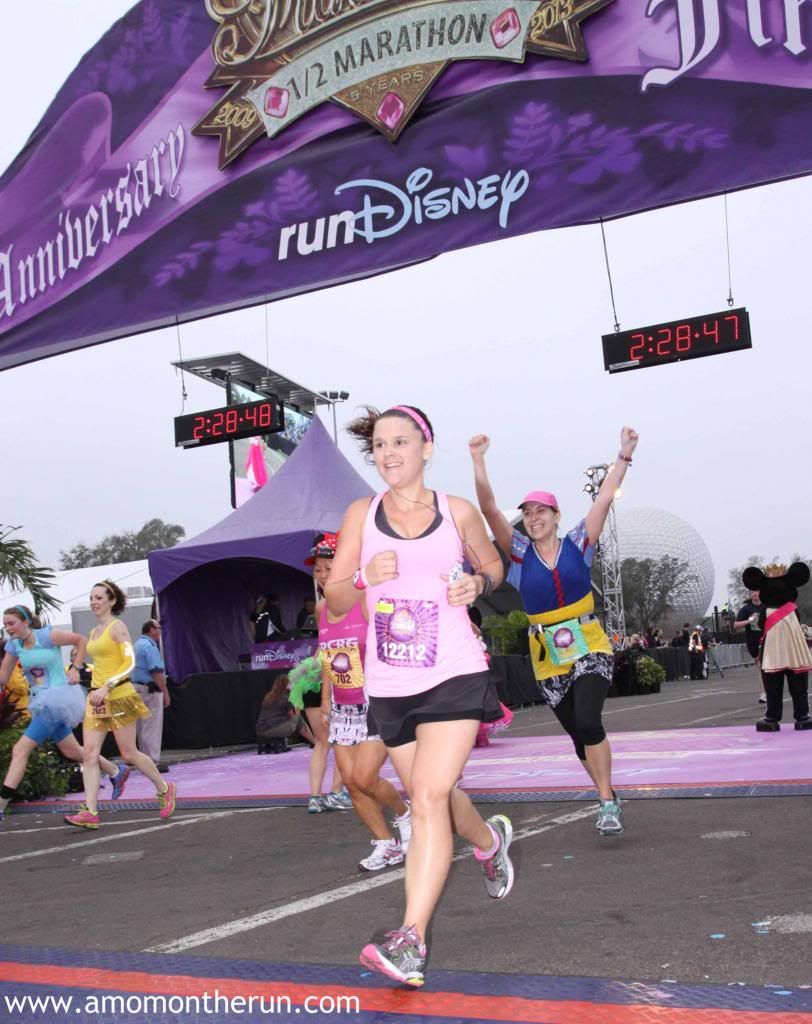 According to the official Disney time, I finished in 2:20:44 (10:44 pace), nearly 10 minutes under my A goal time! I can't even begin to tell you how excited I was when I ran across the finish line and the sweet old guy put that medal around my neck! I did it!!
According to my Garmin, I actually ran 13.31 miles with an average pace of 10:30. Here's my pace for each mile split:
Mile 1 – 10:27
Mile 2 – 10:19
Mile 3 – 10:49
Mile 4 – 10:40
Mile 5 – 11:00 (stopped for a picture at the castle)
Mile 6 – 10:33
Mile 7 – 10:44
Mile 8 – 10:36
Mile 9 – 10:30
Mile 10 – 10:35
Mile 11 – 10:32
Mile 12 – 10:33
Mile 13 – 9:50
Last .1 – 8:40
I started off a little too fast, but settled into a nice pace for the rest of the race, and not even the hills slowed me down! Once I got my medal and offical finisher photo, I grabbed a water and powerade, then a banana and runner box with some yummy treats and set out to find my family. I quickly realized that not running was hurting, a lot. I called Adam and told him I was going to sit down and stretch, so he came to find me. I have achilles tendonitis and it was quiet throughout the entire race, but made is presence very known once I stopped running. I limped my way over to where my parents and the kids were, where I was greeted with big, sweaty hugs, and roses from my little ones!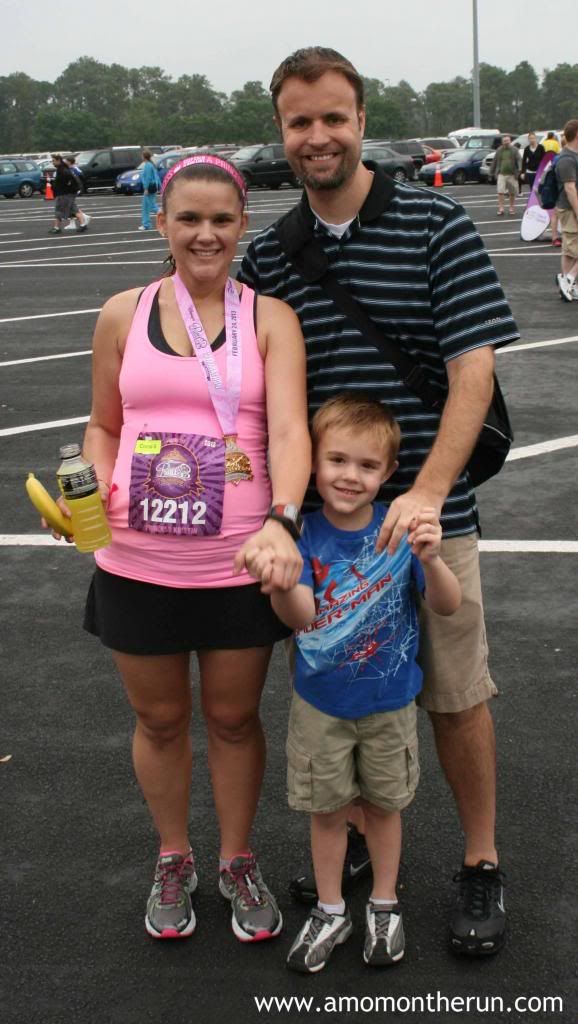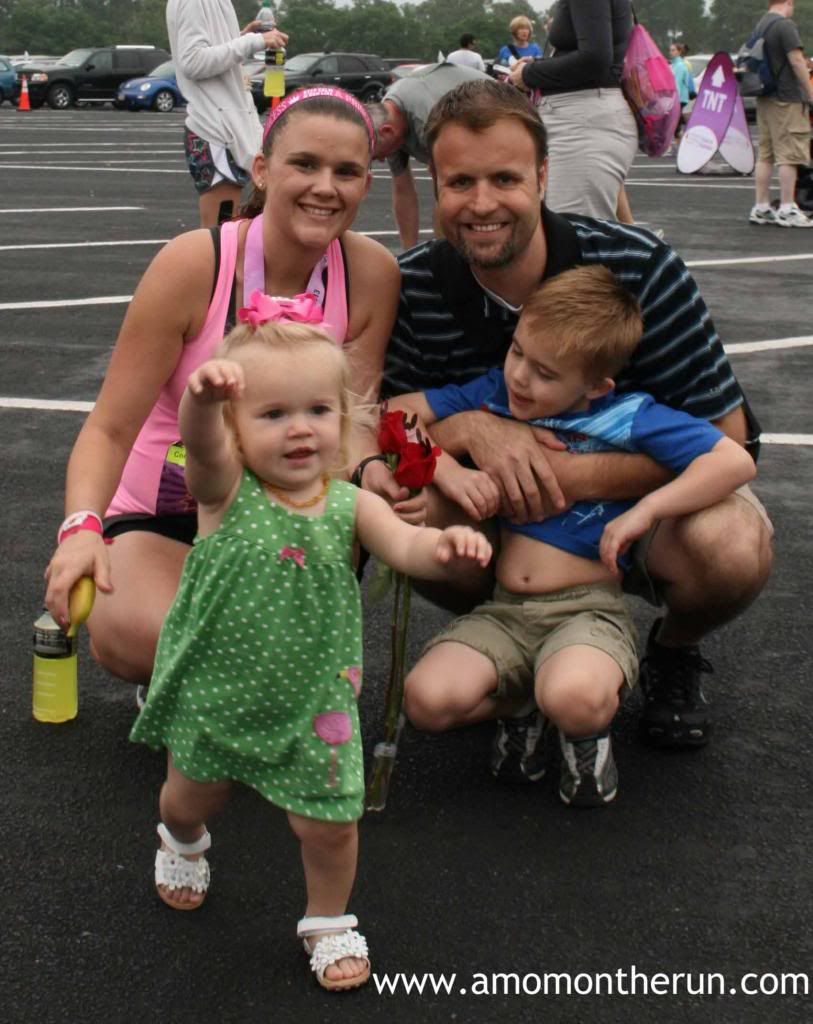 We attempted a family picture, but someone was not having it! Thanks to my ankle screaming at me, we weren't able to stick around and watch my friends cross the finish line. We went back to the hotel and I got straight into an ice bath and sat there for about 30 minutes. My ankle was still sore when I got out, but not nearly as bad as it had been. I got showered and dressed, then we were off for another day at the Magic Kingdom!