Bainbridge will always have a very special place in my heart.  I've never actually lived there myself, but it is the town where my parents grew up and most of my extended family lives there now.  It's the place we visited countless times throughout my childhood, and since I was a Navy Brat, it was the one place that always felt like home.  A few months ago, my aunt told me that they were doing a half marathon to benefit the local hospital & nursing home, I really wanted to sign up.  The hospital is where many of my family members are born, where I spent a lot of time hanging out with Mama Carra (my great-grandma), and where I said goodbye to my Papa Merk and Granny Moore.  The race was also held the same weekend as my Granny's birthday, which made it extra special.  I was a bit gun-shy to sign up since I'd never run a half, but right after we returned from Orlando, where I ran the Princess Half, I signed up and couldn't wait!
Bainbridge is a small town in south west Georgia, situated on the Flint River.  It has a beautiful downtown square, oak lined streets with historical homes that look like doll houses.  It's beautiful, even more so this time of year with all of the spring flowers blooming.  I was excited to run through the historical areas and some residential areas that I've never been through.  I was worried that I'd get bored running for two hours through a town that I'm so familiar with, without the fun things to keep me going like at Disney, but.. that was definitely not a problem!
Welcome to Bainbridge!
The race started at the hospital, which is in the center of town.  My Aunt Kathy was volunteering along the race course, so she picked me up (we were staying in a cabin on Aunt Louise's property) and dropped me off at the hospital before making her way to her station.  When she pulled into the parking lot, I realized I'd forgotten my Garmin at the cabin.  I was so annoyed with myself.  I don't need it to run, but I was worried about starting too fast and wearing out before we finished.  I called my mom and she headed out to the cabin to get it.  She made it back just as we were taking off, but thankfully it was a small race (I believe there were under 200 runners) so she caught up with me less than a mile in and was able to pass it to me, thanks Mom!
We made our way down Shotwell Street toward the historic district.  The streets are lined with gorgeous old trees and the most beautiful homes.  I wish I'd taken pictures, but it was still dark out.  Two of my cousins were also running the race, Daryl & Drew, plus Daryl's wife Celia.  Daryl & Celia live in one of the historic homes and it's seriously beautiful.  They're renovating the inside and we stopped by later in the day to see what they've done so far — so amazing!
We made our way through the downtown area and toward the Flint River.  I was warned that there was a HUGE hill here and I know I've driven down it before, but I forgot how big it was until we got there!  Thankfully, we ran down the hill first and then along the river through Cheney Griffin Park.  As I was running through the park, I passed two older guys and just as one song ended I heard one of them say something along the lines of "we can just run back here and watch the <insert non-family friendly word here!> jiggle up ahead!"  I have no clue if they were talking about me, someone else, or just in general, but it took everything I had not to crack up laughing.  Whatever keeps you putting one foot in front of the other, I guess!
Once we passed through the park, we turned around and headed back toward the hill that leads back toward town.  All I can say is ouch.  It's like running up a wall.  Thankfully it's short and steep though, so it didn't take long to make it to the top.
Up the hill! That's Celia right behind me!
We ran back through downtown and then hit the residential areas.  I've been visiting Bainbridge since I was an itty-bitty baby, so you'd think that by now, I'd know my way around.  I absolutely do not!  I was so thankful that they had volunteers at each intersection telling us which way to go, plus arrows painted on the road.  I spent a good chunk of time just looking around, taking it all in and the rest of the time wondering where the heck I was.  I didn't stop for many pictures, but this is what most of the course looked like:
Gorgeous, right?
I didn't get any pictures of the area with the older homes, but they were amazing. I could have spent all afternoon just wandering around and looking. The one really cool thing about this race was there were a so many places that I ran past that reminded me of my childhood. I ran past a park that my cousin Chris and I used to walk to all the time, the church where I watched my Granny be baptized, the boat basin where I watched my Papa do weigh-in's for bass tournaments, the house where my aunt worked and we played on the servant's stairs in the back, the apartments my Granny lived in before she passed away, the house one of my aunts lived in and where I spent countless hours playing manhunt with my cousins. It was so fun to run by these places and remember all of the wonderful times I've had there. It was especially nice since I was so darned lost half the time that I had no clue what was coming up, so it was like little surprises sprinkled along the course!
Running toward my family!
My parents were also in town for the weekend and staying with Aunt Threasa and Uncle Greg, the course took me past their house twice and it was fun to see them outside cheering as we ran past!  My Aunt Kathy's volunteer station was just after the 1-mile mark, so after the last runner passed by her, she and my mom followed us along the course, cheering as they went.  They met us at the top of the big hill, then at Aunt Threasa's (if you haven't noticed, I have a LOT of aunts!), and again at the finish line.  They had a few different signs to encourage us — I think my favorite was "The faster you run, the sooner you're done!"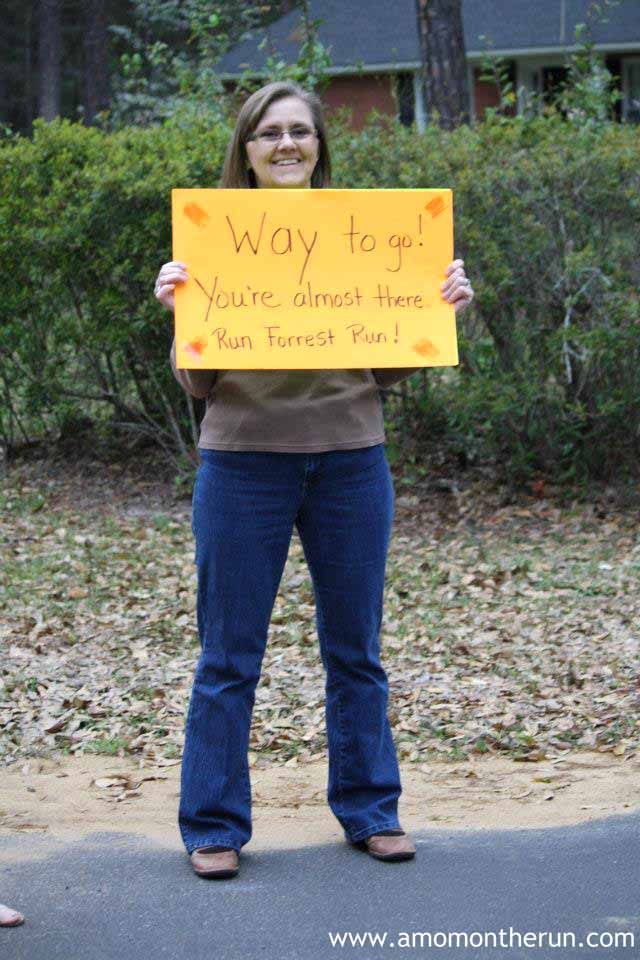 After passing Aunt Threasa's house, we looped around the college and back by her house. I think that was around Mile 8?
I was feeling really great and pleasantly surprised at how well I was doing.  Going into the race, I set three goals and figured it would be a C goal kind of day.  I don't know why, I just didn't think I'd do well.
Race Day Goals:
A – Finish in under 2:15
B – Finish and beat my Princess Half time (2:20:24)
C – Finish without getting hurt
Once thing I was totally not expecting was the hills.  There was only the one big hill, but the rest of the course was full of rolling hills.  Apparently I'm a freak of nature, I run faster when I'm doing hills than I do on flat surfaces.  No clue why or how, I just do.  I wasn't paying close attention to my pace, but the few times I looked down I saw I was running under 10 minutes per mile and was surprised.  I was trying really hard to just stay a a nice, easy pace.
Adam, the kids, and a few other family members were waiting for me at the finish line and I was anxious to see them.  Braden was so excited about his sign we made last week and he loves being at the finish line cheering!  One thing that's a HUGE perk to smaller races is your family being able to follow you along the course so easily.  The finish line also wasn't crowded, so it was so much easier for them to see me coming and for me to see them in the distance.  Unfortunately for me, this isn't how it looked when I made it there!
Adam, Dad, Braden, Aunt Louise & Mackenzie
I'd been stalking the weather all week and knew there was an 80% chance of rain.  I was really hoping it would hold off 'til the race was over, and I almost got my wish!  Right around Mile 10, I started feeling little sprinkles here and there.  Nothing bad though, it actually felt pretty nice.  Then at Mile 11, the bottom fell out.  It started POURING!  I'd usually have a visor on for running in the rain, but I didn't and ohh did it burn.  The rain mixed with the salt from the sweat and burned in my eyes! It was raining hard enough that it only took a minute to wash the sweat away though, so the burning passed quickly!  Always have to look for the silver lining, right?
My last two miles were my fastest and I definitely think the rain helped with that!
Mile 1 – 9:55
Mile 2 – 10:04
Mile 3 – 9:53
Mile 4- 10:05
Mile 5 – 9:48
Mile 6 – 9:55
Mile 7 – 9:51
Mile 8 – 9:57
Mile 9 – 9:54
Mile 10 – 9:41
Mile 11 – 9:45
Mile 12 – 9:27
Mile 13 – 8:44
Last .1 – 7:19
Seeing Braden up ahead jumping up and down cheering definitely gave me a little bit of a boost.  I even managed to pass 3 people on my way down the last long stretch of street!
Just before the finish line.
See, I wasn't exaggerating, it was pouring!!  I could hear my feet squishing in my shoes over the sound of the music from my earbuds.  Thank goodness for drifit clothes because I was soaked from head to toe.  Just after this picture, you turned left into the front of the hospital and crossed the finish line.  As I turned the corner, I saw the clock was at 2:09 and I knew I'd hit my A goal!  I pushed as hard as I could to finish strong.
I did it! A goal plus a PR!
I was so excited, I'd PR'd by nearly 12 minutes!!  My official finish time was 2:08:54, a 9:42 pace!!  I grabbed a banana and some water and headed back to find my family.  Look how sweet my husband is, he brought me an umbrella!  Oh, wait..
What a great guy! 😉
Overall, it was a really great race and I am definitely planning to run it again next year, hopefully Adam will be running it with me!  Recovery has been much easier this time around too.  I guess my body is getting used to the constant pounding!