I didn't realize how long it's been since I've written here. Yikes. I didn't intentionally take a break – I've actually started to write a recap of the Wine & Dine Half Marathon weekend at Epcot a few times, but just never really felt up to it. I thought that maybe once the race pictures were posted, it would inspire.. something. The one picture taken of me while running the race didn't do much to inspire anything though. It actually bummed me out a little. Long story short (I'll explain more later), Adam and I had a really great weekend. Wine & Dine is probably my most favorite race and I enjoyed it. However, the race itself was a bit ho-hum this year since the weather didn't really cooperate and I hurt my hip while running, so instead of finishing happy and all smiles, instead I was cold, wet, in pain, and bummed.
Gosh, I just sound like a ray of sunshine, don't I?  I promise this whole weekend wasn't awful.  Actually the majority of it was really great.  Friday morning, we dropped the kiddos off at school and got in the car to make the two and a half hour drive to Orlando.  We stopped by the outlets in Orlando, mostly so I could check out the lululemon store.  I hit the jackpot there and stocked up on my favorites!  Then we went to the expo and picked up our packets.  I bought some KT Tape for my achilles problem, and Adam grabbed a visor since it was supposed to be rainy during the race and he forgot his at home.
After we left the expo, we headed over to Epcot for the Food and Wine Festival and spent the rest of the day eating and drinking our way around the world.  We had planned to meet up with some of our friends that afternoon and spend the rest of the weekend with them, but they had a scheduling issue and ended up missing the race.  Adam and I missed them, but luckily we kind of like each other, so we had fun on our own.  We knew we'd have a long day on Saturday, so we called it a night early and headed back to the hotel for bed early.  We stayed at the Dolphin — I love that we can watch Illuminations from our window there.
Saturday morning, we got up and had a HUGE breakfast at the restaurant in the hotel.  Like seriously huge.  We'd planned to have a light lunch later that day but we were both still stuffed from breakfast.  We wandered around Epcot for a bit, picked up gifts for the kiddos and our parents, then headed back to the hotel for a nap.  We got up around 5PM, ordered room service for dinner, then I started obsessing over the weather.  I'd been watching it off and on all day, but seeing this did not really put me in the mood to run!
Not strangers to running in the rain, we sucked it up and got ready to go.  We walked over to the Boardwalk and hopped on the bus to head over to the Wide World of Sports, where the start area for the Wine & Dine Half Marathon was staged.  I forgot to mention, in addition to the impending rain, it was also cool.  (Cold to this Florida girl.)  We stopped by Target on our way out of town Friday to grab throw away clothes and ponchos and I was thankful for my fleece jacket while we waited.  Poor Adam needs guy buddies to run these races with us. We met up with Andrea and Cori before the race and he got stuck holding all of our stuff while we were in the port-o-potty line.  He's such a great race sherpa, and a good sport about it too.
We headed over to the corrals about 20 minutes before the race started and it started raining.  Not pouring, but enough to be annoying.  I kept debating tossing my poncho or keeping it on — there were a lot of others in the corral with their still on so I figured I'd keep it on until it got annoying, then ditch it.  I should also mention that I was treating this race like a training run for the Disney Marathon.  I didn't have a time goal at all, I just wanted to finish it and enjoy it.
The first few miles were uneventful.  It kept raining and I was cold so I kept the poncho on.  I'm actually really glad that I decided not to ditch it in the corral because I would have been freezing.  I was cold with it on and it was keeping me mostly dry.   I got swept up in the crowd and ran the first two miles without stopping.  I didn't go fast, I kept it at an easy pace.  After the second mile marker, I switched over to the 4:1 intervals I've been using and kept going. Did I mention it was rainy and I was cold?

1 – 10:16
2 – 10:15
3 – 10:42
4 – 10:54
5 – 11:09
6 – 10:54
Shortly after the mile six marker, Adam passed me (he started one or two corrals behind me).  He didn't realize it was me since I was still in my poncho.  I briefly contemplated catching up with him to chat for a bit, but he looked like he was running really well so I let him go by.  Around that same time my tummy started to let me know it wasn't really happy.  I had one of those moments where all I could think was "Dear Lord just let me make it to a port-o-potty".. but then I got to one and I didn't have to go.  Bodies are weird.  Bodies are especially weird when they're running.
7 – 11:39
8 – 11:45
Belly revolt again, this time I stopped and did not leave the port-o-potty until I was sure that I was going to be able to finish the race without stopping again.  Fifteen minute miles, wahoo!  It's a good thing I didn't have a time goal or I'd have been upset.
9 – 15:17
10 – 11:18
11 – 11:42
12 – 11:35
13 -11:29
.1 – 10:24
The rest of the race, my belly cooperated but shortly after the mile nine pit stop, my hip started hurting.  At first it was just a dull, nagging pain.  Then it became a stabbing, this sucks, I want to be done running right now pain.  Thankfully there are a lot of things to distract you toward the end of the Wine & Dine half marathon, so I kept going and tried to ignore the pain.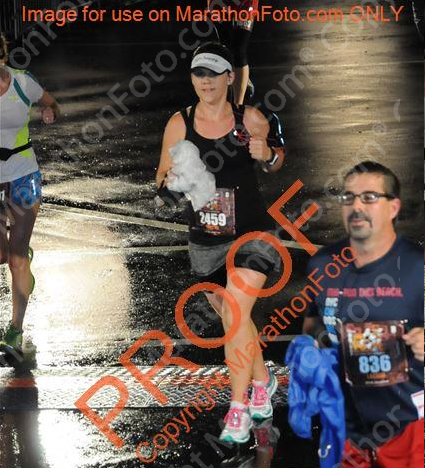 As I ran past a photographer in the last little stretch in Epcot, I started wondering if they could see my race number through the poncho.  It was translucent, but not clear.  I figured I'd take it off for the last little stretch.  Bad idea!!  After I finished (my time was 2:32:26, Adam's was 2:19:46), I texted Adam and told him that I hurt my hip and hobbled over to the line to pick up our bags to find him.  Somehow they lost my bag.  They sent me over to another tent where one of the Run Disney guys was taking info on the lost bags, then he was sending a runner out to look for them.  He took down my contact info and a description of my bag and told me to go enjoy the after part in Epcot and they'd call me when they found it.  Sounds good, right?  In normal circumstances, yes, but I was cold and wet and hurting.  So cold that my lips and nail beds were blue.  There wasn't much we could do, so I sent Adam over to the changing tents to change.  There was no reason we both needed to be cold and wet.
By the time Adam got changed and we met back up, it had been an hour or so since I had finished running.  We figured we'd walk back over to the tent to see if they found my bag yet, even though they hadn't called.  It was a pain getting back over there because there were so many runners headed the opposite way, but we made it and thankfully they had my bag.  I didn't want to wait in the long line for the changing tent, so we walked over to Epcot and I waited in a much shorter line to change in the bathroom!  While I was changing, Adam went to find some hot chocolate for me.  After putting on dry clothes, I was feeling much better.  I finally thought to check my phone to see where Andrea and Cori were, but unfortunately they'd already left since they were freezing too.
Adam and I wandered around Epcot for a bit and ate a little, but we were both exhausted and the lines were long so we didn't stay for long.  We walked back over to the hotel around 3:30AM to shower and head to bed.  That hot shower was amazing!!

 We slept in the next morning and had planned to go back over to Epcot for lunch, but I really missed the kids so we headed home instead.
Despite the hiccups this year, which Run Disney really had no control over (well except my missing bag, but it happens), the Wine & Dine half marathon still ranks as my most favorite race.  Going through this marathon training cycle (kind of.. my training has been awful) has really shown me that I'm not cut out to be a marathon runner at this point in my life.  The half is my favorite distance and this race is, by far, the best I've run.  It's not just the race itself, but the entire weekend that makes it so great for me.  We'll definitely be back next year and hopefully we can talk a bunch of our friends into running it too!
I'll be back soon with an update on me and the lovely injuries (yep, plural) that I'm dealing with and how it's affecting training for the Disney Marathon.  I hope you're all having a wonderful week!