Today ran the St. Patty's Day 10K at Evergreen Cemetery.  Yep, I said "we".  The running bug bit my husband too and after watching his best friend cross the finish line at the Disney Marathon in January, Adam decided that he wanted to run a half marathon too.  He started training a few months back and had a 6-mile training run scheduled for this weekend.  I wanted to run this race and since it fit well into his training and my racing schedule, we signed up.
I was a bit nervous about running a race with him.  I'm not really competitive when it comes to running.  Typically, I don't really care how fast or how far those around me are going.  I set my goals and only try to beat myself.  Adam, on the other hand, can be very competitive.  I was worried about what would happen if I finished before him, or if he finished before me.  I worried about him wanting to run with me, because I'm no good at running with people at all.  I prefer to just zone out, listen to my music or pod cast, and not really pay attention to how fast I'm going.  Thankfully, he had no desire to run with me either.  Aww, aren't we sweet?
We arrived at the cemetery with plenty of time to spare, but didn't plan on the potty lines being a mile long.  I really had to go, so we had no choice but to wait.  Thankfully the line moved quickly, but we really cut it close.  I know that drove Adam nuts, he hates being late and I'm almost always late.  We made it to the starting line a few minutes before the start and wished each other well.
I was shocked when we heard the gun go off, there wasn't an announcement, just the gun and everyone taking off.  In my confusion, I forgot to start my watch when I crossed the starting line.   The first mile or so was really crowded and I spent a good chunk of time weaving in and out, jumping curbs, running on the grass, and dodging other people.  One of these days maybe I'll be brave enough to line up with the right pace group.  I worry about getting in someones way, but then waste so much energy trying to get out of the way.
About half a mile in, I remembered my watch and started it, then promptly forgot about it.  There were clocks at each mile marker and my only goal was to beat my previous 10K time (1:02:24 for a 10:03 pace) so that hopefully I can use the time to be placed in Corral A this fall when I run Disney's Wine & Dine half marathon.  As I passed by each mile marker, I made sure that I was under the 10-minute/mile pace I was shooting for and since I never fell under it, I kept running at a comfortable pace.
Right around the 1-mile mark, I passed Adam.  I had no clue he was even in front of me until I was literally on top of him.  I ran up next to him, waved, and kept going.  The course was so gorgeous and peaceful.  Once the beginning crowd thinned out, I had plenty of room to run and settle into a nice, easy pace.  I know I'm weird, but I love old cemeteries.  I love the quiet and serene surroundings.  I love reading the names on the tombstones and wondering who they were.  I like reading the sweet things that their loved ones chose to memorialize them with.  I thought a lot about my Papa Merk and Granny Moore while I was running.
I got my very first "'atta girl!" right as this picture was being taken.  I'd been on the heels of the guy to my left and when I hit the corner, I took it wide to come around him and then noticed the photographer there.  When she saw me come around him, she yelled out at me "'Atta girl!!  Take that corner wide!!"  I actually didn't know that taking a corner wide was a thing, but I guess you learn something new every day!
Somewhere between Miles 5 and 6, a group of guys from 1st Place Sports came back out on the course after finishing the 10K to do a cool down run.  I zipped right past them and felt awesome, it's rare that I get to run past people who are nearly twice as fast as me!  I think that gave me a little extra push, because my last mile was my fastest.  (Thankfully I remembered to hit the lap button on my watch when I did hit mile 1, so my splits aren't all messed up!)
Mile 1 – 9:07
Mile 2 – 9:33
Mile 3 – 9:10
Mile 4 – 9:26
Mile 5 – 9:06
Mile 6 – 8:46
Last .2 – 10:01 (forgot to stop my watch, again!)
Even though I knew I was running well enough to hit my goal, I was shocked when I crossed the finish line in under an hour.  I grabbed water and scooted over to the side to watch Adam cross, since I knew he was right behind me.  Of course, I forgot to stop my watch until I was standing there watching.. oops!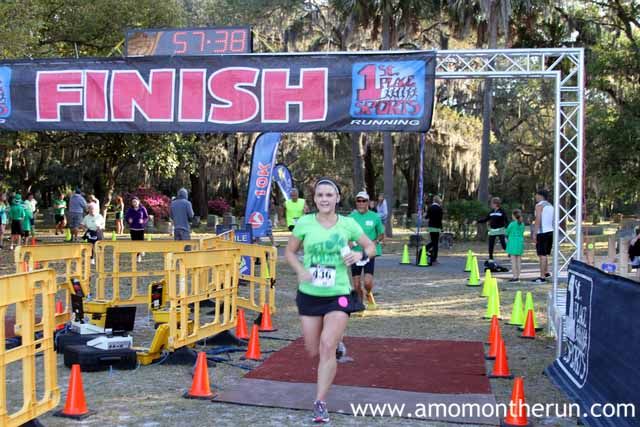 Just a few minutes later, Adam was crossing the finish line!  I may have finished before him today, but he beat my first 10K race time.  I'm super proud of him and can't wait to run the Wine & Dine half with him this fall!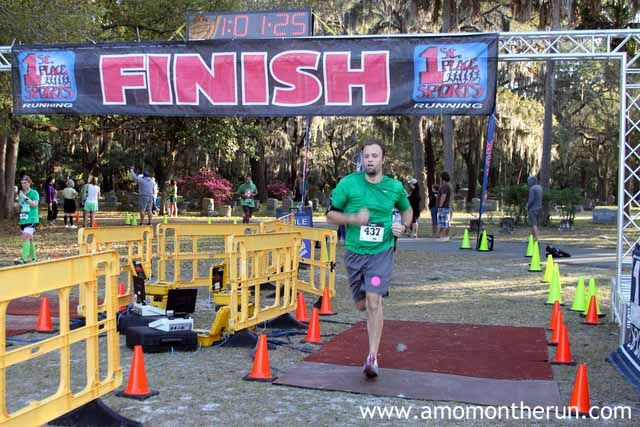 My official finish time was 57:21 (9:14 pace) and Adam's was 1:01:09 (9:50 pace).  I'm pretty jealous that he ran a sub-10 minute mile on his first race.  This was the first race where I was able to do it!  Silly boys and their longer legs.  I have another half marathon coming up this weekend and I can't wait!