One of the things I love about living in Florida is being surrounded by water.  It's so peaceful and relaxing – I love being out on a boat in the middle of the river, floating on a raft in the pool, or even just staring out my office window at the beautiful (but not so clean) St. John's River when I'm stressed out at work.
Downtown Jacksonville
Not a bad view, right?
Okay that's not really the view from my office, but I'm not in the office today and that's the best I could do without making the 45-minute trek downtown.  Like I was saying though, I love the water and typically being around it totally relaxes me.  That is, until this weekend.  This weekend, I ran the 2013 Gate River Run 15K.  What does that have to do with water?  Well, the beautiful river that runs right through the center of our city has these gorgeous bridges that cross over it.  Two of them are along the course of the race – the Main Street Bridge and the Hart Bridge.
The Main Street bridge is the blue one pictured above and you hit it right at the beginning of the race, so while it's a bit intimidating to look at, it's really not bad to run since the adrenaline is pumping.  I find that hills at the beginning of the run actually help me settle into my rhythm sooner.  I don't know if it's because I have a small hill in the first half mile of my daily runs or what, but it works for me.  What I wasn't prepared for was the Hart Bridge, also known as "The Green Monster".  I'm getting ahead of myself though, so lets back up.
I've been excited for this race for a few months.  It's a local race that has been around for over 35 years.  I remember hearing about it when I was younger and in recent years have had several friends run it.  It's the largest 15K in the nation and has always been on my list of things I'd like to do, but never thought I'd be able to.  I was worried that I'd miss it this year because Braden's first soccer game was scheduled for this weekend, but luckily his team played last night and had this morning off.  So after his game, we got the kids settled into bed and I laid out my race gear.
A friend of mine was also running the race for the first time and like me, isn't a fan of hanging out alone in the corrals, so she and her family picked me up before the race and we all headed downtown together.  Adam and the kids (plus my mother-in-law, who is in town visiting) were still in bed snoozing but planned to meet us at the finish line.
Aren't we adorable with our coordinated outfits?  Looks like we planned it, right?  Totally a fluke!  We had the exact same shirt on (mine was pink, hers purple) and almost identical skirts.  Too funny

 We hung out with Andrea's family for a while, then headed over to our corrals for a pre-race potty break, some water, and to get lined up.  I'm not sure exactly how many runners there were, I heard ranges from 15-20K, and there were only 4 corrals so I was really interested to see how  crowded the course was going to be compared to the Disney Princess half.  Waiting before the race wasn't bad at all, we had plenty of room to walk around and stretch.
Soon, the race started and we were on our way.  The first mile was super congested and we spent most of it weaving around other runners, dodging curbs, hopping on and off the sidewalk.  I kept thinking we'd eventually get out of the crowd and have a bit more room, but it wasn't happening there.  Shortly after the 1-mile mark, we were up and over the Main Street Bridge.
The Main Street Bridge
While this one has a steeper incline, it wasn't bad at all to run over.  We hit the top of it and one of the Streakers (he's run every single Gate River Run) yelled out something about this not being a race, we were really just extras for a new Godzilla movie.  It made me giggle.  We exited to the left of the bridge and headed through San Marco.  I really wanted to stop for some beer cheese soup when we ran by European Street, but we kept moving and quickly hit the 5K mark.  Right around there, Andrea and I split up so she could start doing her run/walk intervals.
The course was absolutely gorgeous and so much fun.  We ran right along the river, through old neighborhoods with gorgeous homes.  There were a TON of spectators and some were out having parties on their lawn watching the runners go by.  A few had tables set up with cold beer, sausage, rice krispie treats, candy, oranges, bananas, and my favorite – ice pops!  I'm not a fan of ice pops usually, but I was hot and it was delicious!
Shortly after I finished my ice pop, I hit the 10K point and passed a few police officers running in their full gear.  Talk about impressive.  I was complaining of being hot with my skirt and long sleeves pushed up!  I've seen pictures showing members of the fire department that also ran in their full gear, as well as a few military guys that ran the entire thing in their fatigues.  That's amazing to me.
We kept going and before I knew it, I was at mile 8 and the bottom of the ramp that leads to the Hart Bridge.  I'd been dreading this part of the race because I was not trained for it at all.  The little hill I run in my neighborhood is like an ant hill compared to this monster!
The Hart Bridge aka The Green Monster
I'm not going to lie, it was hard and it hurt.  There were a lot of people walking up the bridge.  I just kept my eyes up and kept pushing, and after the longest half mile or so, I was finally at the top and it was all downhill from there.  I was texting with Adam to let him know I was on my way to the finish and he let me know where they were.  I saw them and Braden gave me a huge grin and wave as I ran by him, but everyone else missed me!  A little girl had fallen near them and was hurt, so Adam and his mom were trying to help her mom when I passed.
I crossed the finish line, got my medal, and quickly downed a bottle of water.  I didn't feel like I'd run really strong, but I was pleased when I checked my Garmin for my splits:
Mile 1 – 10:02
Mile 2 – 10:29
Mile 3 – 10:16
Mile 4 – 10:16
Mile 5 – 10:19
Mile 6 – 10:06
Mile 7 – 10:12
Mile 8 – 11:00 (the Hart Bridge slowed me down!)
Mile 9 – 10:14
Last .3 – 10:22
The finish area was a madhouse and the lines for food and beer at the after party were crazy long, so I grabbed a quick hug from my little ones (and the not so little one too) and we headed off to Panera for lunch.  All I'd eaten that morning was a Clif bar and I was starving.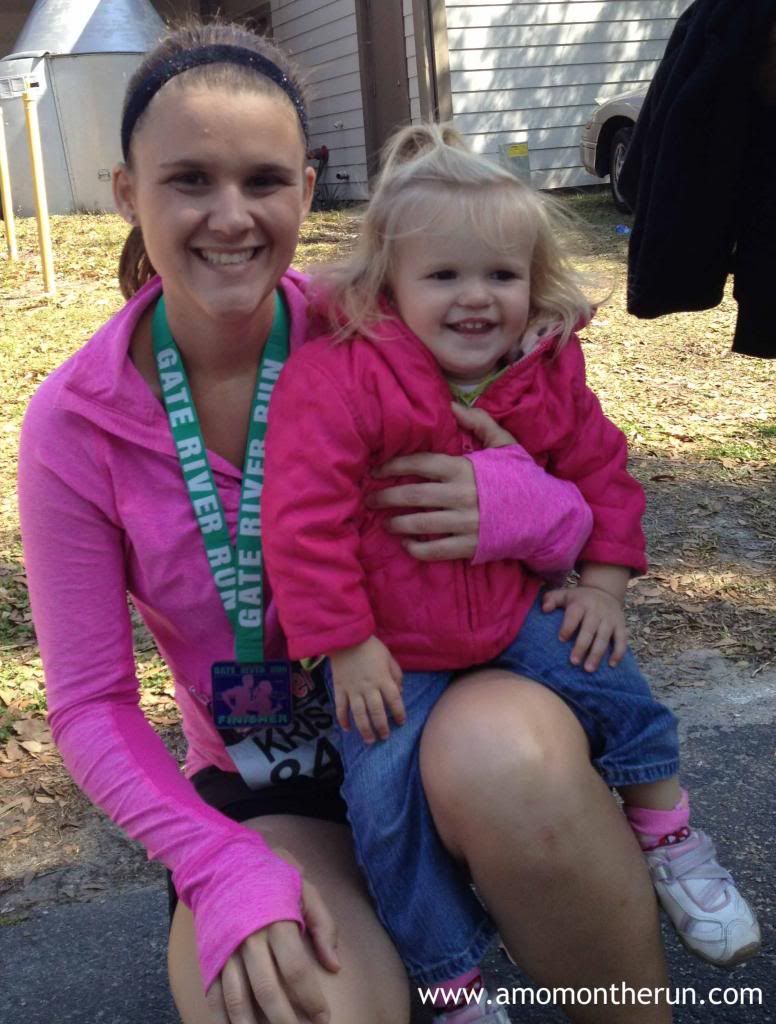 1st Place Sports hasn't posted any of the official race photos yet, but they did post the official results:
5k Split – 32:26
10k Split – 01:04:38
Chip Time – 01:37:00
Gun Time- 01:43:42
Pace – 10:27
I think I did pretty well overall and I'm happy with my result.  However, I know I can do better next year with a bit more training.  I think I'm going to start trying to work in a bridge training run at least once every other week or so.  My office is nearby so as long as the weather is nice, I don't really have an excuse, right?