Ohh look, I'm finally recapping the 2014 Gate River Run, it's about time since the race was in mid-March!  Last year was the first time I ran the Gate River Run.  It's a HUGE event in Jacksonville, it seems like everyone in our running community runs it.  This year, if I remember correctly, there were just under 20,000 runners and walkers. It's hard for me to visualize that many people.. maybe it is for you too? This should help.. this is the Main Street Bridge in downtown Jax.
via
The course starts just outside of the Jaguars stadium, then run through downtown, across the Main Street Bridge, through historic San Marco neighborhoods, down Atlantic Boulevard, over the Hart Bridge, then finish on the other side of the stadium.
We met up with some of our friends before the race and hung out for a bit.  What I love most about this race is the atmosphere.  The entire community seems to come out to support it.  You're never alone on the course – it's lined with spectators.  Generous spectators, at that.
There are, of course, the normal water stations every mile or so, but there's also beer, popsicles, orange slices, strawberries, sausage, bacon.. those who live along the course bring out their lawn chairs and welcome the runners with all kinds of goodies along the way
Another really cool thing about the 2014 Gate River Run — Shalane Flanagan ran it as well (it was a little over a month before Boston) and set a new American record in the 15K.  I was actually a little bummed that I was running it, I would have loved to watch her finish.
From Runners World..
Flanagan, the American 10,000-meter record holder and winner of the 2012 U.S. Olympic Marathon Trials, took a sizable lead from the outset of Saturday's race, ran the final mile in 4:59, and completed 15K in 47:03. That took 12 seconds off Deena Kastor's American best for the distance and put her 2:22 ahead of defending champion Janet Bawcom, the runner-up.
The race was mostly uneventful for me – I beat my time from last year by a little bit, but had been cutting back on running so I wasn't pushing hard or really racing.  It was mostly just a fun morning out with some of our good friends.  I stopped at the top of the Hart Bridge to take a picture of the view, it was a beautiful morning.
Due to construction around the Jags stadium (They're putting in pools, how awesome is that?  I'd love to lay back in a pool and watch football!), the finish line was re-routed and I didn't love it.  In previous years, you ran down the back side of the Hart Bridge and FLY into the finish line.  This year, it was pushed back a bit so you didn't get the nice little downhill boost as you crossed the finish line.  It wasn't awful, but I definitely hope they have the old finish line back next year.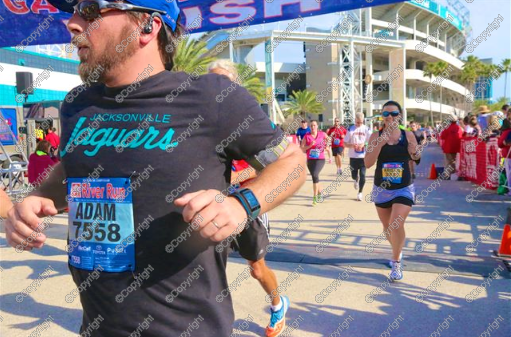 Here are my splits, if you're curious —
1 – 9:16
2 – 9:28
3 – 9:55
4 – 10:45
5 – 10:17
6 – 10:37
7 – 10:06
8 – 11:09
9 – 10:05
.3 – 8:57
Nothing spectacular!

 I actually walked a good bit and just enjoyed myself.  Last year, I didn't stop for any of the treats along the way (except a popsicle, which I ate while running) but this year I decided to just take it all in and have fun.  I kind of wish I'd run with my husband or one of our friends.  I was the only one in the orange seeded corral though, so I was on my own.
Once I finished (my official time was 1:35:16), I sat down to stretch for a bit and then wandered back over to the tent to meet up with my friends.  It was a really great morning, most of us were really happy with our times and had great races.  One of our friends had a rough morning and bailed around four miles, I felt bad for him.  There's nothing worse than running when you feel bad.
We hung out for a bit, then headed back home to spend the rest of the day with our little ones.  If you're near Jax, you should definitely put the Gate River Run on your race calendar.  It's a really well organized and fun race!