Sooo.. the 2015 Walt Disney World Marathon.  That was fun.  I'm going be be 100% honest here and say that if it weren't for the fact that my husband and friends were running this race, there's a good chance that it would have been my first DNS.
Thankfully that didn't happen.  As undertrained and unmotivated as I was going into this race, I'm really glad I did it.  Especially because I got to actually be with my husband as he ran (well, we're going to loosely call it "running", but it was more like slogging — slow jogging!) his first marathon.
Adam and I had planned to run together and Carter decided to run with us too.  We started in Corral I (Carter and I were in H but Adam was in I, so we dropped back to start with him) and this was the first time I didn't have to sit around in the corral and wait.  We were standing in line for the port-o-potties when the race started, so we walked up to where Corral D was to hop into our corral.  We posed for a quick picture and we were off.
Carter ran Dopey and since I was undertrained and  not sure how my hip would hold up, we decided to stick together and run 4:1 intervals.
The first few miles were entertaining – Carter had speakers wired to his Camelbak and was blaring some super peppy music to run to – Depeche Mode is exactly what I love running to, haha!  It made it easy to keep up with him and Adam though since I could always hear them behind me.
Before we even hit the first mile marker, the boys had to stop for a potty break.  I kept running and they caught up with me.  Around mile 3, I started getting a headache from my ear buds so I took them out and we all ended up chatting for the rest of the race.
We got to the Ticket & Transportation Center and decided to stop for another potty break (around mile 4).  The second of many.  This one took forever and in hindsight we probably should have waited to go in the Magic Kingdom.  We weren't running for time so it didn't really matter.
Running through the Magic Kingdom is my most favorite part of this race.  There are so many spectators and so much energy.  It's still early enough that even when you're undertrained, you feel great.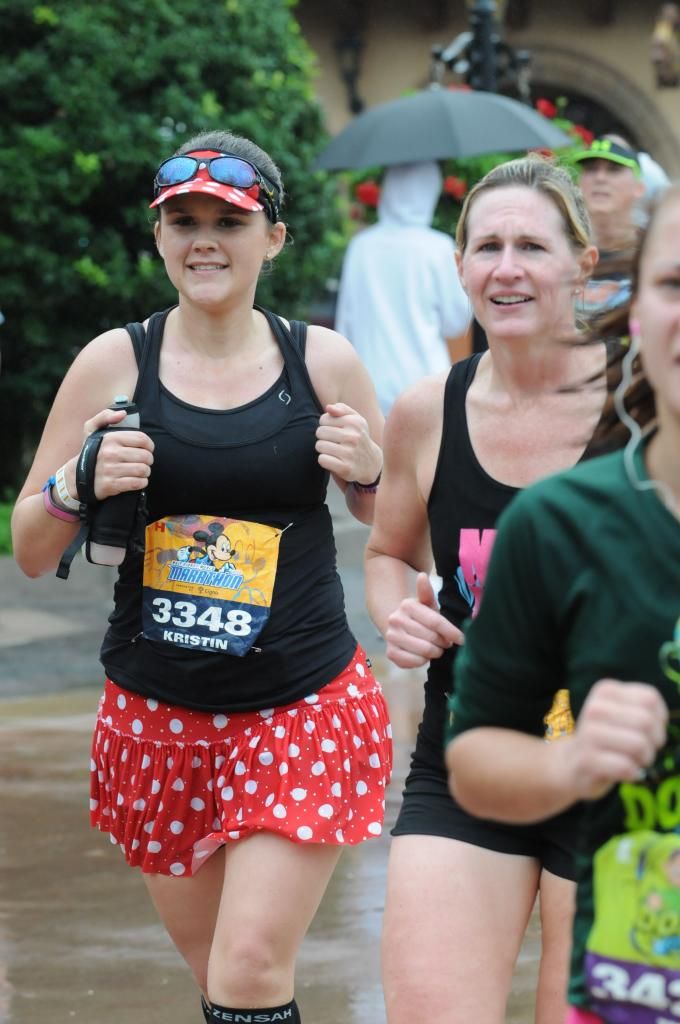 We headed out of Magic Kingdom, through the resort and golf course areas, around the track (that entrance is still the worst!), then past the really smelly place.  I'm not exactly sure what it is that smells so bad, I've read a few different things.  I just know it smells bad.
Good news is, we picked up Jess somewhere around there so I had some estrogen to accompany me for the last half of the race.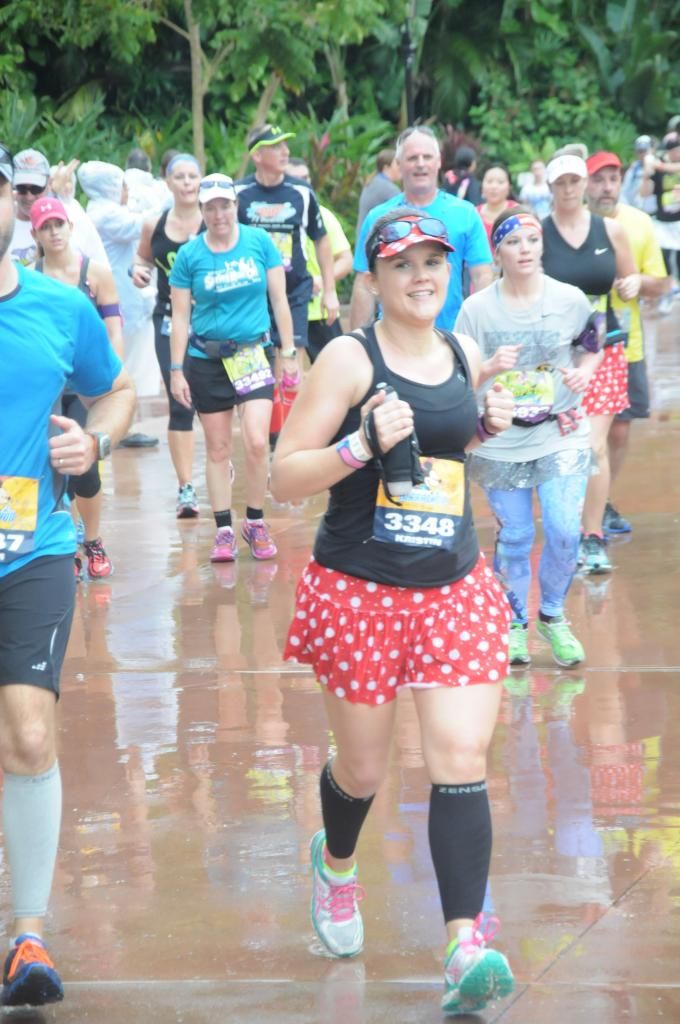 As we ran through Animal Kingdom, we talked about stopping to ride Everest.  When we got there though, they said it was a 20 minute wait and none of us were interested anymore.  We did, however, stop for another potty break (that makes 3 in the first half, ha!).
After leaving Animal Kingdom, we ran down Osceola and found our cheer squad around mile 15.  Michelle, Mike & Colby tried to find us at a few other points but the traffic was crazy so they only saw us here and then at the end.
Michelle was kind enough to bring Braden's Flat Stanley along, so we stopped for a quick picture with him.  Around here, there were spectators handing out pretzels and animal crackers from plastic containers.  Oh my goodness, I thought the pretzels at mile 21 of my first marathon were good, but the animal crackers may have been better!
Michelle also took my arm warmers for me so they didn't keep smacking me in the toosh with every step I took.  That's how you know you have a good friend – she'll take your sweaty stuff from you mid-marathon and carry it around in her purse the rest of the day so you don't have to carry it!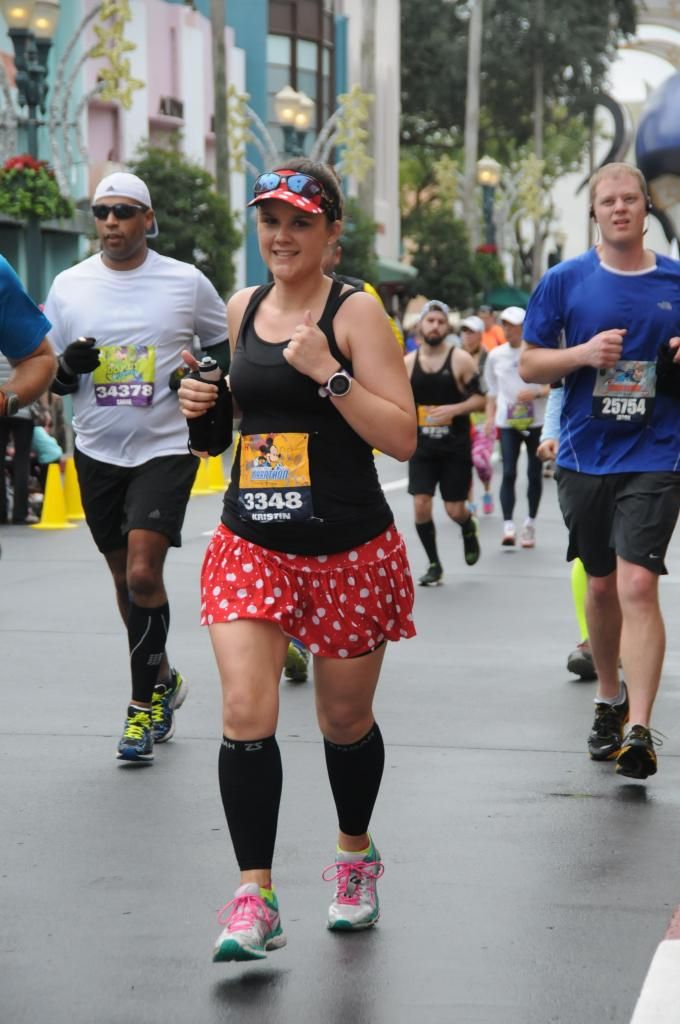 We made it through the Wide World of Sports, which was my least favorite part.  I liked running on the track and around the bases, but the constant turning wasn't making my knees or hips happy.  You run miles 17-20 in the Wide World of Sports and I can't tell you how happy I was to pass the 20 mile marker and know that we only had a 10K to go.  We all still felt pretty good, but since I was in charge of the intervals, I started dropping down to 3:30/1:30 for some of them.
The chocolate in Hollywood Studios was definitely a high point.  I feel like it started raining around here.  I know it rained on us twice but I can't remember exactly where.  I think the first time was around Animal Kingdom maybe?  I know it was drizzling on us around the Boardwalk area because I was worried I'd slip on the wet wood.
Running past our hotel (The Dolphin) wasn't as bad this year as it was last year.  I was definitely sticking to the 3:30/1:30 intervals at this point but I still felt fine and didn't want to die.
I think a big part of the reason why I felt so good was I spent a lot of the race doing this:
I can't even begin to guess what we were talking about.  I don't even remember 99% of what the four of us talked about while we were running.  I know we had fun though!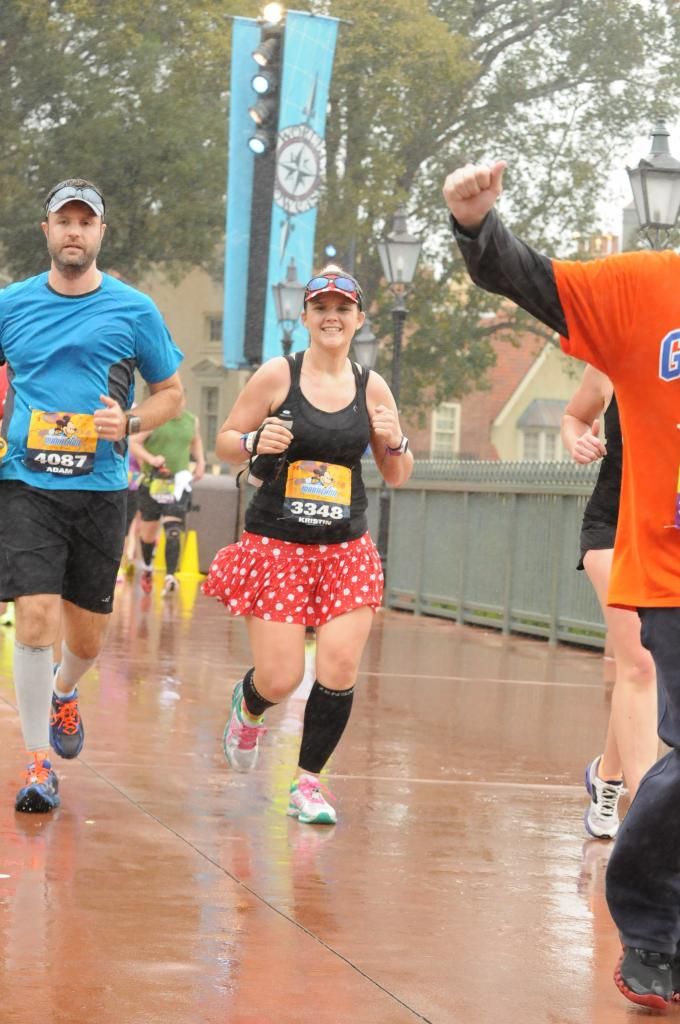 Ohh see, I was right!  It started raining again around the boardwalk and on our way into Epcot.  I remember just being miserable here last year.  I wasn't miserable this year — I wasn't exactly running all that well, but we were still mostly sticking to the intervals.  Carter really wanted to be under 6 hours so he left us to run faster.  My legs didn't have the whole "run faster" left in them, so I told everyone to go with him, but Adam and Jess stuck with me.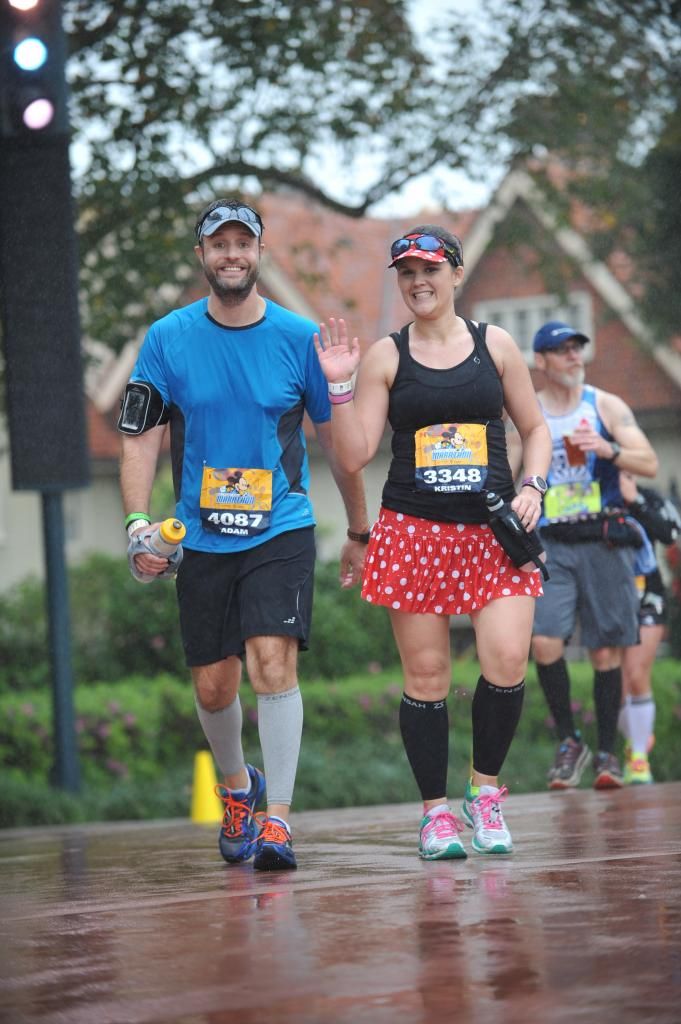 We kept talking about stopping to get margaritas in Epcot and how it would be amazing to cross the finish line with them, but when we got to the margarita stand there was a line and we didn't want to stop.  (We did go back and get one later that night though!)
Adam, Jess, and I all finished together!  My official finish time was 6:08:38, which is over an HOUR slower than my time last year, but I don't care!  I had fun and we finished and that's all that matters!
I love that runDisney had towels for us at the finish line – it felt amazing to wipe down my face and arms.  We stopped in the medical tent so that Adam and Jess could get ice.  I was shocked that I didn't need any, I figured I'd be seriously hurting but I wasn't.  I definitely felt like I'd run a marathon but I didn't hurt.
We stopped for our official finishers picture, then went off to find our friends.
Aleisha ran her first marathon and did great — she finished in 4:56!  Carter finished about 4 minutes ahead of us.  It's funny because immediately afterward they were all "Ohh I never want to do this again!!" but as the day went on, it morphed into "Well, maybe.." and I'm pretty sure both Adam and Aleisha will run another.
I feel bad that Adam ran with me, because I know I held him back.  He was able to train pretty well and could had finished quite a bit sooner than we did, be he said he wanted to run with me.  Everyone say it together, "AWW!"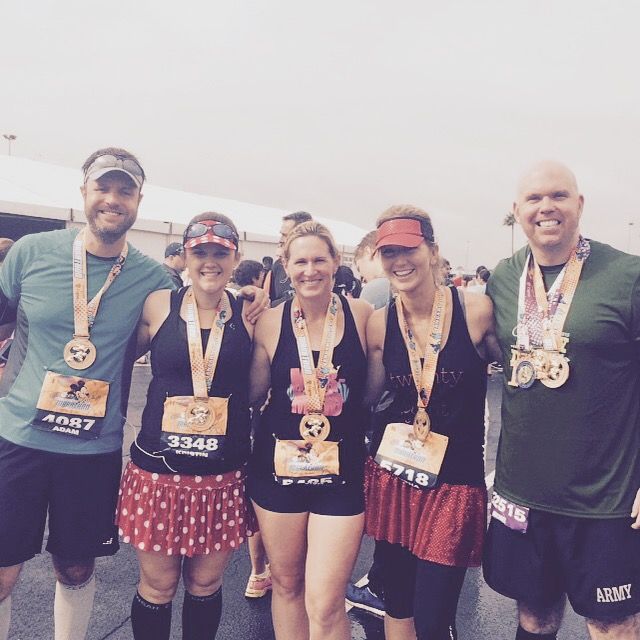 Adam, Me, Jess, Aleisha, Carter
We hung around the finish area for a bit waiting for Jenn, she was running her first marathon too and we wanted to be there when she was done.  We couldn't get anywhere near the finish line, so we hung around the finishers area and welcomed her with big hugs when she made her way over to us.
Jenn, Me, Jess, Aleisha
Of course we had to take lots of pictures, right?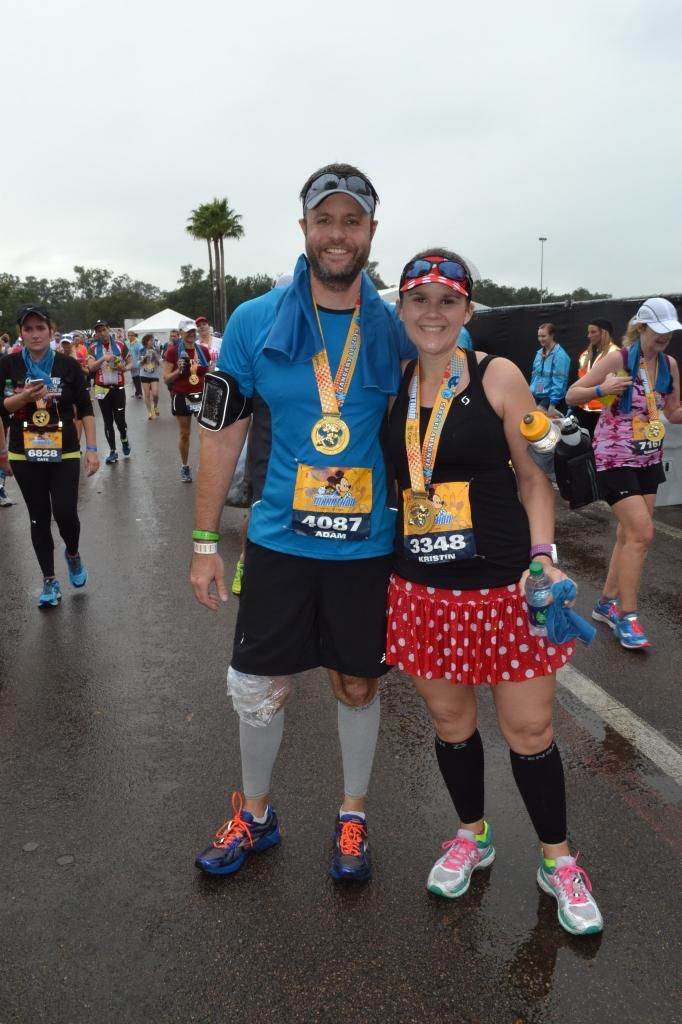 Here's the thing about pictures.. I'm kind of picky about them, which is why most of the time I'm not even in them.  I'd prefer to take pictures than be in them.  I fuss at Adam when he's taking them to make sure they're composed correctly.. so after Michelle took a picture of us, his immediate response was "Did you get our feet?  You have to get our feet!  Don't cut it off at our knees!"  Sooo we got this:
That's what I get for being a control freak.  I seriously cracked up laughing when I saw it.
So all in all, even given my not-so-great-time, I had a great time.  I'm a bit burned out on running at the moment, but I have some fun races coming up and I'm hoping that sticking with shorter distances (as in, no marathons!) for the rest of this year will help get me motivate again.
The really good news is I am not hurting, at all.  Clearly my chiropractor knows what he's doing!  My plan now is to drop down to running 3-4 days a week and cross training 2-3 days a week.  I want to stop doing intervals and build up to running a half without stopping again.  My half PR is 2:08 and I'd really like to kick that to the curb this year.  My big goal is sub-2, but I'm thinking I need to shoot for running the whole thing first!
I hope you all have a wonderful week!  I'll be back in a day or two with a recap of the ZOOMA Florida race weekend, as well as what we've been up to lately!