According to 1st Place Sports, this race series is designed to test your ability to run three different races in a twenty-four hour period. Your time in each of the three events is added together to determine your place for the Tour de Pain.  I couldn't decide how to write this recap. Since it was a series of three races so I was going to break it into three, but really it was kind of like one big race since they were run so close together and they all affected each other. I decided to put them all together, so forgive me if this is long!
The first run in the series is a 4-mile beach run, which started at 7PM.  In case you were wondering, it's still really hot and humid in Florida at 7PM, even at the beach.  I really wasn't sure what to expect and didn't have a time goal for this race.  I typically like to go into a race with an A, B & C goal but since I've never run on sand, much less raced on it, and I knew I had two races the next day, I decided to just enjoy this run and not stress over a time goal. My only goal for this race was to finish it without getting hurt. And lets be honest, that's a pretty lofty goal given the not-so-ideal terrain and my klutzy nature.
An old friend of mine, Andrea from Once Upon a Run, came to Jax to run the race with us. She had the same goal that I did so we decided to run it together, walk when we felt like it, and just have fun. Running on sand wasn't as bad as I thought it would be. It was hard on my ankles and we walked a good bit.  It was also interesting trying to dodge sand castles, holes, boogie boards, and kids.  Apparently a lot of the beach-goers didn't realize there was a race happening and were taken by surprise when a heard of runners came plowing down the beach.
The views were hard to beat though and the ocean breeze was definitely nice.  When we finished, I said I had no desire to run on the beach again.. but maybe I will.  Never say never, right?
Andrea and I crossed the finish line at the same time with an official finish time of 42:11 (there wasn't a timing mat at the start, so the official finish time is the  gun time).  The course was an out and back with a quick turn-around at the two mile point.  I managed to lose Andrea somehow just before the turn-around, so I stopped for a bit to stretch and wait for her right after the water stop, which explains why my time for the third mile was a bit higher.  Here's the info from my Garmin:
mile 1 – 9:49
mile 2 – 10:10
mile 3 – 10:52
mile 4 – 10:22
last bit – 7:46
Like the "last bit"?  Yeah, I somehow forgot to start a new run before the 5k, so my Garmin has the 4-miler and the 5k from the next morning as a single run.  Oops.  One day I'll remember to stop and start the thing correctly.  I didn't realize it happened until after the gun went off for the 5k, so I just hit the lap button and went with it.
Saturday morning was the 5k run at 7AM.  It was the same course that we ran for the Celebration 5k.  It's a nice, mostly flat, mostly shaded course that goes through a neighborhood in Mandarin near the 1st Place Sports store.  The weather was nice at the start of the race, but once we got going I was thankful for the shade.  Seriously, running in the summer heat in Florida is nuts.
I was worried about what kind of shape my legs would be in for this race after running on the sand the day before, thankfully they weren't too tired.  This race was a definite balancing act.  I wanted to push hard to PR, but I also didn't want to push too hard because we still had the mile sizzler to run that night.  Of course, a PR is always nice so I figured that would be my A goal and I set B & C goals that I thought were not too hard to reach.
A – PR!
B – Average pace under 9:00
C – Finish under 30:00
I finished in 27:22, which was a PR by one second!  I think I could have done better, but I misjudged the distance to the finish line and pushed too hard too soon.  The last bit of the race is on San Jose and I remembered from the Celebration 5k that the finish line was right after you turned off of San Jose.  I misjudged where the turn was though and ran way too hard before I got to the turn so by the time I turned and saw the finish line, I was done.  I tried to run hard, but I really just wanted to get a bottle of water and sit down.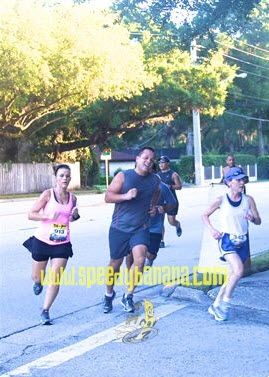 I feel weird being a little bummed about it since I did hit my A goal and I did get a PR, it's just hard to feel like you really could have done better.  My average pace was 8:50 and here is the breakdown from my Garmin:
mile 1 – 9:09
mile 2 – 8:39
mile 3 – 8:35
last .1 – 6:04
The last race in the series is a mile sizzler.  I thought "sizzler" was a kind of silly term for it until we got to the race site.  Then I got it.  It was seriously sizzling hot outside.  The first heat (there were four – masters men, open men, masters women, open women) started at 4:30 and we were all a sweaty mess before we got close to the start line.  Thank goodness for instagram filters that make you not look like the hot mess that you were!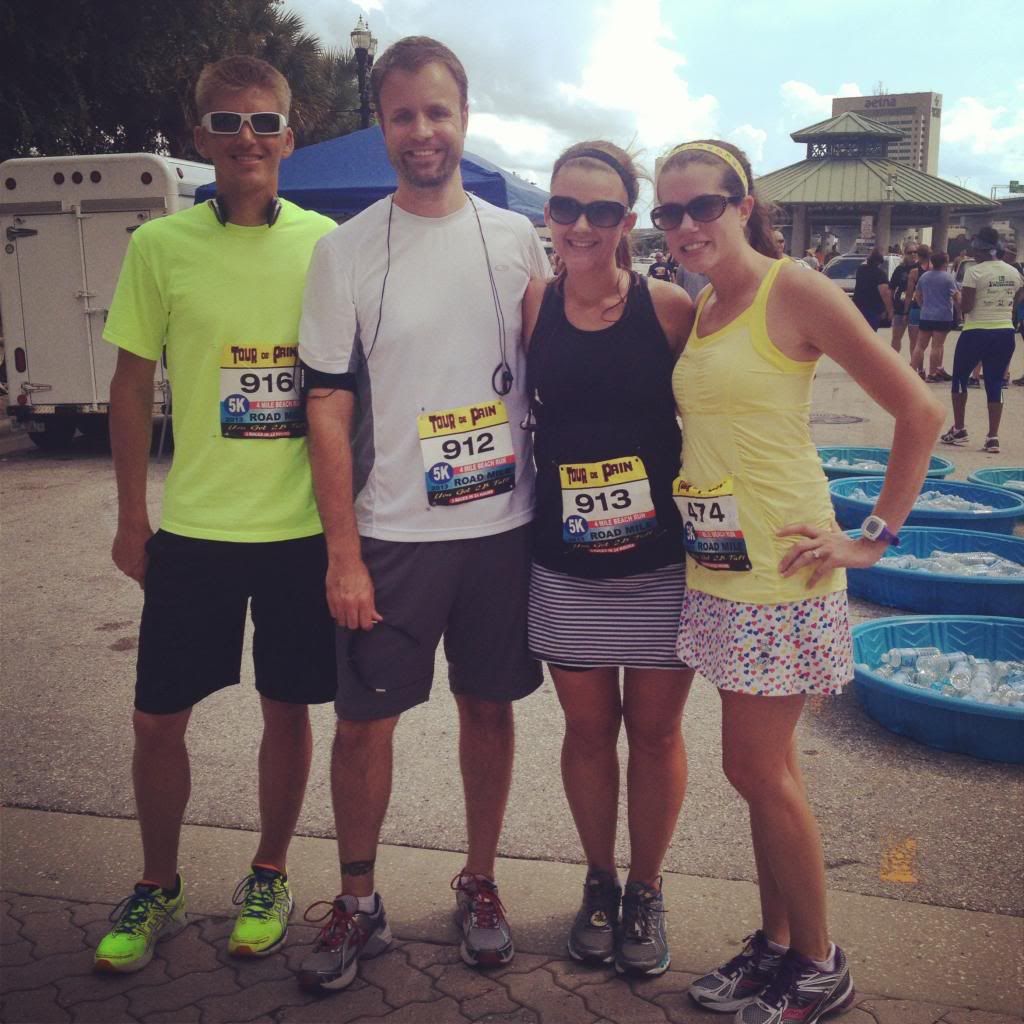 My brother and my husband ran the series with us and we were all excited to the the mile done.  Andrea and I were in the last heat and it was kind of intimidating watching everyone go ahead of us.  I had no clue what to expect or how to even set a goal for it.  The fastest I have ever run a mile was 7:47 and it was just running by myself in my neighborhood.
Some of the runners in the earlier heats were crazy fast.  It was really cool to watch them, they just seemed to effortlessly glide by.  When it was our turn to line up, I was  nervous, kind of intimidated, and overwhelmed.  I'd just watched my brother finish the mile sizzler in 7:15 so I decided my goal would be to beat him.  I know, I know.. you're not supposed to compete against others.. but I feel like that rule doesn't apply to siblings.
The course was a half mile loop, so we did two loops.  When I hit the first turn, I glanced down at my watch and saw that I was running a 6:13 pace.  I knew I couldn't keep up with that, so I slowed down.  When I got closer to the start line, I saw the clock was at 3:36 – I did some quick math and figured that would put me right around the same finish time my brother had, so I tried to pick it up a bit.  There wasn't much to pick up though, I was already running as hard as I could.  Too hard, actually.  When I hit that first turn again, I was spent.  I slowed down a bit and had a hard time keeping my pace.
When I rounded the last corner and saw the finish line, I tried to push harder but I had nothing left.  I saw my husband near the finish line cheering for me and I smiled at him, but all I wanted to do was get to the darn finish line so I could just stop running.  I crossed it in 7:37 and was kind of frustrated with my time.  I felt like I ran really hard and usually when I run hard in a race, my time is a good bit faster than when I do the same runs on my own.  There was only a 10-second difference and that was bugging me.  I tried to rationalize it, reminded myself that I'd run a 5k hard that morning and 4 miles on the beach the day before.  It didn't really help, but at that point I was just glad to be done.
Andrea crossed the finish line right behind me, so we got our medals, grabbed a drink, and collapsed onto the grass.  Well, I collapsed, she may have been more graceful, I wasn't really paying attention.  Adam and Damian found us and of course, Damian gave me a hard time because I didn't beat him.  I need to learn to not talk so much smack to him before races!
We cooled down and then made our way back to the post-race celebration area.  One of Adam's favorite part of a lot of these races is that they have free pizza and beer afterward.  I don't know why, but pizza and beer tastes SO much better when you're hot and sweaty after a run.
We didn't stick around for too long after the race.  Our neighborhood was throwing a Back to School Bash at the Splash Park and we promised Braden that we'd take him, so after we cooled off and got some food in our bellies, we headed back to the car.
None of us thought to check our watches before then, but when we got in the car we did and I was pleasantly surprised.  I'd actually run 1.16 miles in the mile sizzler, which explained why my time wasn't much faster than my training times.  Here's my Garmin info:
average pace – 6:30
mile 1 – 6:43
last .16 – 5:05
That made me feel MUCH better about my times and I learned that I need to hug the corners more, especially in shorter races!  An extra .16 isn't a big deal over the course of a 5k but when you're only running a mile, its an extra 16% (um, I hope I did that math right!) which is a good chunk of distance!!
Overall, I placed 17th out of 46 in my age group with a total time of 1:17:29.  I really enjoyed the series and I think I'll definitely run it again next year. There's a Tour de Pain Extreme in March that I'm thinking about running.. it's a 5k, 10k, and half-marathon over 24 hours.  I'm going to wait and see how I feel as it gets closer though, since I already have two big races on my calendar for March!
Have you ever run a race series?