Borland-Groover's March To Get Screened 5K raises funds for research and education for Colon Cancer, the second leading cancer death. Every dollar raised by participants goes to the BGC Foundation and further education, research, prevention and a cure for Colon Cancer.
The goal of March to Get Screened is to promote colon cancer screening. A colonoscopy can prevent colon cancer from even starting. Colon Cancer Screening is easier than you think and one of the best ways to prevent colon cancer.
This year, the March to get Screened 5K wa held at the Jacksonville Beach Pier and I was excited to participate!  To keep with the current "racing" theme around here, I went into this one with no time goals.  I had several friends running and figured I'd run with one of them and just enjoy the view.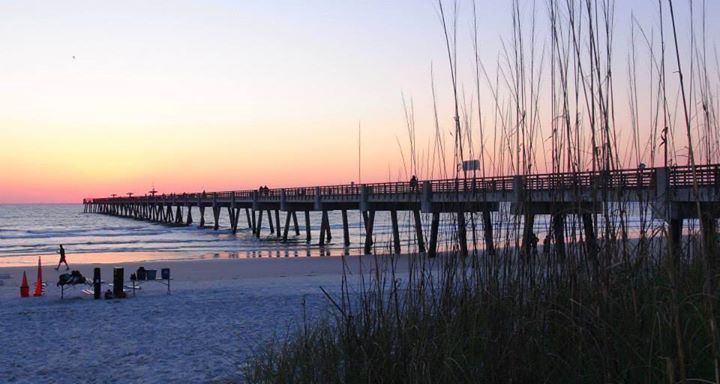 It's pretty hard to beat running on the beach.  I know a lot of people complain about Jacksonville.  Y'all go ahead and complain.  I love it here!
In a very un-Kristin-like manner, I got there really early so I stopped for coffee and a potty break.  Yay for avoiding port-o-potties!

 When I got to the Pier, I parked near the Ritz (Memories!  For the non-locals, I'm not talking about the Ritz-Carlton, the Ritz is a bar at the beach where Adam and I hung out a lot when we first started dating.) and met up with some friends.  We chatted until it was time to walk over to the beach to start.
Me, Aleisha, Cassandra, Jenn, Stacey, Sharon
Jenn and Sharon were planning to run together so I asked if they minded if I tagged along.  We planned to follow Jenn's lead with intervals.  I wasn't sure what to wear because it was in the high 40's but it was the beach, so I knew it would be windy.  About 5 minutes into running, I regretted wearing my jacket and managed to get it off and tie it around my waist.  So attractive!
At the turn around, I immediately regretted that decision.  We had a crazy strong head wind and it was FREEZING.  My ears hurt so bad from the cold air.  I wrangled the jacket back on and kept it on for the rest of the race.
Jenn runs 3:1 intervals (3 minute run : 1 minute walk) and I typically do 5:1's.  Our overall pace is about the same, but she was pushing it and since her run times are shorter, they're faster.  I took an extra walk break at one point to catch my breath, then caught back up to her and Sharon on their next walk break and we all finished together in 34:09.
Aleisha and Stacey both finished with times that we thought could earn them age group awards, so we walked over to the post-race celebration at Lynch's Irish Pub, while Jenn's husband and son went to put our name on the waiting list for breakfast at Metro Diner.
With our race bibs, we received two tickets for a free beer.  We grabbed drinks and sat and chatted for a while.  After a good bit of time had passed, Jenn's husband texted saying our table was ready.  It didn't seem like the awards were going to start any time soon, so I went and asked and they said it would be another 45 minutes to an hour.  Yikes!  Aleisha decided breakfast was more important than a possible age group award, so we rushed down to meet the boys for breakfast.
All-in-all, a fun morning.  If we hadn't been crunched for time, we could have enjoyed the post-race party a bit more and then went to breakfast, but we all had things to do.  Such is life!
Disclosure: I received a free entry for this race, as well as two entries to give away.  All opinions are my own.