Blogger fail alert!
I thought I already wrote this Race Recap.. I went looking for it to link it on my Running page and it wasn't there.. it was sitting in my draft folder. Apparently I loaded all of the pictures and info from my Garmin and that was it. Oops! Oh well, here it is!
I set a goal at the beginning of the year to run a race every month this year.  To be honest, I wasn't super excited about running this race.  I wanted to sleep in and spend the extra day off relaxing with my family, maybe going to the pool, but definitely not getting up before dawn to run.  It was the only race we could fit into our crazy schedules this month though and I'm really glad I did it.  Even though it was hot, we met up with some good friends and I ended up having a really good time.
We got there a little early since I still needed to pick up my race packet and timing chip, then met up with Jenn and her family.  Adam was planning to run too and the kids were going to stay with my parents, but Braden really wanted to do the kids race, so Adam skipped the race to hang out with him while I ran.  We should have planned better because Jenn skipped running to hang out with her little guy too, but it was such a last minute decision and we didn't think about one of them running.. another oops

  Keith and I posed for the obligatory pre-race pictures, then headed off to the start line.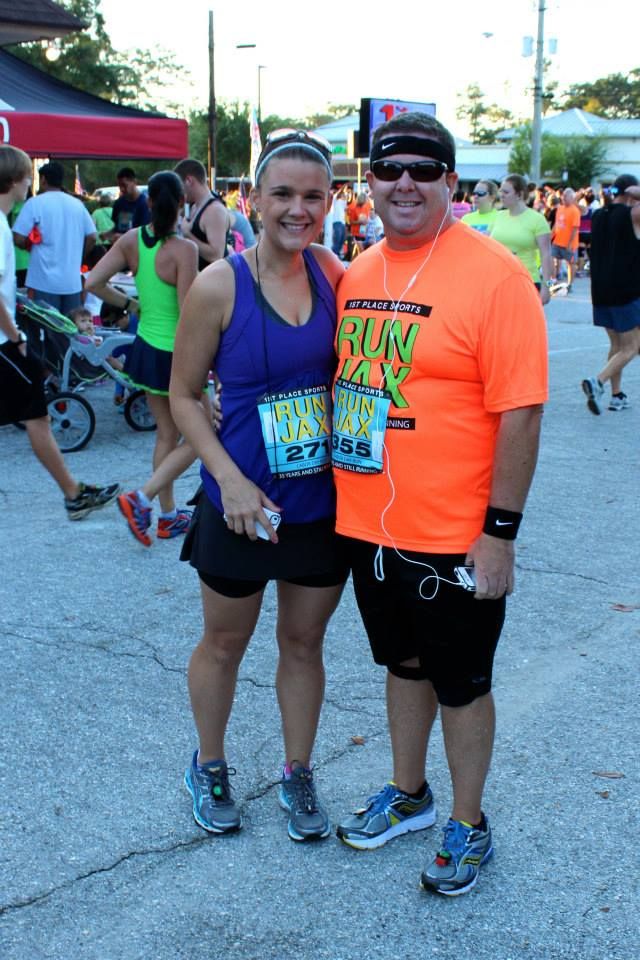 I think we had the cutest cheering squad there.  I may be biased.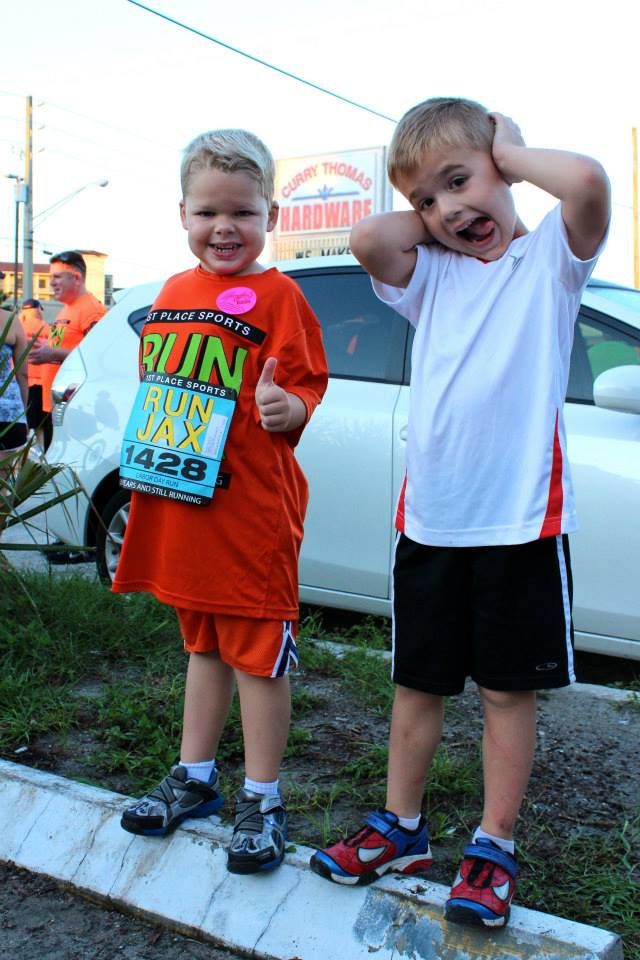 The first mile or so was brutal – it was a straight shot down Baymeadows with the sun shining down on us, it was super bright and I was thankful for my sunglasses.  I kept trying to find shady spots on the sidewalk, but finally gave up and just ran down the road.  (I'm on the left in the purple top.)
The course was nice, I love running through the neighborhoods in Mandarin. I love checking out other houses, getting ideas for things to do to ours, especially landscaping. I know, my dad is proud, 15-year-old Kristin who went to Home Depot with him full of complaints is not impressed. It's funny how much things change as you get older!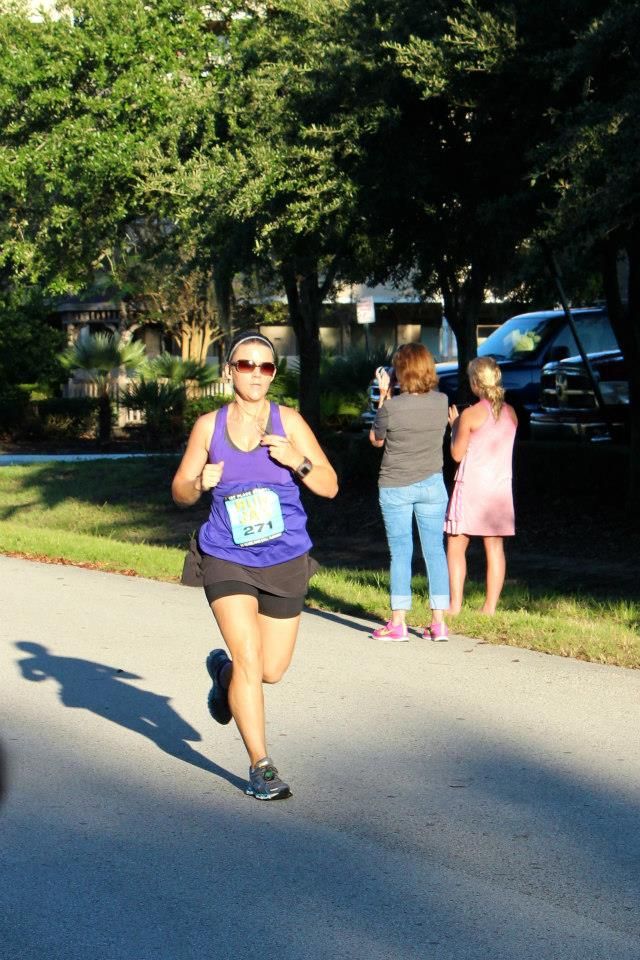 It was hot though. Really, really hot. I ended up taking a lot of walk breaks and stopped to stretch three times. I think around mile 2 Adam texted me to see how it was going and I told him I didn't care what my time was, I just wanted to finish and I may be walking across the finish line.
You know, in hindsight, maybe if I didn't bail on so many training runs, it wouldn't have been so bad. Food for thought..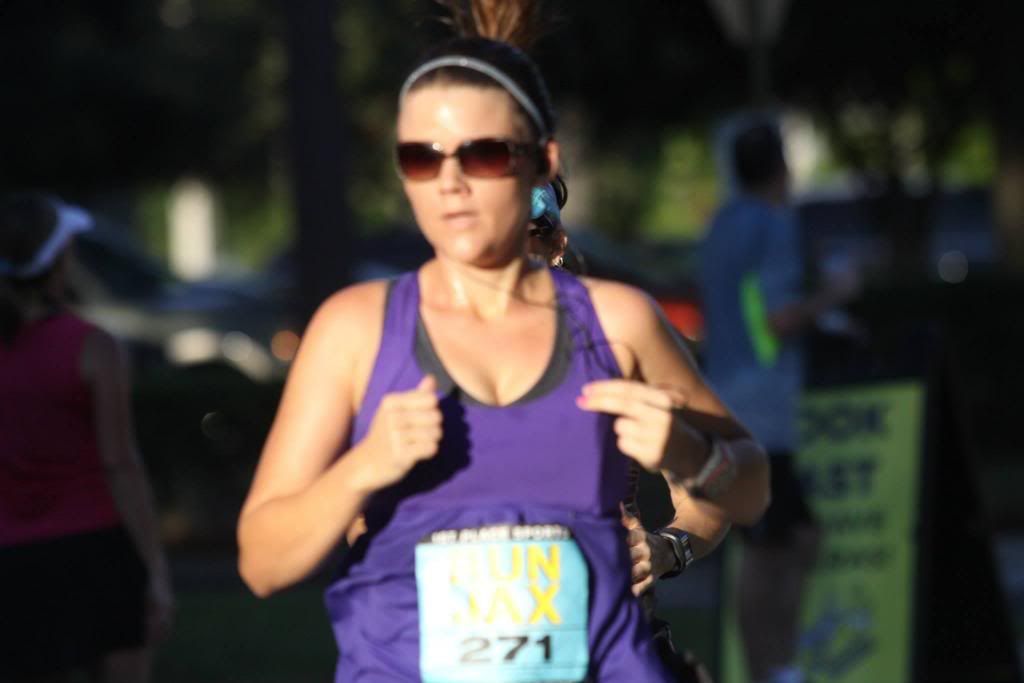 Overall though, I think I did alright. A bit slower than normal, but I'm okay with that. My chip time was 33:18, which was an average pace of 9:31. My splits make me laugh.. I go from a normal 5k pace to a "blah, this isn't fun" with my second mile, then "ugh, this sucks, I just want to be done" in the third mile, back to "okay let's do this!!" in my last half mile. Did I mention that? It was a 3.5 mile race instead of a 5k, in honor of the 35 year anniversary of 1st Place Sports, our local running store. Here are my splits:
Mile 1 – 8:43
Mile 2 – 9:44
Mile 3 – 10:29
Mile 4 – 8:37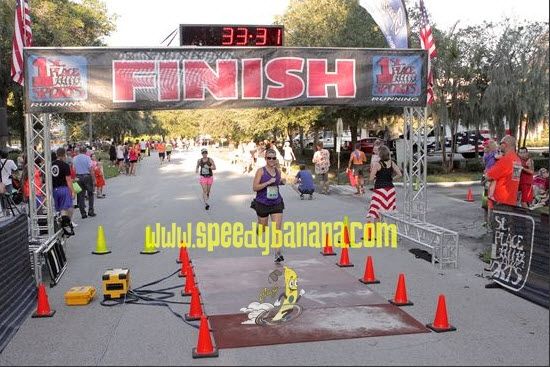 I love the medals and the shirts (which you will probably see a lot in training pics, I'm actually wearing it now!) for this race — I've been eyeing the "RUN JAX" shirts in store and I'm happy to have my own now.
We all watched Keith cross the finish line, then walked over to get some water and cool down before the 1-Mile Fun Run started. The older guys decided to let us run with the little boys, so we went to line up while they went.. well, I'm not sure where they went actually.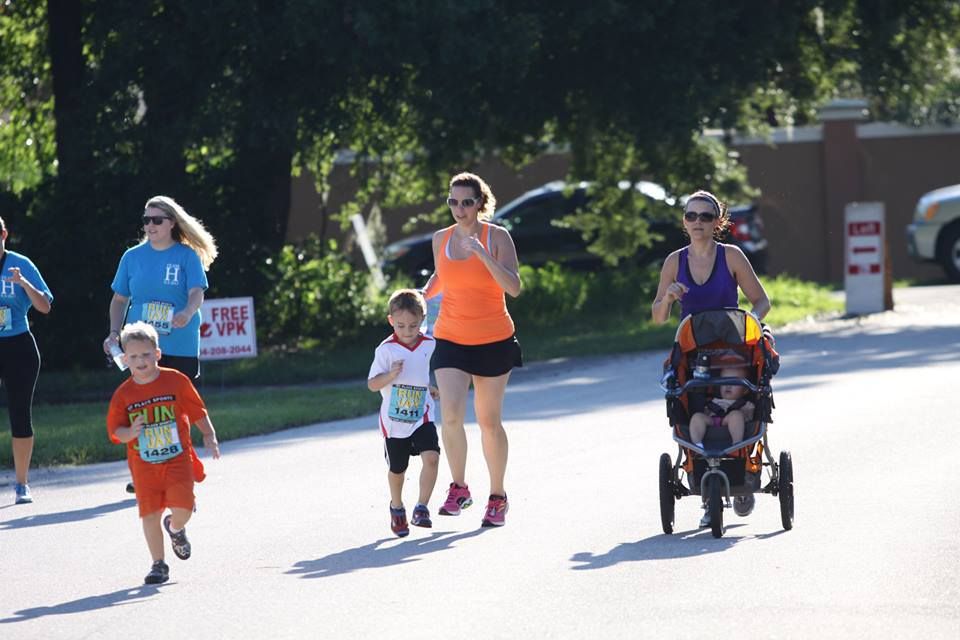 The boys were cracking us up. At one point, Aiden was running while pushing Mackenzie in the jogging stroller, it was quite the sight. As soon as they saw a camera, they sprinted and ran like maniacs.. then stopped for a nice leisurely stroll as soon as they passed the camera. I'm not sure where they learned that..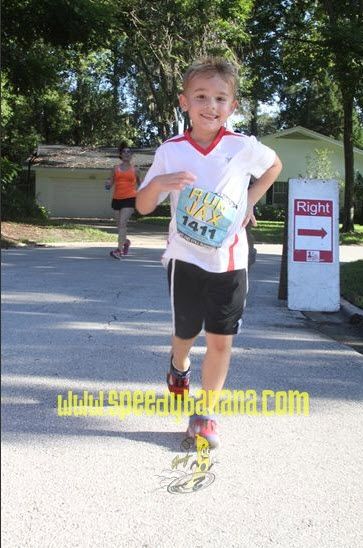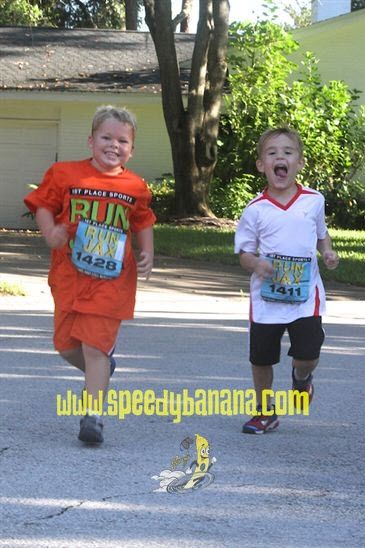 They complained a bit, it was really hot out, but mostly had fun. They were excited to cross the same finish line that Keith and I crossed just a bit earlier and to receive the same medal — even Mackenzie got one for her awesome efforts in the jogging stroller!
I learned a not so fun lesson at the finish line.. watch where you stand. I was standing in an ant bed without realizing it and they covered my shoes, I had ant bites all over my feet and ankles, it was not pleasant. I ended up walking around the store in my socks afterward (everything was 35% off, wahoo!) because I was scared that I didn't get them all out of my shoes. Blah!
Overall, a fun run, definitely one I'd do again!