I feel kind of funny calling this a race recap.  There was a race involved, but we didn't race.. not really.
I briefly mentioned it last week in my Five Things Friday post last week:
My last two races have made me realize that I'm super competitive with my self.  My 5k time yesterday was 37:12 — nearly 10 minutes longer than my PR!  The entire time we were walking and running, I kept looking at my Garmin and trying not to let it bum me out.  The whole point of yesterday was to just have fun with Adam and Braden, and we did have a lot of fun.  Next time we do a race just for fun, I'm not even going to bother wearing the Garmin, it just stressed me out!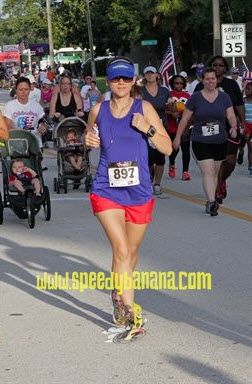 Adam and I originally planned to run this race on our own.  My parents were going to come and hang out with the kids while we ran, then we were going to do the 1-mile fun run as a family.  My mom fell and broke her foot a few weeks before the race though and it was a bit much for her to watch the kids while hobbling around on crutches, so we decided the kids could just hang out at Grandma & Grandpa's house while we ran.  Fast forward to the week before the race, and Braden asked me when his next race was because he wanted to earn another medal.  Another change of plans — we decided to take Braden with us and let him ride in the jogging stroller while we ran.  We decided we'd just have fun with it and not worry about our time.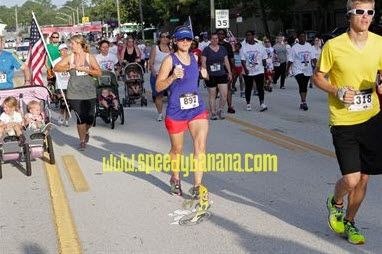 I didn't realize how hard it is to run slower.  Adam offered to push the stroller and my brother and I planned to run alongside him.  I was struggling to stay with him and kept ending up a bit ahead of him.  It was really starting to bug my knees too.  We finally settled into a rhythm where I walked and ran some to keep pace with him.  It was fun running the race together for the first time and Braden really enjoyed it.  I think his favorite part was the sweet little girl and her mom passing out watermelon along the route.  B's a huge an of watermelon, so it made his day.
Adam pushed the stroller for the majority of the race, but I took over for the last mile or so.  Pushing the stroller with 50-pounds of Braden in it is no joke.  I was seriously out of breath when we crossed the finish line!
Just a bit after the 5k finished, the 1-mile fun run started.  Adam was on stroller duty so I could run with B.  He had so much fun!  We mostly did little sprints here and there with some walking thrown in.
B's big goal was to beat Uncle D (who was walking with Adam and D's girlfriend, Amanda).  Every time they came close to catching us, Braden would take off running and taunting my brother.
He gave in a bit closer to the finish line and let Uncle D run with us.. just as long as we swung him every few feet or so.  He had such a great time with the race, I love that he loves running as much as we do!  I can't wait 'til the next one.