I hope y'all had a great Halloween weekend!  Friday night was busy, as expected, but the rest of our weekend was very relaxing — definitely a welcome change from our normal weekends where we're running all over the place!
Friday afternoon, Mackenzie's school hosted their annual costume parade.  Typically it falls on the Friday before Halloween so it's not a big deal, but since Halloween was on a Friday this year, we had to scramble to get there and figure out dinner.  Kenz had been talking about her "harade" all week and was SO excited!  She was the only Princess Anna in her class and the only Anna in the coronation dress.  And cowboy boots.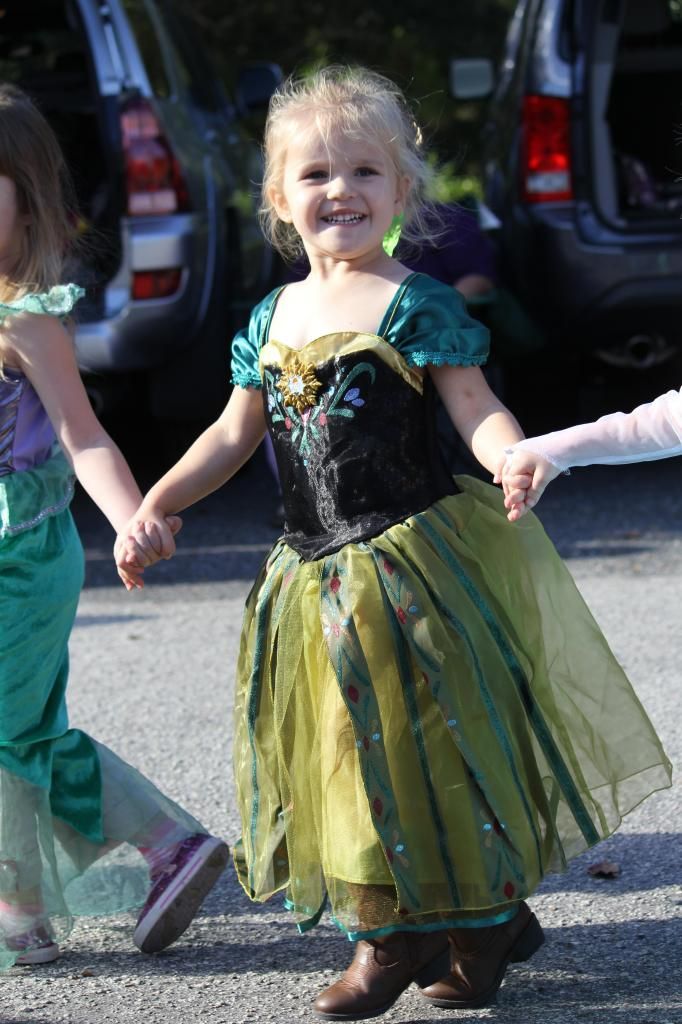 After the parade, I had to run to get Braden's hair cut.  We haven't had time to do it and we had family pictures the next day so it NEEDED to be cut.  He was seriously shaggy!  After that we all met back at our house for dinner – we got chicken tenders, coleslaw, baked beans, chips, and dip from the Publix deli.  We learned our lesson about ordering pizza last year!  (it never showed up)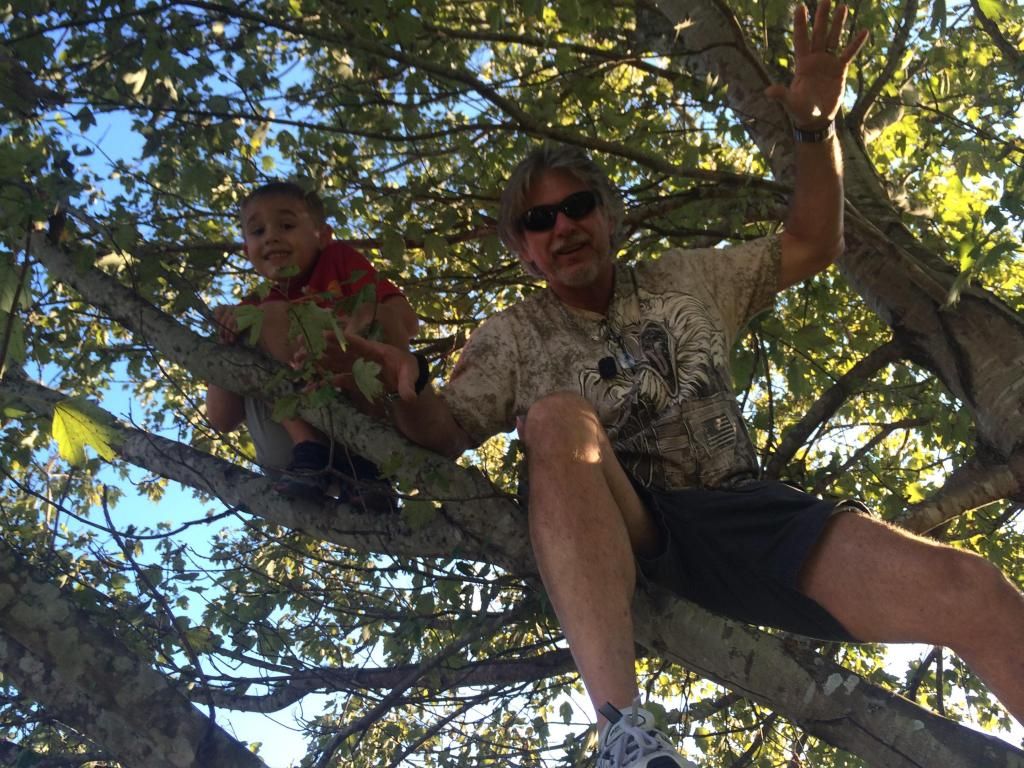 We let the kids play in the backyard for a bit while we waited for trick-or-treat time.  That big kid on the right is my dad.  Braden was showing him how to climb the tree in our backyard.  He loves climbing it, thanks to my brother.  It makes me slightly nervous.. it's a long way down from where they were!  Braden did fall out of the tree once.  My mom and I both saw it happen and ran outside to check on him, he hopped back up and looked at us like we were crazy, then went back up.
Poor Grandpa got stuck in the tree and Braden had to tell him how to get down.  Mackenzie tried to climb the tree too, but I told her until she can get in it on her own, she can't climb it.  Thankfully Rex kept her entertained and distracted.  Also, we need a new hose.  I'm pretty sure that one has puppy teeth holes in it now.
A little while later, the kids couldn't wait any longer so they came in and we got them ready to go.  I struggled with Mackenzie's hair.  Friday morning, I was sitting with her watching YouTube videos trying to do my best interpretation of "Princess Anna hair".  Mackenzie's hair is SO fine though and there isn't that much of it, so it was hard. This was my first attempt.
The braids would not stay in place, no matter many bobby pins I used. It looked messy too, which was driving me crazy so I tried again without twisting the two pieces. I had to do one braid on each side because her hair wasn't long enough to go all the way across the top of her head.
Not really Princess Anna hair, but it looked better so I went with it. I took Kenz with me to get Braden's hair cut and Mrs. Rebecka put some cute clips in it to try to keep it in place. Thankfully Mackenzie loved it and it stayed up all night, so I'm calling it a win.
So as you have probably gathered, Kenz was Princess Anna and Braden was.. well, do you know who he was??

It's okay if you don't. I had no clue who that guy was when he showed me the costume. The only people who recognized him were kids, pretty much all of the adults were like "Ohhh hey, Princess Anna! Long time no see! And who do we have here.. uh.. yeah, mom, who do we have here??" In case you need a visual, this is Wash Buckler. He's a Skylander.. it's a video game thing.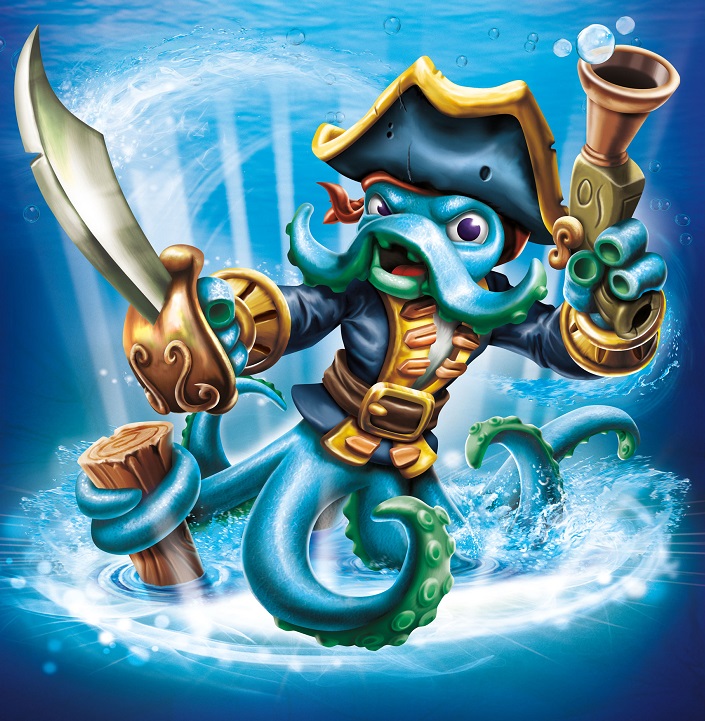 from Skylanders Wiki
How cute are they? Mackenzie did not want us to go with them at all. She grabbed Braden's hand and kept telling us "We can do it all by ourselves! Don't come!" She lasted for about an hour before she was ready to go home. My aunt and two cousins were in town for the weekend and they showed up at our house after we left, so we spent some time visiting with them and Mackenzie had fun passing out candy.
The rest of the weekend was pretty easy. We had family pictures Saturday morning and it was FREEZING. It was 48 degrees! Usually we're sweating in our sweaters and jeans, but not this year. We ran to Starbucks afterward to grab our photographer a hot chocolate to help warm her up because she had to stay out there for another hour and a half. Kenz and I spent the rest of the day shopping with my mom and Aunt Kathy while the boys relaxed at home with Adam's mom. Sunday we had a much needed "stay home day", as the kids call it. Adam and I both did our long runs, we cleaned out the "storage bathroom", I organized the playroom, and got everything ready for the week.
We have a busy week ahead and I cannot wait until Friday! We're dropping the kids off at school then headed down to Disney for the Wine & Dine half — SO EXCITED!!
How was your Halloween?
Connect with A Mom on the Run:
Twitter: @amomontherun
Facebook: A Mom on the Run
Instagram: @amomontherun
Pinterest: pinterest.com/kristinm1027
Daily Mile: dailymile.com/people/amomontherun
Follow on Bloglovin: bloglovin.com/en/blog/4935423