Once the meet-up was over, I was eager to make my way over to the expo (after a quick pit-stop to go Soarin' with my new friend Christina).  This is the first race I've done where there is an expo, so to say I was excited would be an understatement.  I went to the expo marathon weekend but it was hard to take my time wandering around since I had Braden with me.  This time, I planned to shop.. oh, and I did.  Adam took the day off to come down and hang out with me at the expo, he's recently started running too and was excited to sign up for the Wine & Dine half and check out all of the fun running gear.  Before he arrived, I picked up my bib and made my way over to the runners relations booth to change corrals.  I figured my time from my 10K in January would bump me up from E to B.. I was shocked when she slapped this sticker on my bib!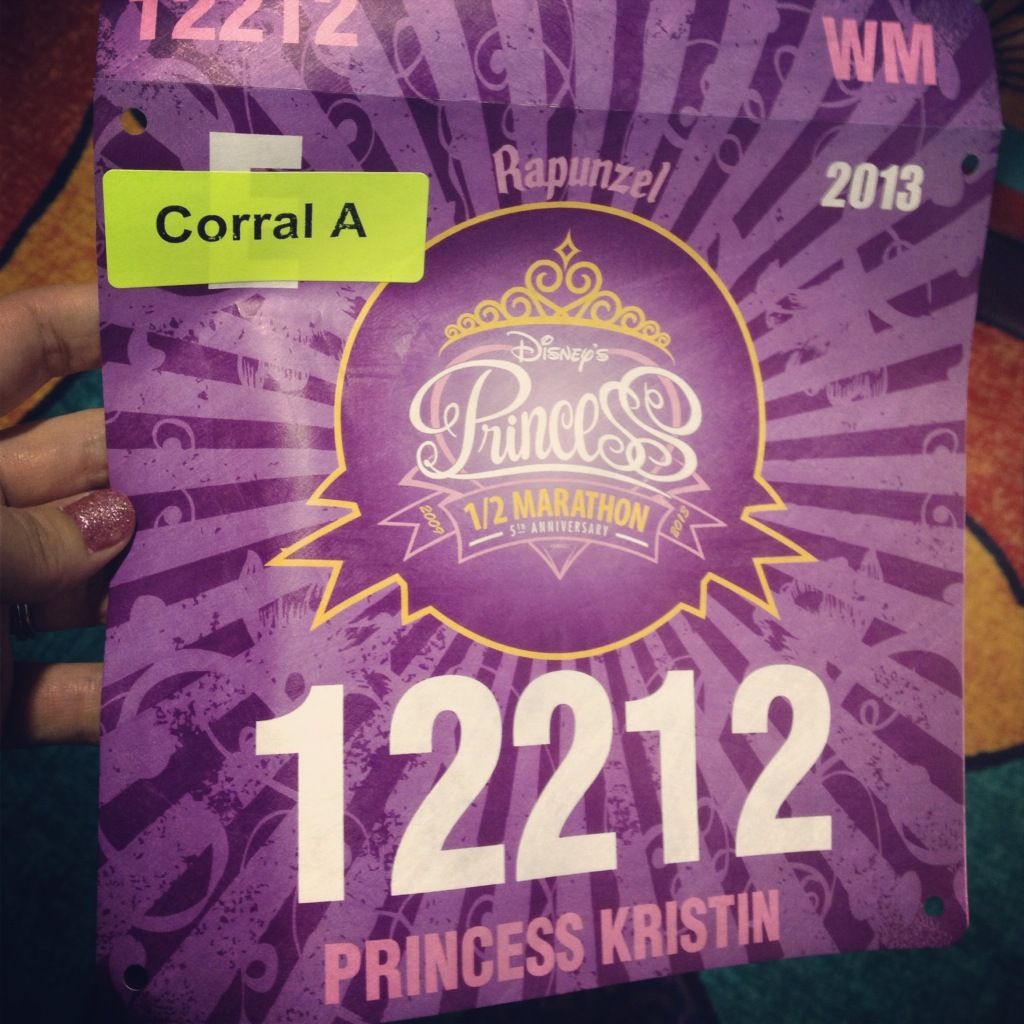 Corral A?!  For my very first big race?!  Talk about intimidating!!  I haven't decided if I'll actually start there, or bump myself back to B so I can hang out with some friends to calm my nerves and hopefully ensure that I don't start off too quick and then burn out at the end.  Once I had that worked out, I picked up my race tee and wandered around for a bit waiting for Adam to arrive.. and by wander, I mean I picked up a few new Sweaty Bands and a cute new Raw Threads shirt.  Adam arrived and we headed over to Pepper Market to grab lunch, one where we could actually sit and talk with each other and not chase kids all over the restaurant or spend half the time picking up the food Mackenzie decided was offensive and threw on the floor.  I adore my kids, but sometimes it's nice to have an actual conversation with my husband!
Once we were done, we headed back down to the expo and both signed up for the Wine & Dine half and I stopped for a quick picture with Jeff Galloway, since I didn't get one with him before he had to leave the meet-up this morning to get to the expo.  He's such a nice guy, very kind and really seems to take an interest in what you are saying when you talk to him.  I'm thrilled that I got the opportunity to meet him and run with him!
I'd stopped by the New Balance booth earlier in the day to pick up the runDisney shoes I won at the meet-up, but they were out of my size and told me to come back after lunch. I headed over to grab them while Adam wandered around. Redbook had a really great table set up where spectators could make signs to encourage their runners during the race.  Apparently my darling husband missed out on the "encourage" part of that, because this is what he came up with.  Yes, he thinks he's funny.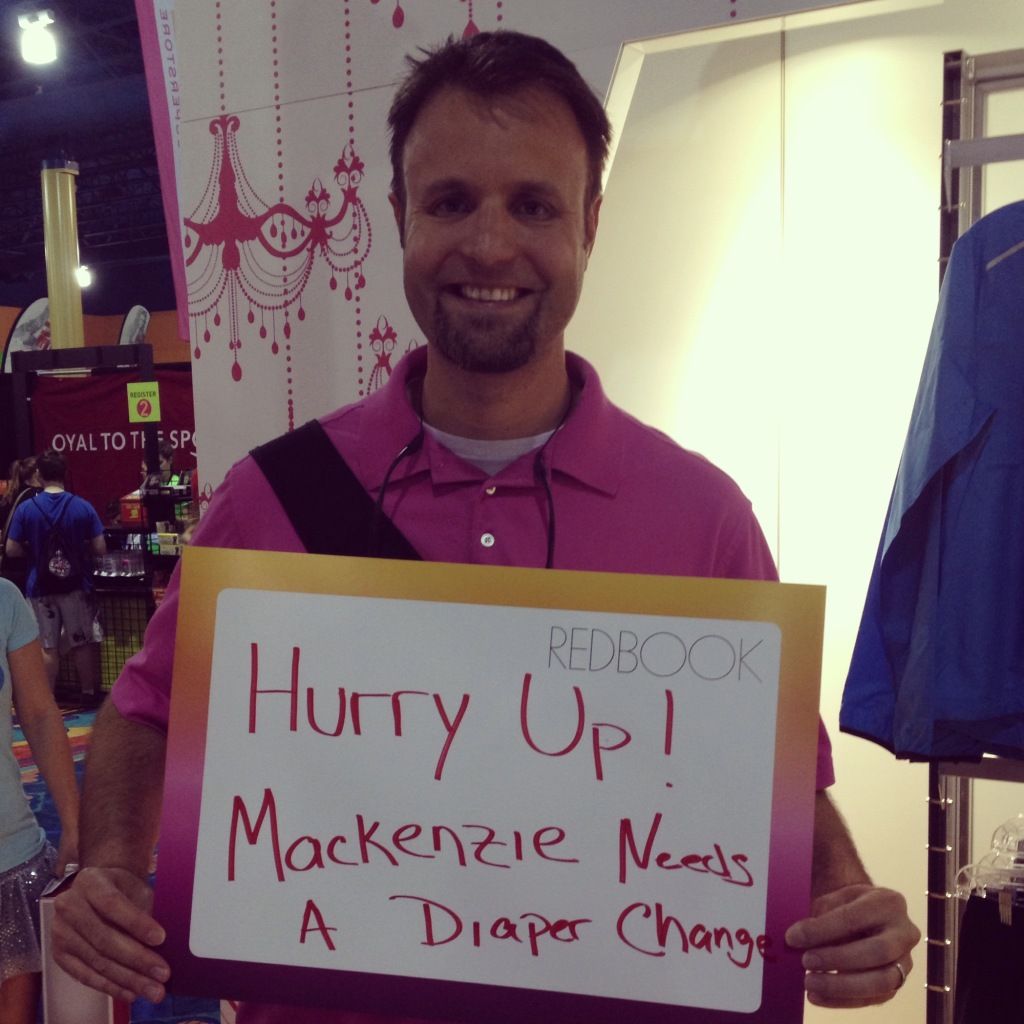 Anyway, I'm in love with my new shoes!  They won't work for me for running, but I know I'm going to love wearing them out running errands and especially during our many visits to Disney!  Since I won them at the meet-up, I was lucky and didn't have to wait in the mile-long line for them.  The New Balance staff was great and made sure I had the perfect fit before sending me on my way!
Our last stop before heading out was to visit the Another Mother Runner girls, Sarah Bowen Shea and Dimity McDowell. These ladies are authors of Run Like a Mother, which motivated me to get my toosh off the couch and out the door.  Their podcasts keep me putting one foot in front of the other during my long runs on Saturday and provide so much wonderful information, while keeping it light and fun.  I can't tell you how many times I've been on the receiving end of strange looks from other runners when I'm cracking up listening to them.  I picked up one of their shirts (the same one that Dimity is wearing on the left) and I'm in love with it, I want to order a few more.  They're super soft, comfy, and very flattering.  It doesn't hurt that it says "I run things." – which is oh, so true!  I also grabbed a copy of their newest book, Train Like a Mother.  I'm planning to use their half marathon own it plan to train for the Wine & Dine half, hopefully I'll crush my time from this weekend!
After a quick chat with them, we headed out to meet up with my parents and our kids, got checked into the hotel, and settled in for the night. Mr. B has a big day tomorrow – he's running his very first one mile race!