The morning after Beth & Josh's wedding, we hopped on a plane and headed back to Jax – there was no way I was going to miss my girls first dance recital!
Since her dress rehearsal was super early (7:55AM!!), there was no way I would make it back to help her get dressed.  Adam said he thought that maybe he could do it, if we practiced, and I left him really good instructions.  Instead, I called in reinforcements – Aunt Kathy & Jordan!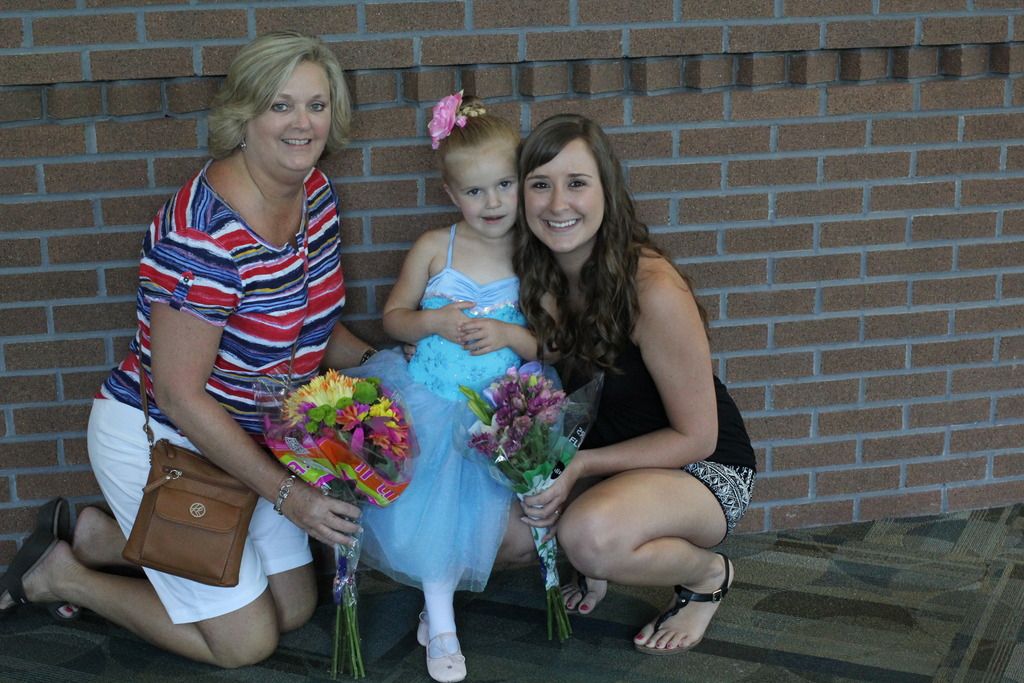 It was expensive to fly and a pain to haul Braden's booster seat through the air port (thanks, Dad!) but it was worth it to not miss this:  (Kenz is the 2nd from the right)
I was worried about how she'd do.  Getting up on stage in front of so many people, with the bright lights is intimidating to me and she's only three!  She also wasn't really a big fan of her weekly dance classes – Kenz likes to do her own thing when she's dancing, so doing what Miss Amanda tells her to do is no so entertaining for her.
She did so well though and I couldn't be more proud.  I had serious flashbacks to my first recital, where I was dressed like a hot pink daisy – Kenz was a million times cuter!  I loved seeing all of her friends all dolled up too!

She seriously ate up the attention and was SO excited that she finally has a trophy of her own.  She always eyed Braden's and asked when she would get one.  Hers is still (over a month later) proudly on display on the mantle in the living room, because she won't let us move it up to her room.

I think her flowers weighed more than she did!  How stinking cute is she carrying them around?  I love this sweet girl so much and I'm so lucky she's mine!