You may remember back in October when we went to Atlanta for Laura and Jeremy's wedding.  This time it was Beth & Josh's turn to tie the knot.  I'd been stressing about the dates ever since mid-November when we found out that Mackenzie's first dance recital was going to be one of the first two weekends in June.  I kept my fingers crossed that it wouldn't be June 5th.  It was, of course.
Missing Beths' wedding was not an option and missing Kenz's recital was not an option.  Luckily, the wedding was Friday night and the recital was Saturday morning.. the only problem was that pesky 6.5 hour drive separating us.  Sooo the day after Braden's last day of 1st grade, we hopped on a plane (with my parents!) for a quick 45-minute flight north.
I was a little worried about the flight.  I'm fine with flying, but Braden had never been on a plane before.  He was excited and a bit nervous, but what concerned me most was his ears.  He had so many issues with his ears when he was itty-bitty and I was worried that they would hurt.  I packed gum in my carry-on and hoped for the best.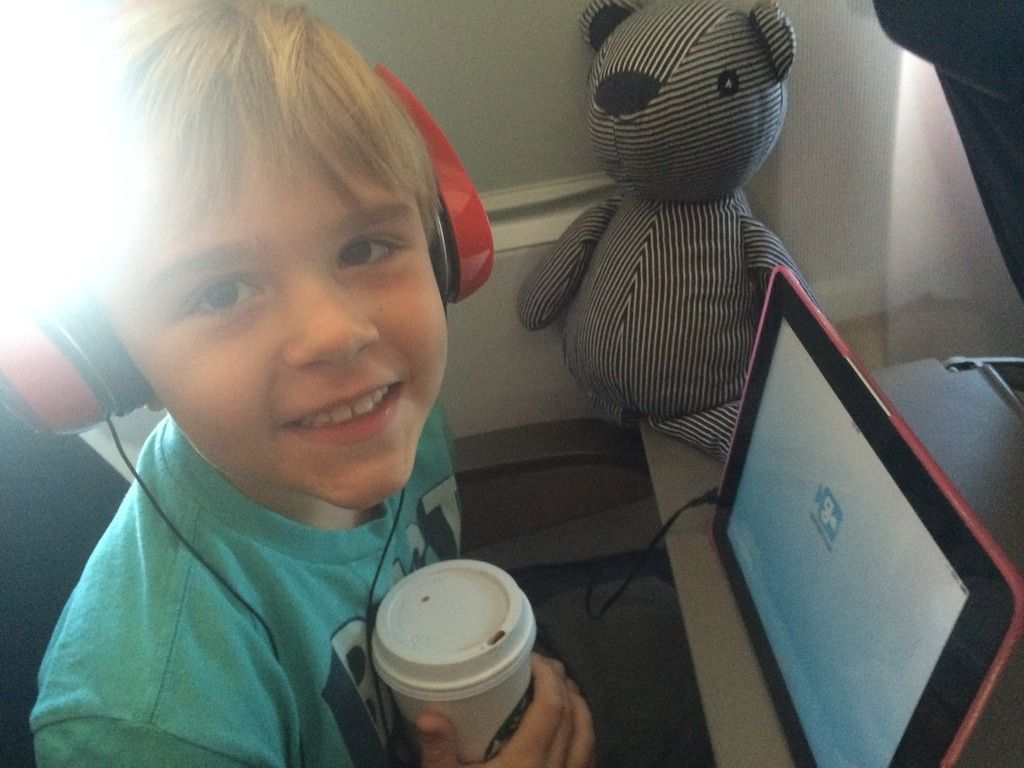 Thankfully my worries were all for nothing, B was the perfect little travel buddy.  We had one minor hiccup with a cranky-pants TSA agent (Braden touched the side of the scanner when he walked through, then got scared when the guy yelled at him not to touch it, which made him tear up and try to run back to me.. good times) but once we got through security we were golden.. well, sort of.  My parents almost missed the flight.  I'm still shocked that they made it – they had already shut the doors to the plane.
We landed in Atlanta and grabbed our rental car and were on our way to the Georgia Aquarium.  I was itching to get to our friends, but I knew the weekend wasn't going to be much fun for Braden so I wanted to do something fun for him that afternoon.
He had a great time, my parents and I just followed his lead and let him decide what we did and where we went.  That kind of backfired when we went to see the dolphin show because he insisted that we had to sit in the splash zone.
The aquarium had this really great area upstairs where kids got an iPad that had them going to different stations throughout the aquarium to complete the Aquanut Aquarium Training.
We left the aquarium and grabbed lunch, then went to check into our hotel.  We changed and got cleaned up, then went to the rehearsal dinner at Bahama Breeze.  I had this lemon chicken thing with sweet potatoes and it was delicious.  We have a Bahama Breeze here, but I've never been.  We need to change that soon!
me, Jackie (bride's mom), Isobel (bride's aunt), Brad (bride's brother), Megan (bride's cousin), Levenia (my mom)
After the rehearsal dinner, we went back to Don & Jackie's house and spent some time relaxing and catching up with them.  I've known them since I was little and they were like my second parents growing up.  I hate that we live so far away from each other now.
Friday morning we were up early and met at the wedding venue to help the wedding coordinator (who I've also known forever, she's the bride's aunt) get everything set up for Beth and Josh's big day.
Braden was a total rock star.  I packed his backpack full of stuff to keep him entertained. He helped us set up a bit, but mostly stayed out of the way and kept himself entertained.  I love that kid <3
Once everything was set up, we went to California Pizza Kitchen for a late lunch, then back to the hotel to clean up, then back to the venue to finish up.  There were a lot of things set up outside that we didn't want to leave out while we were gone since a lot of runners and bikers stop at the venue for water.
Side Note – it was a totally gorgeous area and I wish I'd packed my running shoes.  There was a really great trail and I was jealous seeing everyone out there!
The ceremony was on the back patio area, overlooking the river.  Beth was a beautiful bride, her dress looked like it was made just for her.  I loved the pops of color with the bridesmaids shoes and bouquets, and with the groomsmen's shirts and boutonnieres.
The reception was so much fun and I had the most handsome date there, by far.  I'm so surprised with how well he behaved the entire weekend.  I kept telling him he was definitely earning a surprise and he kept telling me he thought he deserved more than one.
Clearly my dad and his best buddy Don, the father of the bride, had a great time reliving their youth at the reception.
Grandpa wasn't the only one having fun – Braden got out there with the single guys (and the friend he made at the reception) and caught the garter.  I don't think he had a clue what was going on.
I encouraged him to go out there but didn't think he'd actually catch the garter, I figured it would go way over his head.  I felt bad because it's not like Braden can really do the whole "put the garter on the leg of the girl who caught the bouquet" thing, but Beth and Josh didn't seem to mind.  I'm sorry, again!!
Best Buds! – Don, Jackie, My Mom, My Dad
Brad, Laura, Beth, Me, Damian (my brother)
Just for fun – this is what we looked like a few years ago.. Gotta love those high waisted jeans!
Saturday morning we were up bright and early to catch our flight back to Jacksonville.  Mackenzie's recital was at 2 and we had to make a quick stop to drop Braden off with some of his friends.  Apparently recitals aren't cool when you're almost 7.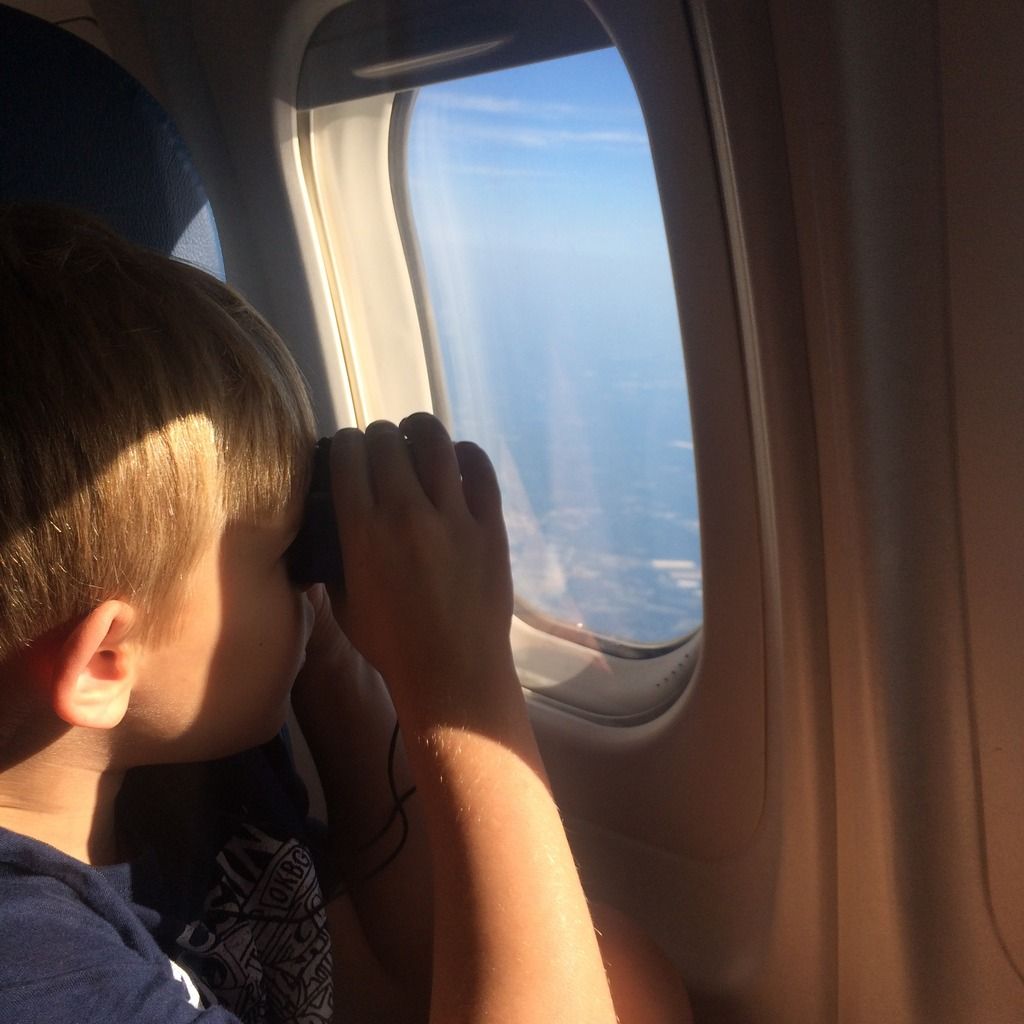 He was pretty much over the iPad by this point, so we had to find other ways to keep ourselves entertained.
Later that night, we unpacked and Braden gave Kenz the garter that he caught.  It makes the perfect headband for her!
I hope you have an amazing weekend!  We're off to Bainbridge to meet the newest member of our family — which means I get baby snuggles TOMORROW!!!  EEK!!