It's time to catch you up on what we've been up to again!  I'm linking up with Jill, Nikki, and Lynda for the ultimate coffee date!  I'm late, again, thanks to work.  I keep thinking this busy cycle is coming to an end, but then it doesn't.  It's not as bad as it has been though, I'm actually able to snuggle my little ones and put them to bed at night.  Mackenzie kind of broke my heart a little bit the other night.  I was finishing up some work while Adam bathed them and when I went upstairs to help get them to bed, she said "Mommy, you have to work?  Or is it cuddle time?"  I hate that my busy work schedule affects them.  I can't complain too much though, I'm able to work from home most days and my boss is great about letting me take off when I need to.
There's a lot to catch up on and lets be honest, I can barely remember what I had for breakfast this morning so remembering the details of all of this.. ehh, not likely.  Plus, if I told you all about it, it would be a LOT to read and you're busy too, right?  Right.  So I'll just tell you a little bit and show you lots of pictures!
First up – Rex!  He's.. well, he's a puppy.  He's getting the hang of potty training and only has maybe one accident a day.  They're usually our fault because we don't see him over by the back door.  We're still working on the nipping and using the kids as chew toys.  I hear that will stop once his baby teeth fall out.  Fingers crossed!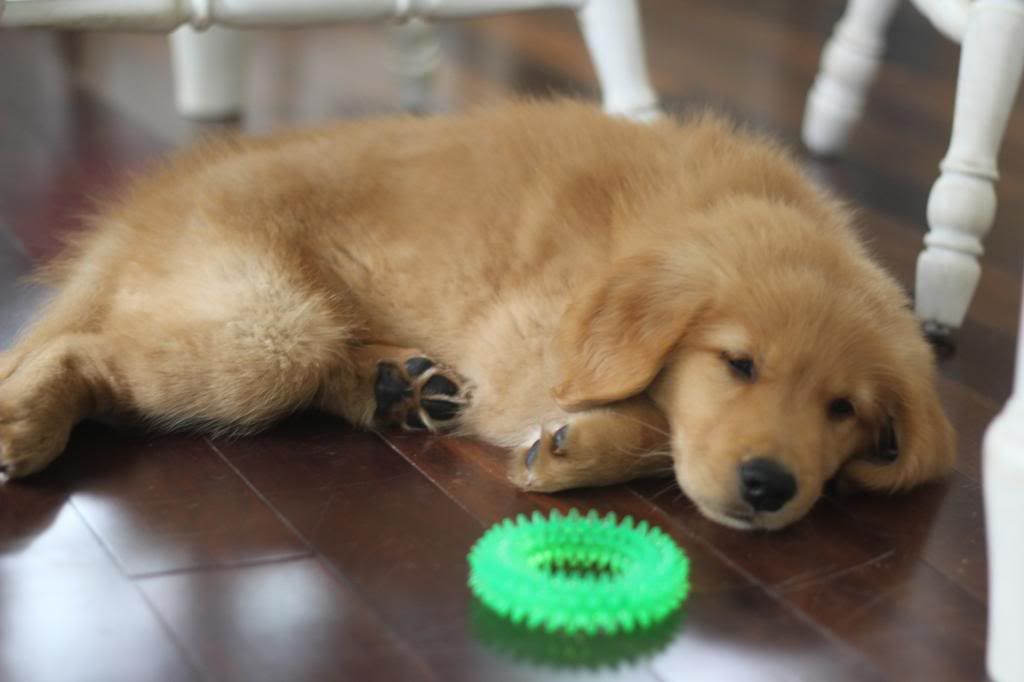 Way back in the middle of April, the Running Club at Braden's school participated in a local race.  The school with the most participants in the 1-Mile Fun Run received a nice donation from our local striders club, so the four of us pinned on our bibs and had fun!  Mackenzie stayed in the stroller and Adam and I took turns running with her and sprinting/walking with Braden.
Later that night, our neighborhood hosted a Family Movie Night and showed Frozen on the big screen.  They call it "Floating Flick Night" which is fun, in theory, except the water was still FREEZING.  The kids swam until the movie started, then I ran home to get them cozy PJs and some hot chocolate and blankets to warm them up.
Easter was fun – we did the usual dying eggs, hunting for eggs, time with family, etc.. We love going to the neighborhood egg hunt, but it was really rainy so it was more of an egg maze.  The kids enjoyed it though and that's all we really cared about

On April 22nd, Adam and I celebrated eight years of marriage!  Holy geez, it has FLOWN by.  I do not feel like I'm old enough to have been married for eight years.  I'm super stoked because some good friends of our got married just a few months after us, so for our ten year anniversary we're going on a week long trip to an all-inclusive resort.  Except that we're going next year!  Due to some work stuff, they won't be able to go in 2016 so we're celebrating a year early and I'm counting down the days!
Adam took this picture the morning of our anniversary.  Shows what life is really like in our house.  Mama trying to take a nice picture, nobody else cares, random stuff sitting out, baby gates to trip over.  What you can't see is Buddy two feet away from me, he wanted in on the action and pounced on us just a minute after this was taken.  I love my life

One of Braden's best buddies invited us to celebrate his 6th birthday with him and his family at the Nickelodeon Resort in Orlando.  What a fun weekend!!  They rented two cabanas for us and we relaxed by the pool and had dinner with the Ninja Turtles.  Braden is usually NOT a fan of characters but he loved them.  We'll definitely be going back soon.
Also, I'm super sad that we can't be friends with Jenn from Runs with Pugs anymore.  Seems that Mackenzie took a liking to her little guy and now he's her boyfriend.  Adam was not pleased and said we can't hang out with them anymore.  I'm kidding!  Well, he did say that, but he was kidding.. I think.. 😉
Since we were in Orlando and the kids loved Animal Kingdom so much when we were there last month with my cousin and his kiddos, we spent Sunday morning/early afternoon there.  I love the new FastPass+ system.  It's so nice to be able to reserve our FastPasses before we get there, then plan out our day around them.
Ohh speaking of our friends that we're doing our 10-year trip with, we had a play date with them and their adorable little ones.  I really hope Mackenzie isn't making eyes at their oldest boy because I'd be really upset if Adam said we couldn't hang out with them anymore too!
Just this past weekend, my mom and I took a road trip to Athens for my cousin's graduation.  I swear she graduated from high school like a year ago.  Why must time go by so fast?  We waited 'til the last minute to book our hotel rooms and everything in town was booked.  It worked out though, my aunt found this great house on Lake Oconee and there was more than enough room for all of us to stay there.  It was a bit out of the way..
But you couldn't beat the view from the deck..
Jordan received her Bachelor of Science degree in Biology, she's headed to Ghana, Africa for a medical missionary trip for the summer and starts med school in Athens in the fall.  I'm so proud of her and so happy that we were able to be there for her graduation!
She participated in two ceremonies – the first was with just a portion of the biology graduates in one of the lecture halls.  It was really nice, they called each graduate up and talked about what they did while they were at UGA and what their future plans were.  We hung around campus, took pictures, ate dinner, then headed over to Sanford Stadium for the big graduation.  These things are usually not all that entertaining, but we were all pleasantly surprised.  Once the processional was complete (which took 45 minutes!!) the ceremony itself flew by.
I really enjoyed both of the speakers (one a student, one a guest — the guest was a Georgia Senator, Johnny Isakson).  There were two things that said that stuck with me:
"Always love people and use things, don't use people and love things."
I'm not sure if that is a quote from someone else or something he came up with, but what a great way to live your life.  Definitely something to think about.
Next he quoted Mark Twain, "Always do the right thing. It will gratify some people and astonish the rest."  One of my favorite Twain quotes.
The graduation finished with a big fireworks display and it was awesome.  The turned down the lights in the stadium and had red spot lights, played the Georgia fight song.  It ended the graduation on a very upbeat and celebratory note.
My mom and I rushed home the next morning so we could make it to Braden's t-ball game.  I'm not a fan of being away from the kids for very long, I miss my babies too much!  I wanted to be there Sunday morning too since it was Mother's Day!  B & Mackenzie woke me up around 9AM to the smell of waffles and bacon.  Nutella waffles and bacon.  Homemade Nutella waffles and bacon.  SO GOOD!!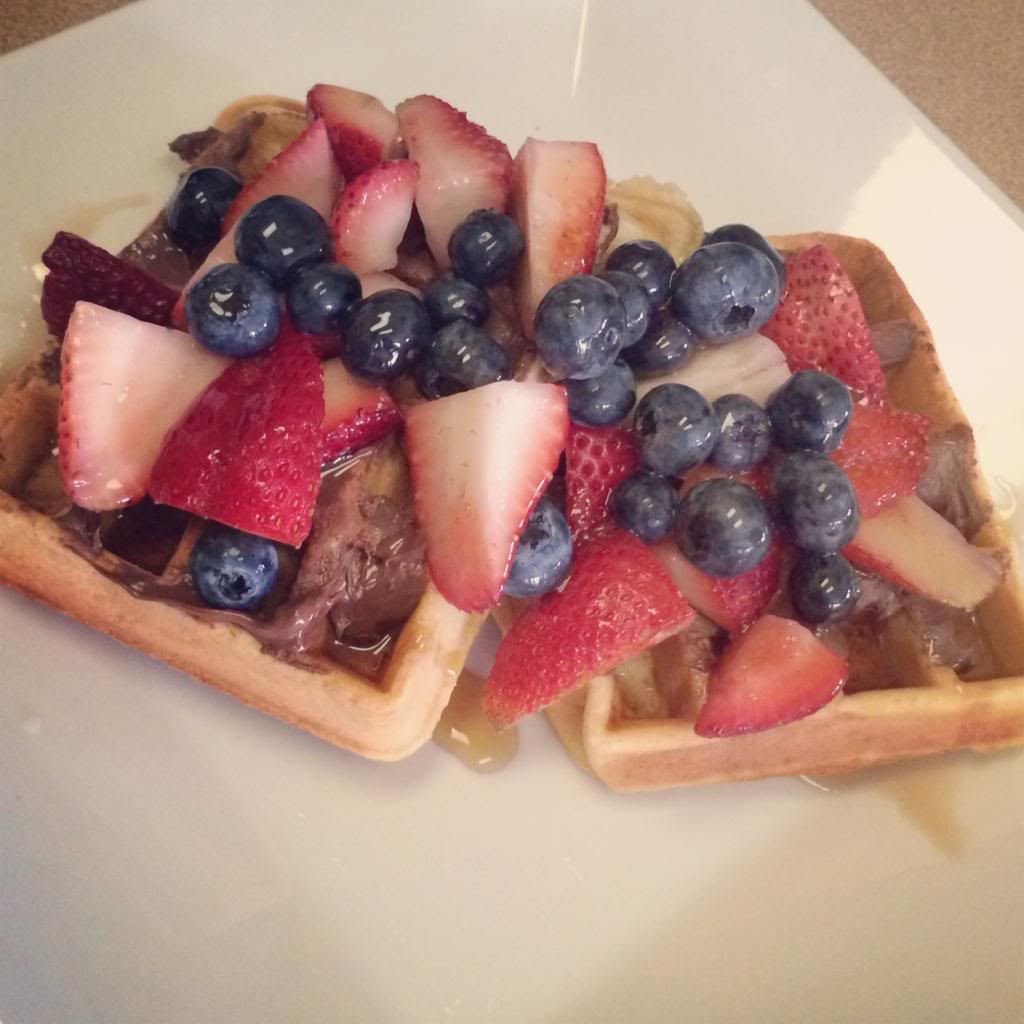 Whew, that was a lot for one coffee date! So fill me in, if we were having a coffee date, what would you tell me?
Do you know of any all-inclusive resorts in the Caribbean we should check out?
How do you celebrate anniversaries?
Have you ever tried Nutella on a waffle? You should, it's amazing!
What are your favorite quotes?