Hello, hello! It's been a busy few days around here, I kind of want to skip eating lunch today and just go take a nap instead! I have the recap of my Disney Marathon training below but first I want to tell you about our wonderful weekend!!
Braden's Cub Scout pack had their first campout this weekend, so while Adam and Braden spent the weekend roughing it in the woods, Mackenzie and I headed to Bainbridge to visit my family and a baby shower.  I never feel like we get to spend enough time with everyone while we're there, but we crammed in as much as we could into a quick 24 hour trip.  We drove down Friday after work and spent the night with my Aunt Threasa & Uncle Greg.  Saturday morning we relaxed at their house, then went to lunch with Aunt Threasa, Aunt Louise, and my cousins Drew and Kate.  After lunch we spent some time with Aunt Louise and Kate.  Kenz and Kate were so cute together, I wish they got to see each other more often!
Two sweet little cousins having so much fun together ❤️❤️
We left Aunt Louise's and headed over to my cousin Malori's house (y'all may remember her, Braden & Mackenzie were in her wedding last year) to celebrate baby Perry!  My cousin Daryl and his wife Celia are expecting their first little one in December and we can't wait to meet him.  (Baby Perry's Aunt Amanda is below with Celia, she's married to Daryl's twin brother Drew.. the cousin that went to lunch with us.. confused yet?!)
After the shower, we stopped by Daryl & Celia's house to help unload baby gifts and to check out the progress on their renovation.  Their house is so gorgeous and I can't wait to see it when it's all done!!  I wish I had half the decorating sense that Celia does.  We left there and headed home, I needed to be back Saturday night so I could get my long run in Sunday morning. While we were having fun with family, Braden and Adam were having their own fun.  They spent two nights out in the woods and say they had a blast.  All I know is the came home smelling really stinky and covered in a layer of dirt.
  The camp site had a lot of activities for them – they got to climb a rock wall (B was the first from his den all the way to the top!!).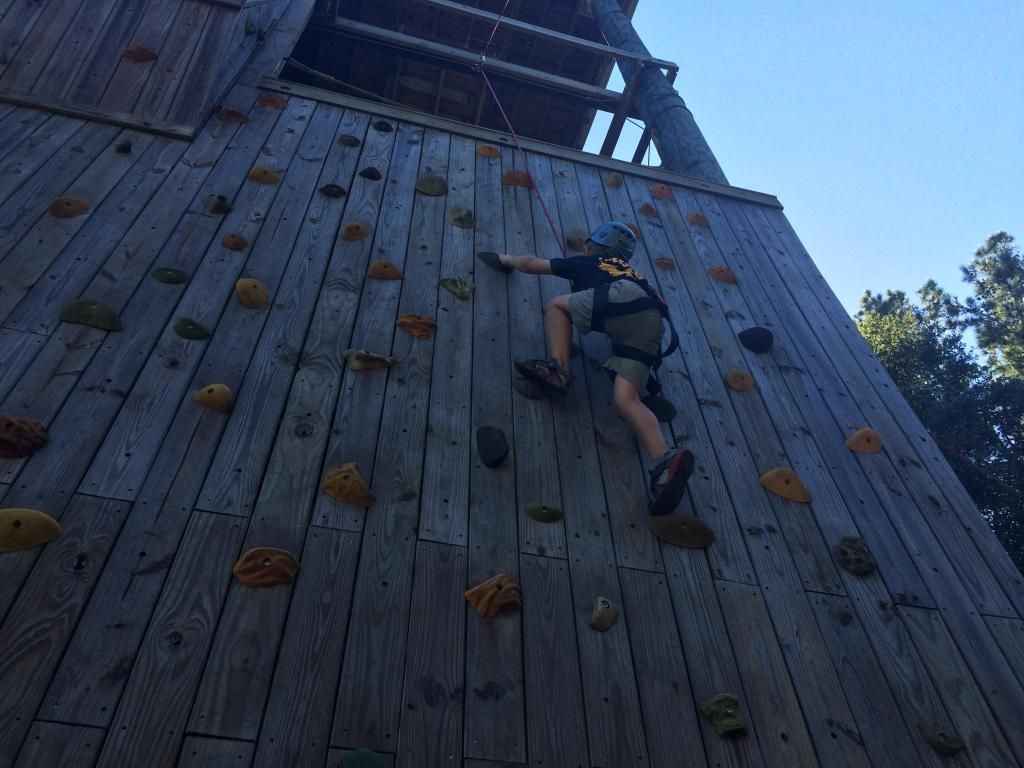 And they shot a BB gun and a bow and arrow.  Now Braden is insisting that he wants one of each for Christmas.
Braden said his favorite part of the entire weekend was eating s'mores.  I'm kind of jealous that I didn't get any.  We may have to pull out the fire pit before too long. He's a big fan of camping now.  When he got home Sunday morning, I asked him when he wanted to go again and he said tomorrow

Sunday night, we met up with some of our friends and had dinner at the Blind Rabbit in Riverside – so good.  I loved their fries and I had the Southern Burger.  It's a burger topped with a fried green tomato, creole pimento cheese, peach habanero hot sauce, arugula, georgia cane syrup, pickled okra, and served on a brioche bun.  It was SO good.  It sounds like a LOT going on on a burger, but it was delicious.
Dinner and a Garth Brooks concert with great friends – best night out in a long time!
Disney Marathon Training Week 5
I finished up my fifth week of my Disney Marathon training plan and I didn't miss a single run – yay! I did my long run on Sunday instead of Saturday but besides that, I stuck to the schedule. I ran all of my weekday runs straight through (with a "catch my breath so I don't die" break at each mile) and only did the 4:1 intervals for my long run on Sunday.
Dear across the street neighbors, thank you for having your sprinklers on as I finished my run this morning, that felt amazing! ☺️ First long run in a long time where I felt strong the entire time and enjoyed the whole thing. A photo posted by Kristin Smith (@amomontherun) on
| | | | | | | |
| --- | --- | --- | --- | --- | --- | --- |
| Mon | Tue | Wed | Thu | Fri | Sat | Sun |
| 3 | 5 | XT/Rest | 5 | XT/Rest | 10 | Rest |
| 3 @ 10:30 with the stroller | 5 @ 9:52 | Rest | 3.2 @ 10:08 with Megan | Rest | Rest | 10 @ 11:05 (4:1 intervals) |
I was a little scared when I headed out for the 10-miler, but I was pleasantly surprised at how quickly the miles went by and how easy it felt I listened to the Another Mother Runner podcast the entire time and it kept me entertained. I ran the five mile loop near my house twice and stopped as I passed back by my house to refill my water bottle and use the restroom. Between my long run, running errands, and the concert last night, I covered almost 15 miles yesterday and took around 30K steps — that's nuts!