A while back, a blogger buddy of mine (Sarah at Sweet Miles) posted a review of a product called Skoop.  It sounded like something I would really love and would benefit me, but it was $60 a bag and that seemed like a lot to try something new.. until a week later when Skoop reached out to me after seeing my comment on Sarah's blog to see if I'd be interested in trying Skoop for myself.  I immediately replied saying "Yes, please!!" and anxiously awaited the package from them.
What is Skoop?
The food that is used to make Skoop comes from actual whole food – absolutely no synthetics.   You get the equivalent of 10 (yes, TEN!) servings of fruit and veggies in a single serving of Skoop A-Game.  It is packed full of phytonutrients, micronutrients, and adaptogens give you more energy and clarity, unlocking the super you.
From the Skoop site:
RECOVER FASTER, PERFORM HARDER.
If you're still thinking of your diet in strictly macro-nutritional terms – balancing proteins, carbs and fats – you're missing a big part of the performance picture: The more than 5000 phytonutrients found in plants. They aid cellular repair and recovery, so you can keep going stronger day after day. You don't need massive quantities, but if you think the lettuce and tomato on your burger are enough, think again.

ADDRESS YOUR STRESS
All stress is created equal. We've all heard how harmful stress is, but culturally, Americans are dismissive of it. When you work out, your body undergoes stress and damage. Without proper nutrition to heal that damage, you might look good in the short run but you're causing harm in the long run. The stress you feel after a bad day at work is exactly the same. Phytonutrients don't eliminate stress. But they are the most effective way to help your body deal with the damage it causes.

FIGHT FIRE WITH PHYTONUTRIENTS
Inflammation is an amazing and complex biological response to any harmful stimulus. From splinters, to UV radiation, and things that threaten your internal processes, too, inflammation is a system designed to protect your body. But chronic inflammation can actually damage your cells. The phytonutrients and antioxidants in Skoop help fight chronic inflammation, boosting cellular metabolism and immune response to keep your body biologically chill.
 How do you prepare Skoop?
It's super easy – even my kitchen-challenged self can handle this.  You fill the blender bottle with 8 ounces of your favorite beverage (I tried it with dark chocolate almond milk), dump in a scoop of Skoop, shake, and drink.  I promise, it's that easy.  I used my entire bag this way, but I want to try it in a smoothie too.. that VitaMix is just a little bit intimidating though!
Why is Skoop good?
So many reasons!  It speeds recovery, provides clean all-day energy, is antioxidant rich, contains adaptogenic herbs, fights inflammation, is immunity boosting, provides probiotics for gut health, is rich in phytonutrients, has fiber to buffer sugar, contains ten servings of fruits and veggies.. and builds smiley faces 😉
 How does Skoop taste?
This is what I really wanted to know. I've tried a lot of these powdered drinks and we all know they're usually pretty gag-inducing. Skoop is definitely not like that at all – at least not when it's mixed with dark chocolate almond milk. I'm a VERY picky eater and I was worried about the taste so I made my husband try it first! (He's such a good sport!) He said it was good, you could definitely taste the greens but it wasn't overpowering so I gave it a shot. I was expecting it to be chalky but it wasn't at all. It's kind of like chocolate milk with a hint of berries. It tasted.. fresh? I'm struggling to describe it. You could definitely tell that there were greens in it but not in a bad way.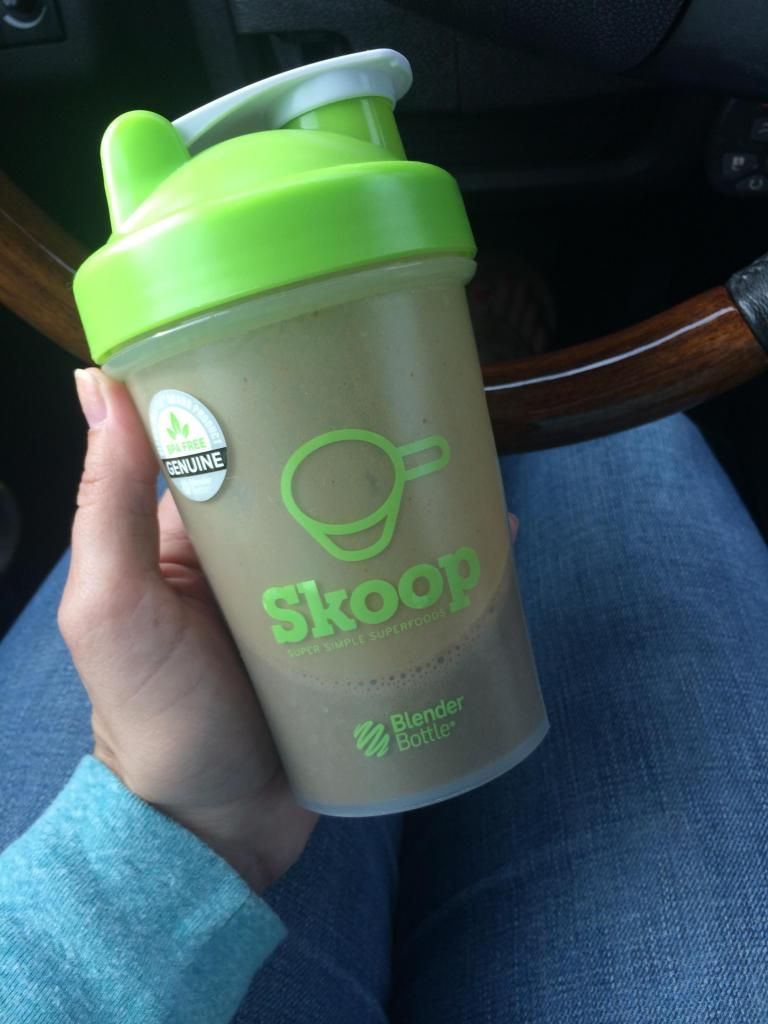 Does Skoop really work?
In a word, yes. I could actually feel the extra surge of energy the first few days and now, a month in, I don't need three cups of coffee to function in the morning anymore. (Though, I do still drink at least one cup because I love it so much.) The video below explains it better than I can..
Also, and I love this SO much, for every serving of Skoop sold, we donate one serving of free fresh fruits and veggies to a school lunch program in America.
Where can I get Skoop?
If you're like me, you're itching to try Skoop for yourself. I promise you, it's worth the $60 price tag, but because we're friends I have a coupon code that will save you 10% off of the purchase price. Just enter "SMITH10" at checkout. Because I love Skoop so much and plan to continue using it myself, I signed up to be an affiliate with them! You can click below (or on the sidebar to the right) to order your very own Healthy Skoop! I should have samples and five day challenge packets soon, so if you're interested in trying before you buy, let me know and I can get some to you!
Disclosure: Skoop provided me with a full sized bag of A-Game, B-STRONG samples, and the shaker bottle shown above in exchange for an honest review.