This is one of those things that should probably be filed under "not my best idea ever". It worked out though and I had fun, so I guess it was not my worst idea ever.  All I know is I was one tired mama the next day!  So what was this silly thing that I did??
The day started off like a normal Saturday for me.  I was up at 4:30AM to meet my running group for our long run.  This week, we had 10-miles on the schedule and started at One Ocean in Jacksonville Beach.
We ran and watched the sun rise while doing a photo scavenger hunt along part of the 26.2 with Donna marathon course — not a bad way to start the day!  Pretend that the picture below was from that day (it was actually from the previous week, I think) because I can't find a group picture from that day that isn't all blurry.
We somehow cut the course short and ended around nine miles, so I ran (without stopping!) the last mile with two of the ladies in my group at a pretty decent (for me) pace.  I was really happy about that.
I got home, showered, took a nap, then got dressed to drive back out to the beach with Adam to meet our good friends Brad & Aleisha to run the Tijuana Flats Summer Beach Run.
You know, because five miles on the beach, in Florida, in August, in 900% humidity, when it's 564 degrees outside (maybe I'm exaggerating just a bit) is a great idea.
I have two gripes about this race, one I'll get to in a bit, but the other is the water situation.  The water at the water stop was warm and so was the water at the finish line.  It was seriously SO hot and cold water in both places would have made such a difference.  That's why I typically carry my own

My plan for the race was to take it easy and enjoy the run.  I knew I was going to be running on tired legs and that it wasn't smart to try to push myself at all.  I'm trying really hard to train smarter this time around.
I was surprised at how good I felt.  I stuck with the 1:30/:30 intervals that my group runs and kept a pretty steady pace the entire way.  Even though it was brutally hot and sunny, I felt great the entire time.  I got caught up with a group of Navy Chief selectees that were running as a group.  They'd pass me when I was walking, then I'd pass them again when I was running.
They chanted/yelled the entire time.  It was motivating to hear, but I couldn't help but think of how exhausting it must be.  The humidity made it so hard to breathe, I don't think I would have been able to run and yell.  Major kudos to them.
My official finish time was 55:32, for an 11:06 pace.  I was pleasantly surprised with that since my original plan for the race was to find my group leader (she ran 20 miles that morning) and walk most of it with her.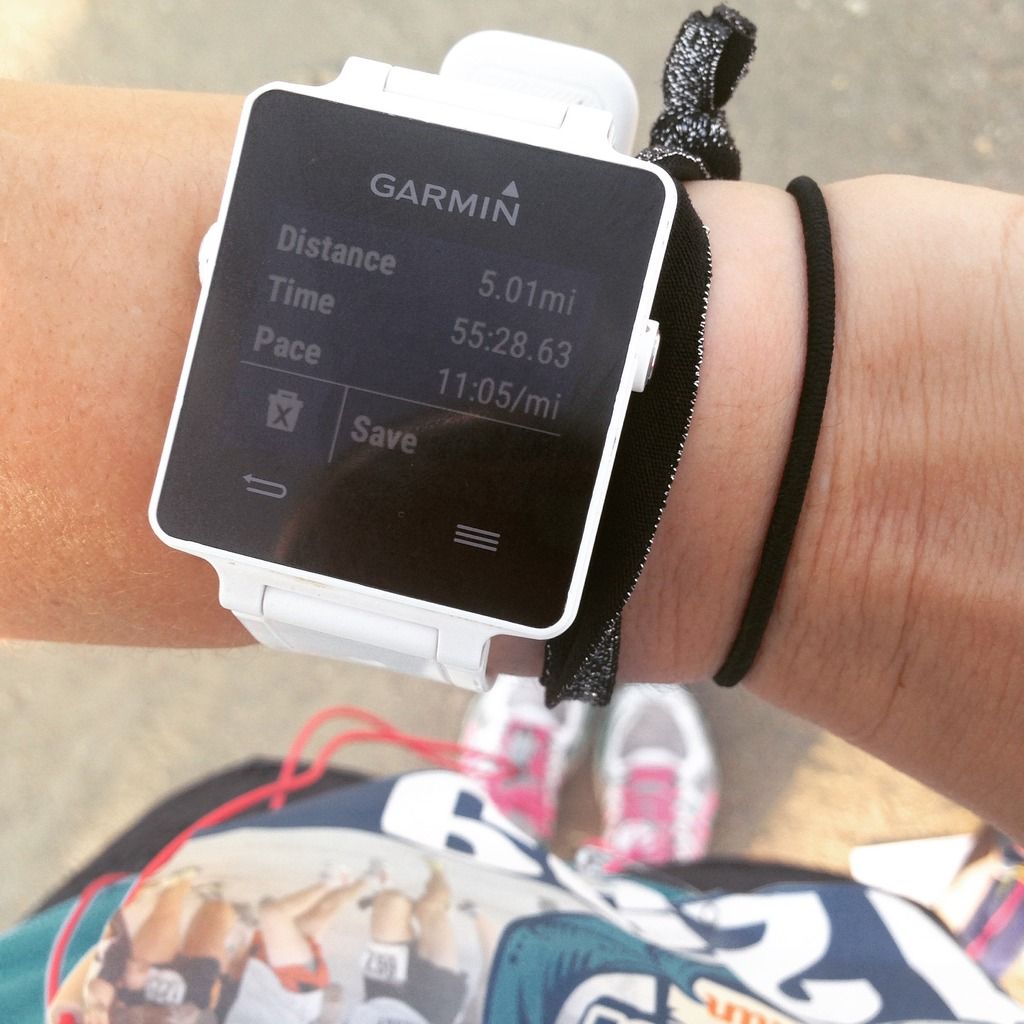 While 1st Place Sports knows how to organize a race (minus the water situation), they can't seem to get it together when it comes to ordering medals.  It's been an issue with them for a few years now.  It's not a huge deal, I don't run for the medals, but it is annoying to get a card at the finish line asking you to not take a medal since it will mean more to those who finish after you.  Really?!  I have several running buddies, some who are much faster than me, who LOVE getting medals.  Sometimes those medals are a reminder of a huge PR or overcoming a big hurdle or struggle during the race.  Just because I'm a middle of the pack runner doesn't mean that it doesn't mean anything to me.
To be honest though, it didn't mean anything that day.  I didn't take a medal and although they did order more, which have since come in, I haven't made time to go by the store to pick mine up.  I typically don't care very much about medals, but the card they gave us really rubbed me the wrong way.  It reminded me of volunteering for them at the finish line of a local marathon a few years ago, where they told us they were going to run out of medals and to not give them out to the first finishers, unless they asked.  That was in 2013, I think?  I can't understand why they haven't figured this out yet

Anyway, outside of the medal issue and the warm water at the  water stop and finish line, this was a really fun race.  I loved running on the beach, the party afterward was a lot of fun, and maybe most importantly, the free beer at the finish line was nice and cold!