I apologize in advance, because this post is pretty picture heavy.  I tried to cut some out, but the folks at runDisney took SO many amazing pictures, so it was HARD!
I can't tell you how excited I was when I received the email letting me know I was in for the Wine & Dine Meet Up.  I attended the one in February before the Princess Half weekend and had such a great time.  runDisney threw everyone for a loop this time around — usually they send out a few teaser tweets before the posting the info about the meet-up, but this time there was only one teaser followed pretty closely by the blog post going up!  Funny thing is, I was thinking about it earlier in the day and went to their twitter page and saw the initial tweet.  I thought it was odd that it was so early, but went on about my day.  A few hours later, a friend of mine called in the middle of the afternoon, which was odd, so I answered and she basically squealed that I needed to hurry and get to the Disney Parks blog for the info and to send my email in right away.  After a bit of fumbling, I managed to fire off emails for myself and my husband, then waited.. later that night, we found out that we were both in  - YAY!
We had to do a last minute scramble to book an extra night at our hotel and to find someone to help out with the kids (thanks Jenn!) but Thursday afternoon rolled around, and we were on our way to Orlando.  We checked into our hotel, got changed, and headed over to EPCOT to check-in for the meet-up.  We were given wine colored runDisney shirts to wear for the night, and a fast pass for Test Track!  I've never been on Test Track and we usually stay away from the more thrilling rides since we have little ones, so I was excited to try it out.

It was fun and I think Braden would really like it — especially designing his own car.  We may be spending more time in EPCOT for our next visit to Disney

Before heading over to Test Track, we met up with an old friend of mine and her running buddy, Andrea and Cori.  The Food & Wine Festival was going on, so they checked out some of the food/drink kiosks and got some snacks, while I tagged along.  Unfortunately, my stomach wasn't playing nice most of the weekend so I didn't get to enjoy a lot of the delicious food EPCOT had to offer.  Boo to my belly!
We made our way over to Mexico, where a special area was roped off for our group to watch Illuminations.  I'd never seen it before so it was fun to get the opportunity.  I was surprised at how many faces I recognized from blogs that I read — but since I'm pretty shy around new people and I wasn't feeling well, I hung back and kept pretty quiet.  Blah!
Once Illuminations was over, we headed over towards America.  We got to sample some yummy vegan wine and Trick'n Chick'n — a vegan chicken curry dish with a side of rice.  Everyone seemed to really enjoy it, but my belly revolted.  I stuck to the hummus, pita bread, and fresh fruit. It was delicious!
We also had some time to visit with a few of the local celebrities!

 No trip to the Food & Wine festival is complete without a hug from Chef Mickey, am I right?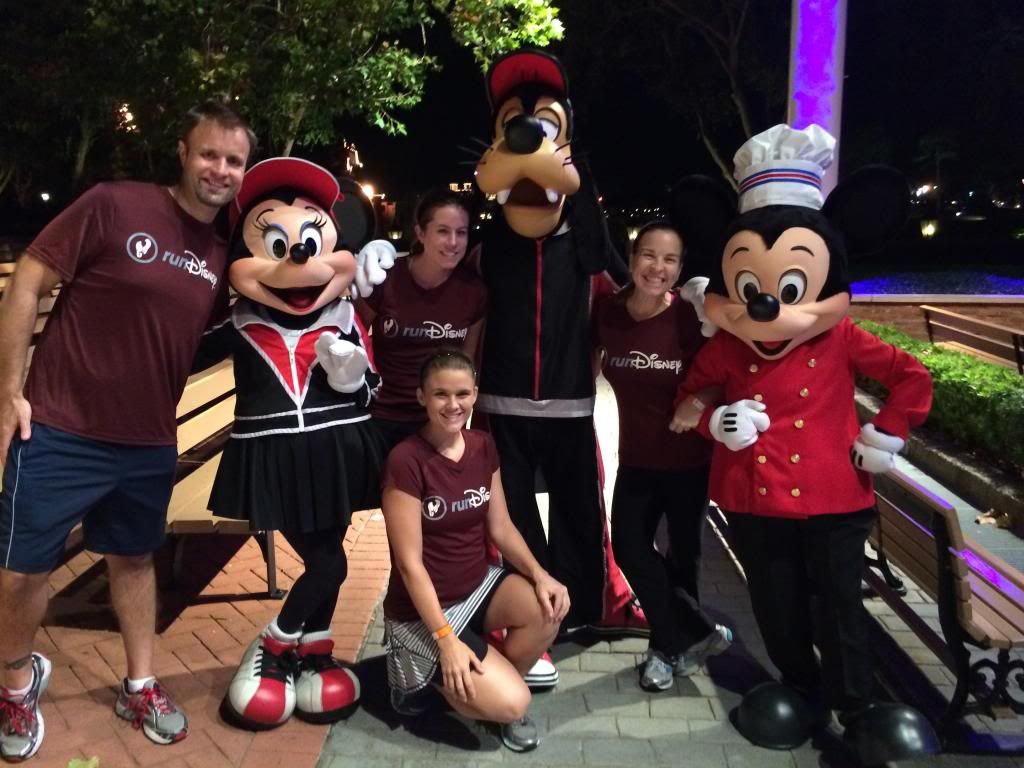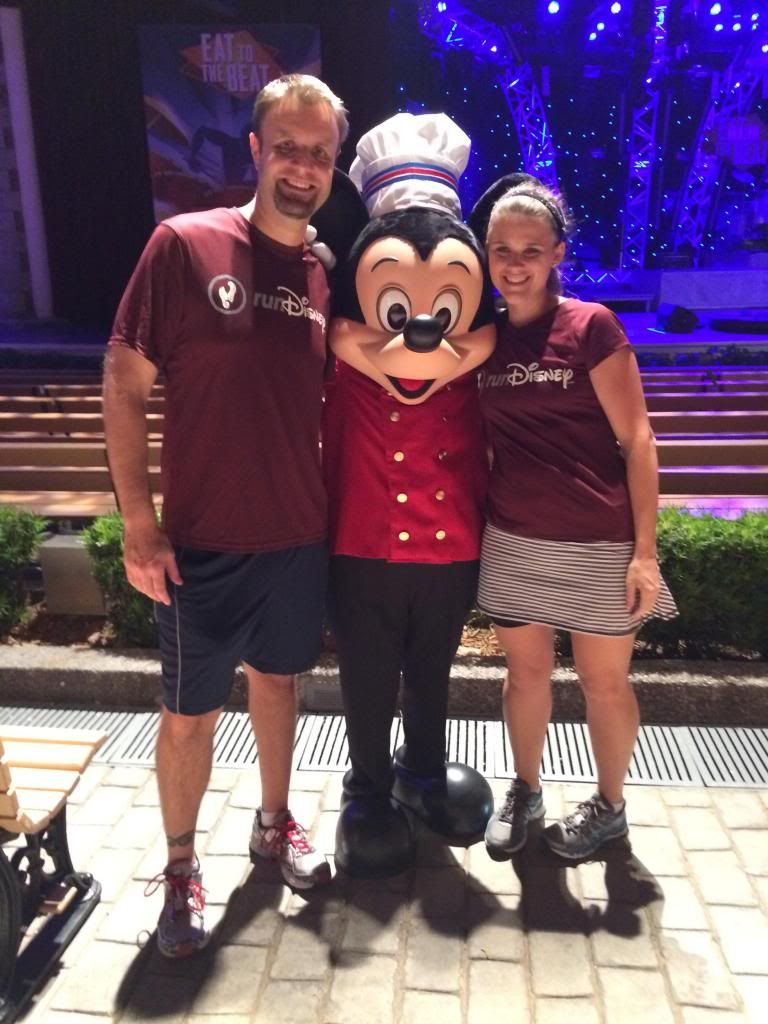 We all settled down and Farron Kelly and Darrell Fry took the stage to welcome us all to the first night time runDisney meet-up and to give away some nice goodies!  Cori was lucky and scored a free entry into a future runDisney event — I may be just a bit jealous!  They gave us an overview of runDisney in general, some information about the race weekend, and said that their big goal is to create races that make you feel good about yourself — they really do want every mile to be magic!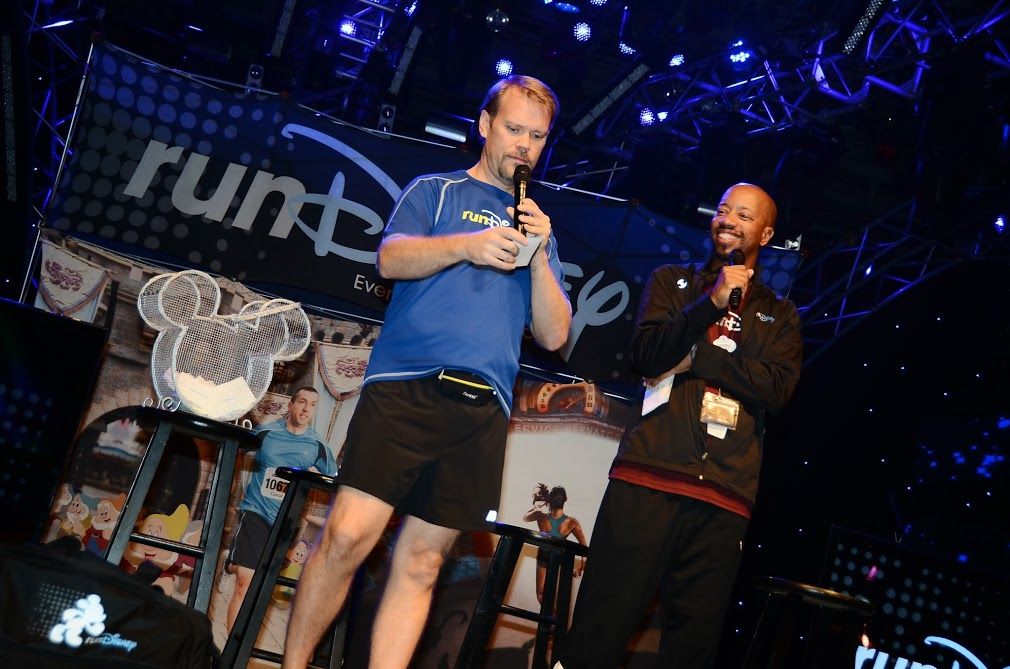 Next up, Tara Gidus and Jeff Galloway took the stage.  They reminded us a few times how important hydrating before a race is and Tara offered some advice on how to fuel properly for a night race.  I should have paid more attention to her, as my race-day fueling left a LOT to be desired.  She said to eat light, eat often, and hydrate well.  Jeff reminded us to start slow so that we could be the passer instead of the passee in the later miles.  Definitely should have listened to his advice too.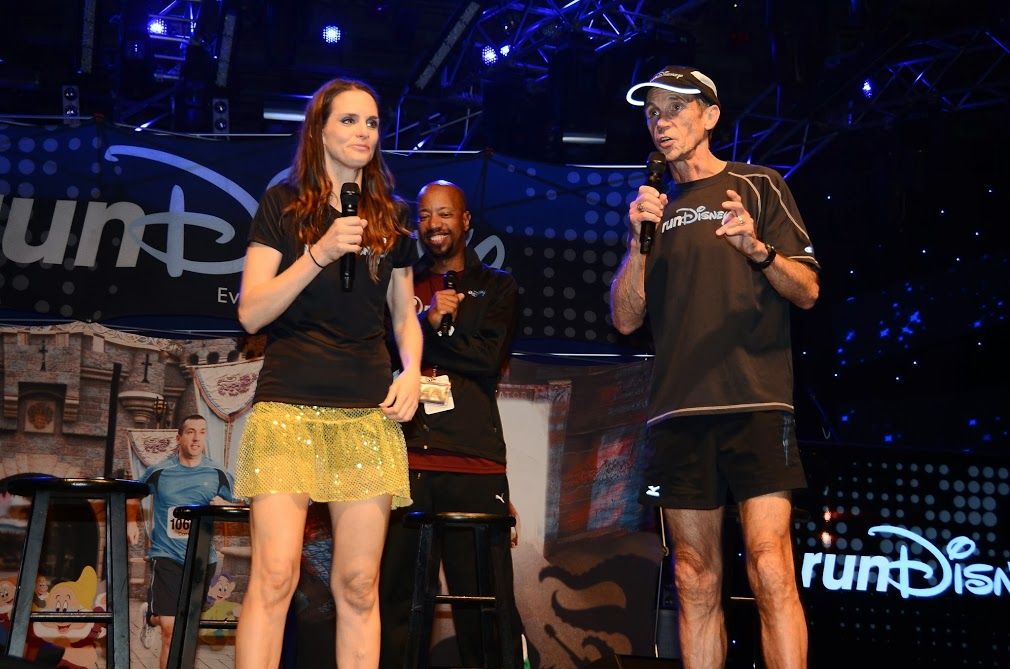 Tara finished up by telling us about some of the health benefits of wine.  She said it makes you run faster — that's good news to my ears!  We also learned that wine preserves memory and can help lower body mass and reduce belly fat — even more good news!  Apparently moderation is key when drinking wine though and 5 oz is considered a serving of wine? And no more than one per day is recommended for the ladies? Boo!!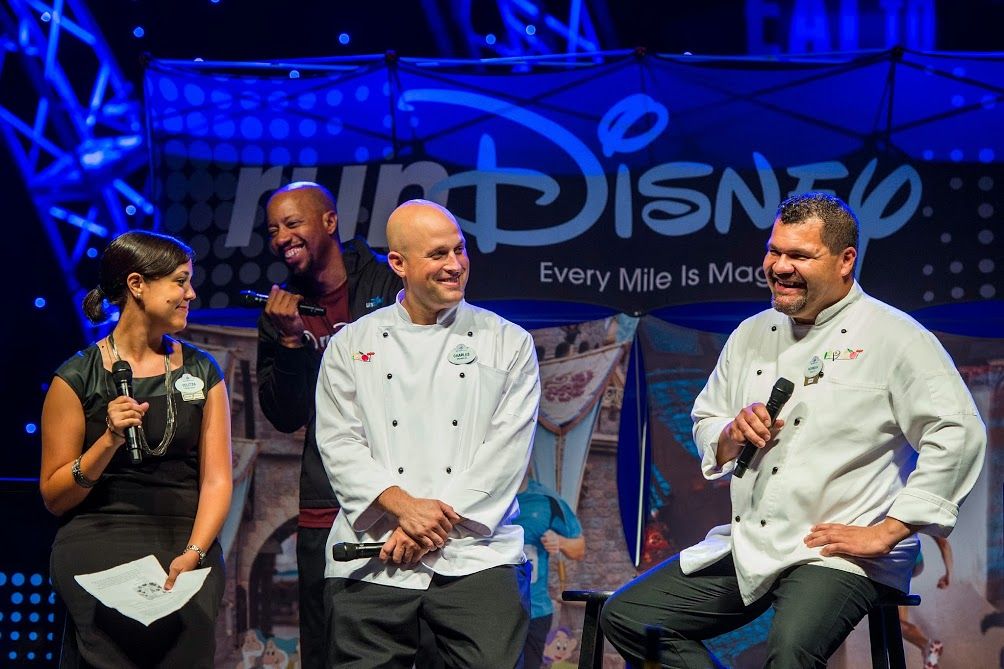 Next we heard from some of the chefs and a sommelier responsible for the food and wine offerings at the festival this year.  I was really hoping that my tummy issues would be short lived so I could try some of the delicious stuff they were talking about.
We got confirmation that there WILL be a new runDisney/New Balance shoe for 2014 and they gave us a few details about it.  The 2014 shoes will have race specific inserts and lace decorations to customize your shoes for each race weekend.  Fun!  New Balance gave away a few pair of the 2013 model, and I hope you got your hands on them at the expo if you wanted them, because it was your last chance!
Last on stage was Jenny Simpson.  She ran the fastest mile this year in 4:19 in her New Balance shoes.  That's crazy fast!!  The fastest I've ever run a mile was just under 7 minutes and I wanted to lay down and die when I was done!  Since the race fell on Veteran's Day weekend, runDisney invited a service member from each branch of the military to run.  After they were all up on stage, they received (a very well-earned) standing ovation.  I may have teared up, just a bit.
Finally, it was time to run!  This is the highlight of the event for me — I absolutely love running through the parks after they're closed with such a small group.  We split into two groups – the first ran 20/20 intervals with Jeff Galloway and the second did a straight run at a relaxed pace (I'd guess somewhere around 10-10:30?  I wasn't wearing my watch so I'm not sure.)
It was really nice having my husband along for the ride this time too.  The last meet-up I was on my own.  Even though we don't run races together, it's fun to do these types of events together.  He kept giving me a hard time because I wasn't really running with him — I think he's full of it, almost every picture of us running has us together

We made our way up to the front of EPCOT and took a group picture in front of Spaceship Earth.  I have to tell you, I was impressed that they fit all of us in!  There were 125 participants this year, the biggest meet-up runDisney has hosted yet!  I really hope they keep the group size on the bigger end so I have a chance of getting in for the next race weekend too!  Can you find me??
After the big group picture, we split into our run and run/walk groups for a smaller photo.  Adam and I decided to do the straight run, here's the rest of the group.  The girls in the coral colored jackets are a group of bloggers that were there with New Balance — I had total jacket envy every time I saw them over the weekend.  I kept telling Adam he needed to stop by the New Balance booth to pick one up for me, but the $175 price tag and the shopping spree at the lululemon outlets over the weekend made him tell me no.  Maybe next time
We did a quick jog up to the front of the parks, where Farron Kelly did a quick toast to the weekend and thanked us all for participating.  His toast was really cute, I wish I could remember it.. but I have the worst memory.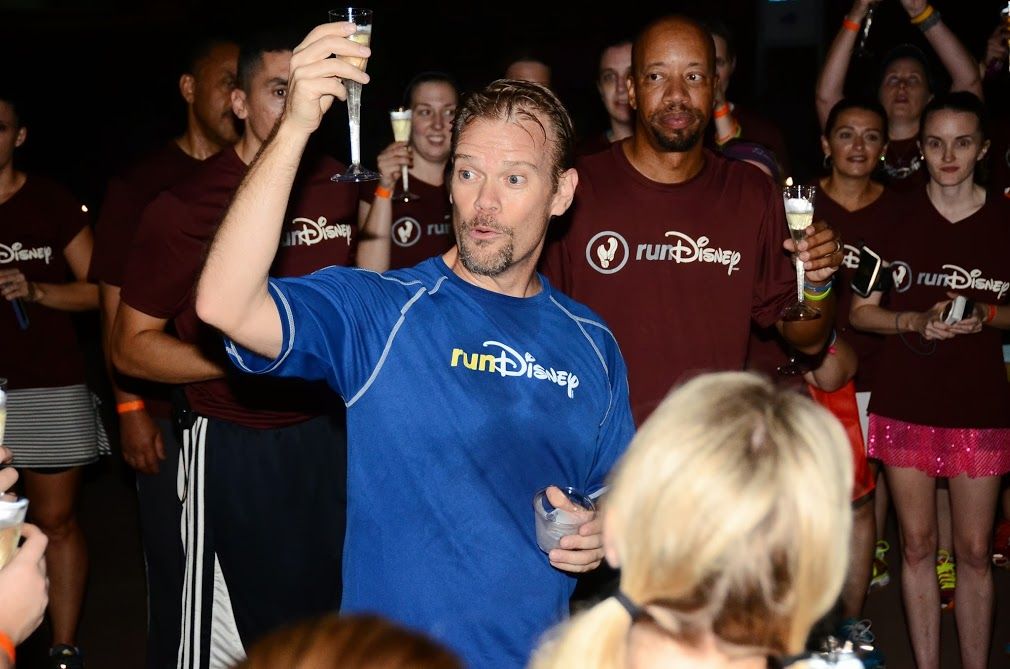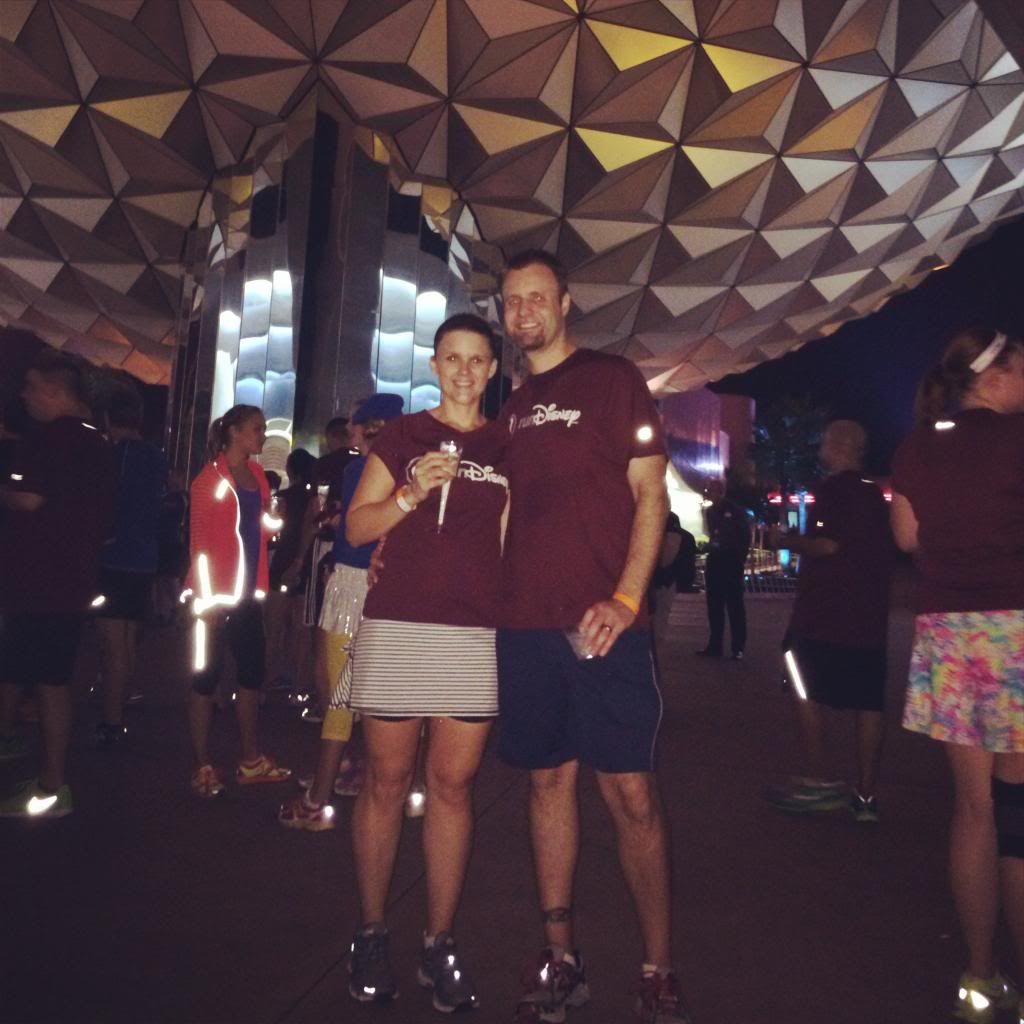 This picture makes me laugh — I held the champagne flute for the picture but couldn't drink it.  Thankfully I had Adam there to help me out, he's always ready to take one for the team
Thanks for a great time runDisney — here's to a great weekend!