So, you know how I've been griping for the last few months about how busy work is and how I barely have time for anything outside of work and family time? I'm so, so happy to say that it is over! The deadline we've been working toward was June 26th and I am so, so glad that it has passed AND that I got all of my work done on time – SUCH a relief!!
Even though I've been busy at work, we've been keeping our summer days busy with the little ones since school got out. Mackenzie still goes to her school full-time, but since it's summer we only have Braden going three days a week. The other two, he stays home with me and enjoys the down time. It's nice having a little buddy around to go out to lunch with and to hang out with when I'm not busy.
Here's some of the other fun things we've been doing..
Playdates with best buddies.  Mackenzie is already such a little flirt, we're going to have our hands full with her when she is a teenager!
I spent some time with my dad at the gun range.  SO much fun!!  I got to shoot his.. um.. well, I forget the name of it.  I think it's an AR-15?  It's what the guys deployed in Afghanistan are currently using.  I don't know how they carry them around all day in the heat, that thing was heavy.  I preferred this one though, and I was pretty good at shooting it.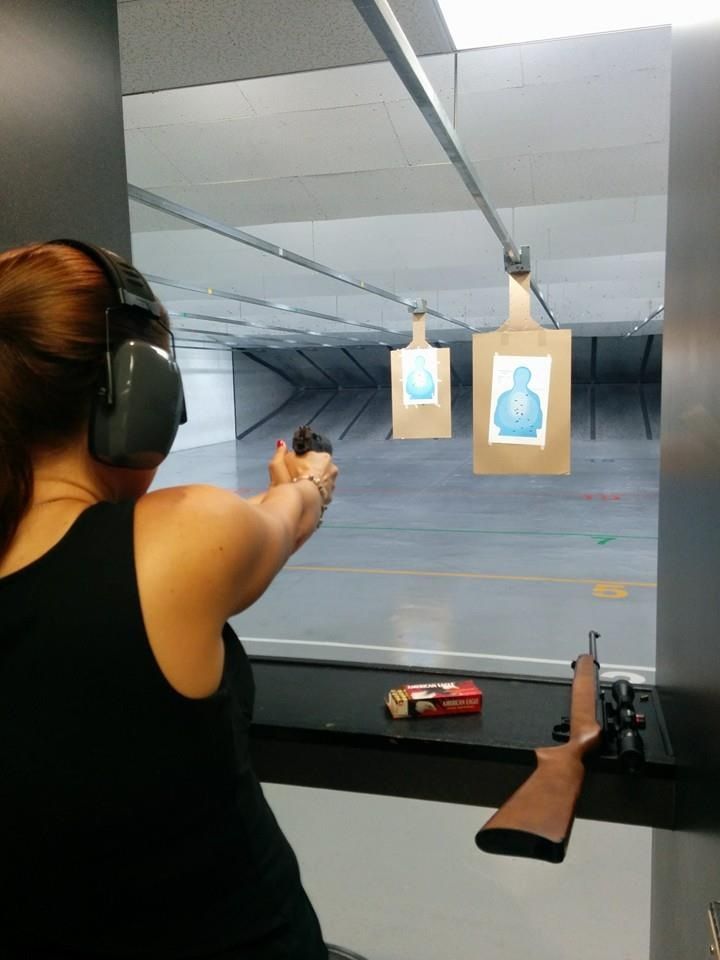 Braden's first t-ball season ended and we had a fun team party at a local park.
Braden and I discovered that he REALLY likes to play putt-putt. We were super early for a birthday party (I should learn to read the invitation more carefully!) and on the other side of town, so I had to find something to entertain us for two hours. We had a blast.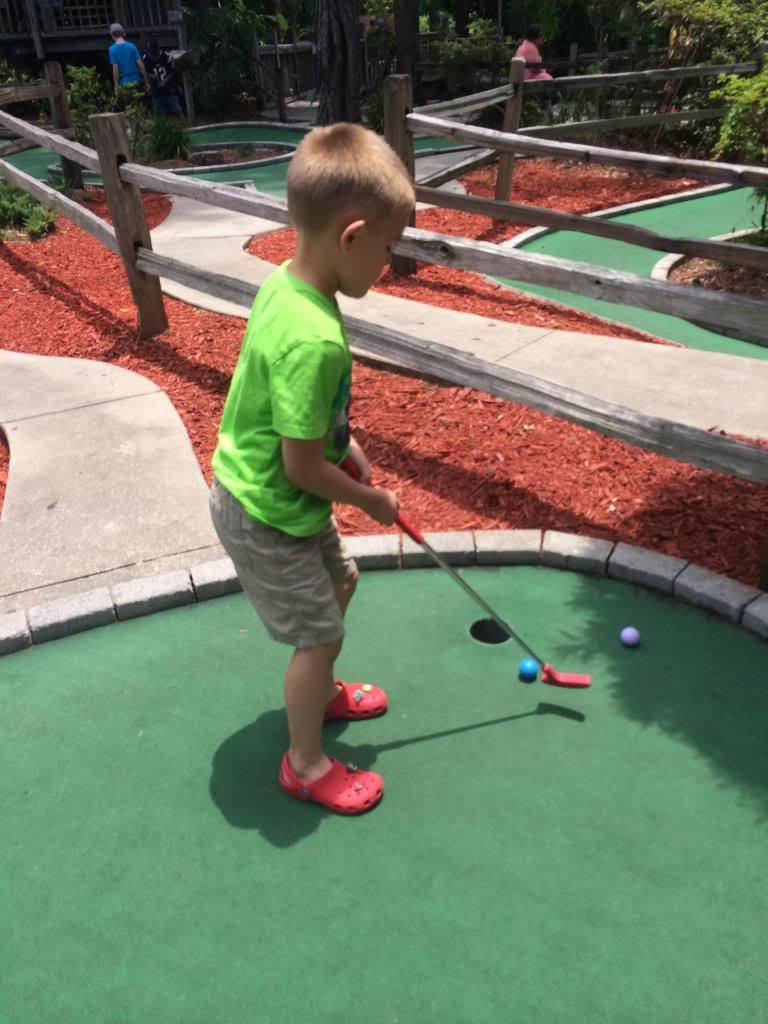 There has been quite a bit of time spent at the splash park in our neighborhood. I love our neighborhood pool!
Both of our kids love to help out in the kitchen.  We've been cooking and baking up a storm.  Sadly though, they don't like to help with the dishes.
I took Mackenzie to meet Anna and Elsa at a local kids event. She insisted on standing in line in the rain to meet them, then refused to take a picture with them unless I was holding her. Silly girl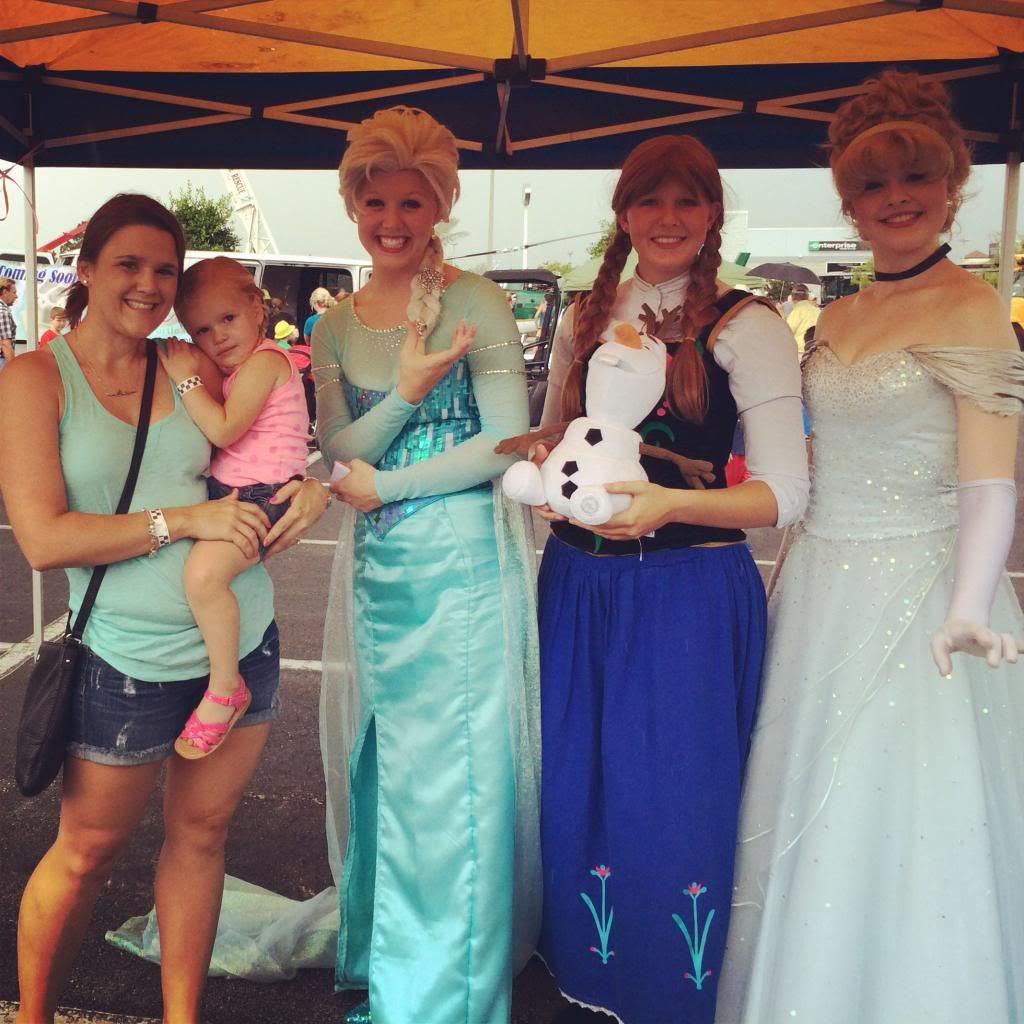 My dad and my brother helped Adam build the kids new play set in the back yard. We also built a big box around it and filled it with mulch so it kind of separated the play area and hopefully to keep the dogs out so the kids don't have to dodge poop when they're playing. Mackenzie loves the new play set so much that she even insisted on playing in it in the rain. I think she may like being out in the rain.
I could lie and say we had a great Father's Day, but we really didn't. Well, Adam did, he got to relax around the house and hang out with the kids. I spent the morning with my dad shoveling three yards of cypress chips out of the back of his truck (three BIG truckloads, if you're not sure what a yard is) and into the play set play area.
A Dunkin Donuts opened right down the street from our neighborhood and we've had breakfast there more times than I care to admit. Oh, and Braden solved the problem with holes in donuts. He's a smart little guy. He looks so proud of himself – how can you not love that face?!
The Easter Bunny brought this to the kids and they've been loving it.
We've been to the Farmer's Market quite a bit too. A few weekends ago, they had a Kids Fest event with lots of fun activities for the kids. Braden and Mackenzie loved checking out the fire truck, tractors, and even the garbage truck.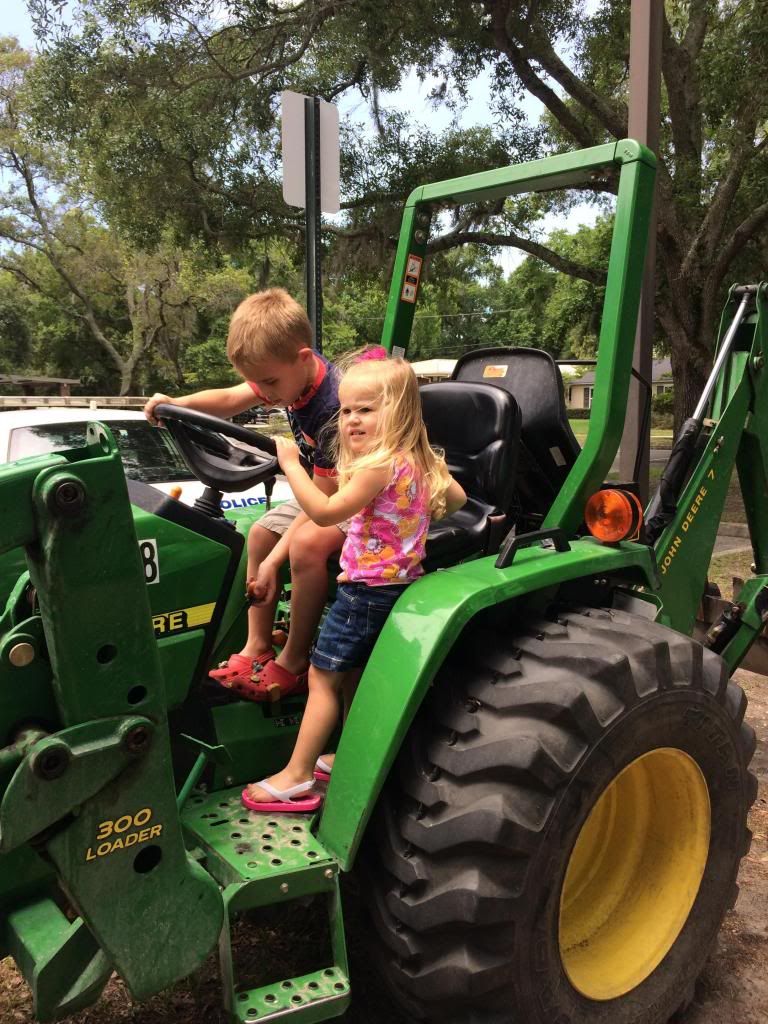 We also discovered that Braden likes spinach. So much so that he asked for a plate full of it at Sweet Tomatoes, then ate it all (he made spinach roll-ups with cheese and raisins).
My Florida babies LOVE being in the water, so in addition to the wave crasher in our backyard and the neighborhood splash park, we spent lots of time swimming at my parents house.  Which reminds me, we need to sign Mackenzie up for swim lessons.
Some kids.. they never grow up.
Hopefully now that our deadline has passed, I'll have more time to post here — I miss it!  I am planning to get back to running soon too.  I've been full of excuses lately, but I miss it and I need it.  Y'all, hold me to it!
Connect with A Mom on the Run:
Twitter: @amomontherun
Facebook: A Mom on the Run
Instagram: @amomontherun
Pinterest: pinterest.com/kristinm1027
Daily Mile: dailymile.com/people/amomontherun
Follow on Bloglovin: bloglovin.com/en/blog/4935423