A little over a year ago when we lost Sammy, I wasn't sure when I'd be ready to adopt another dog.  Losing him was hard and we still miss him every day.  After a few months, I realized that Buddy missed him too.  Buddy has never been a super active dog, but he wasn't his normal self.  Our house was too quiet too.  I know, it's amusing to think of a house as quiet with two little ones and a dog, but it was.  I was used to having Sam underfoot, always nuzzling me with his nose for attention or stepping on my feet, wrestling with Buddy or chasing him around.  I missed the chaos

I started talking to Adam about adopting another dog and he wasn't on board.  He was, rightfully so, worried about Buddy since he was almost 9.  I reached out to GREAT, the local Golden Retriever Rescue, thinking that maybe adopting an older dog would be better.  They told me since we had kids under five in the house, we weren't eligible to adopt and recommended that we start looking into getting a puppy from a breeder.
After doing lots of research, I found Jerrie with OmniGoldens.  She came highly recommended and her dogs are beautiful.
Adam was hesitant, but once I started showing him pictures, it was hard for him to say no.  I mean seriously, how do you say no to a sweet little face like that?!
Turns out it is actually pretty easy, which we learned when we brought Rex home.  He was a chewing, eating, pooping, and peeing machine.  For a while there, I wondered if we'd ever get him potty trained but now, he goes to the backdoor and barks to let us know he wants out just like his brother.  He chewed up more of the kids toys than I can count, along with some baseboards and the corners of some furniture.  He's so darn cute though, there's no way you can stay mad

He was nipping at the kids a lot too, so much that sometimes we had to keep him on a leash in the house so we could keep him close to us.  Once his puppy teeth fell out though, that pretty much stopped.  Now the kids play with him a lot, as long as there isn't food involved.  I've never met a more food-motivated dog.  You'd think we starve him!  If anyone in the house has food, he's suddenly your very best friend.  Or not, he could be trying everything in his power to climb on you to get what you're eating.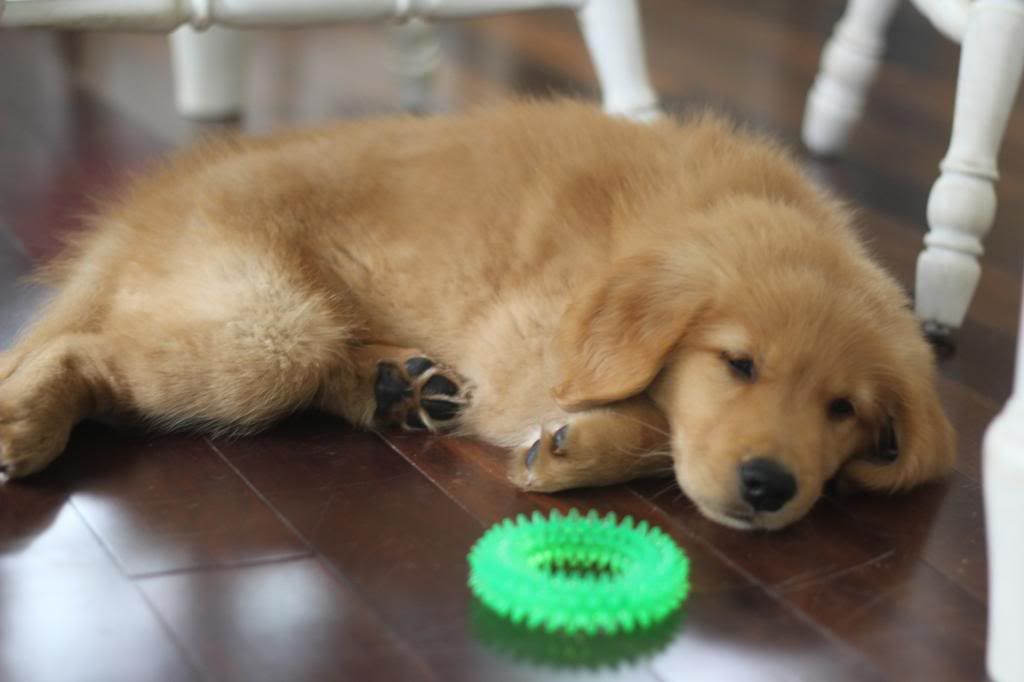 Rex is sleeping all night too – for the first few weeks, we were getting up with him a few times at night to take him outside, but now that he's potty trained he's able to hold it all night long

He sleeps in his crate in our room most of the night, but he's an early riser.  Buddy likes to sleep in the bathroom so when Rex wakes up super early, we'll put him in our master bathroom with Buddy.  Sometimes that works, more often though we end up getting up with him.  Puppies are so much like babies.
It took Buddy a little while to warm up to Rex. He did not like sharing his toys and bones. He had the bone above since Christmas and never paid any attention to it until Rex started chewing on it, then Buddy decided he wanted it. Not to chew on, just to lay on.
We should have bought stock in Cottonelle too, because we go through it like crazy. Rex is OBSESSED with toilet paper. We can't keep it on the roll or he drags it all over the house. We've been leaving it on the counter but now that he's bigger he can reach it too. I spend a lot of time cleaning up shredded toilet paper.
Buddy finally warmed up to Rex.. or realized that he wasn't going anywhere.  They're buds now and play together a lot.  I think Rex has actually helped Buddy out, he seemed to age a lot after Sammy died but now that he has Rex, he's become a lot more active and playful.
I can't wait until I can take Rex running with me.  You're not supposed to run with them 'til they're two, so we still have about a year and a half, but it will be nice to have company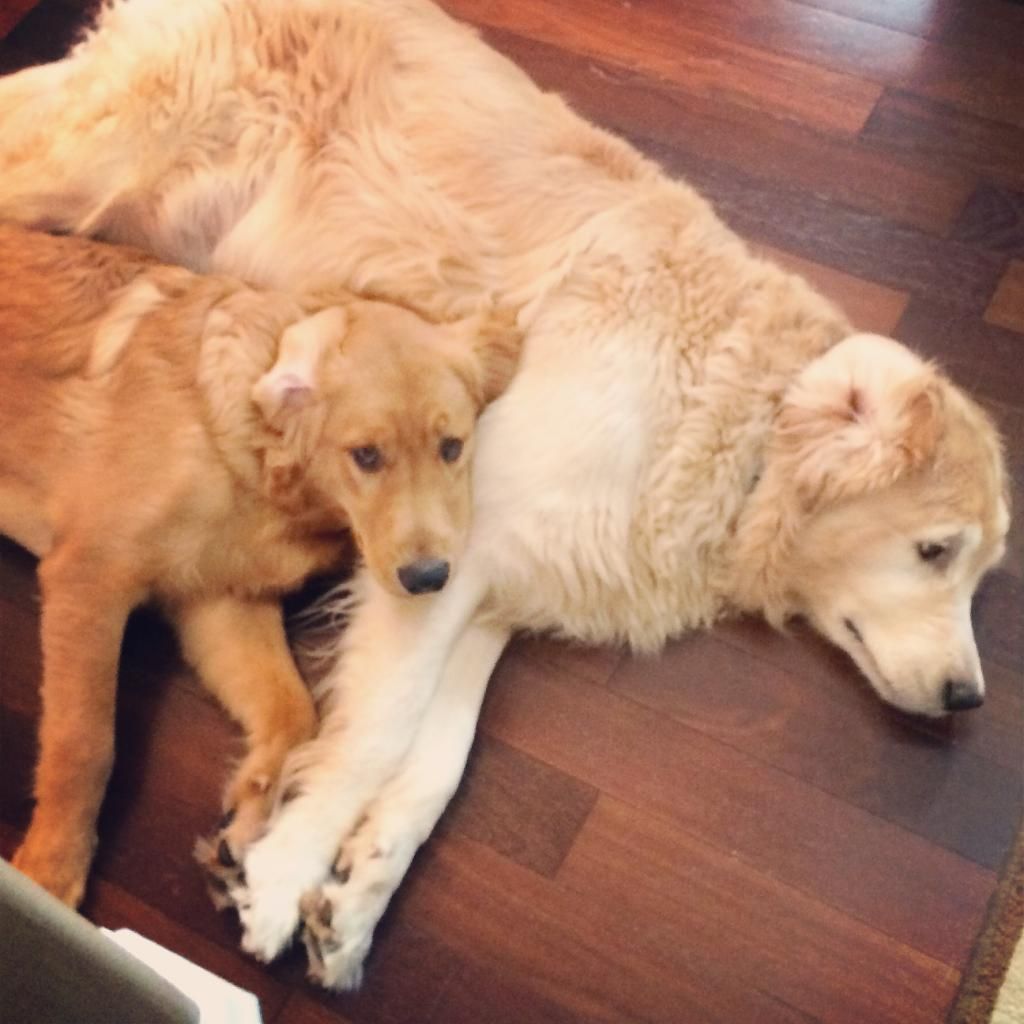 In the few months since we adopted Rex, he's made himself right at home.  He may drive me crazy sometimes stealing food and playing rough with the kids but he's a really sweet guy and so smart too.  Watching him try to figure things out is really funny.  He loves when the kids blow bubbles in the back yard, he goes nuts jumping and popping them.  I've never seen a golden jump like he does either.  It's insane how high he jumps!  He reminds me so, so much of our Sammy too.  Their personalities are so similar and he even looks a lot like Sam when he was younger.  Sometimes it really makes me wonder if a little bit of Sammy came back to us in Rex

Connect with A Mom on the Run:
Twitter: @amomontherun
Facebook: A Mom on the Run
Instagram: @amomontherun
Pinterest: pinterest.com/kristinm1027
Daily Mile: dailymile.com/people/amomontherun
Follow on Bloglovin: bloglovin.com/en/blog/4935423