I've been looking forward to this race for a few months. A long, long time ago (like before we had kids), a friend of mine tried to get me and another friend to do this race with her. I told her she was completely nuts because there was no way I could EVER run 10 miles without dying. She was in the middle of training for her first marathon, so 10 miles was no big deal to her. (We ended up doing the Race for the Cure with her instead, and walked almost the whole thing!)
The race fell on my birthday so instead of sleeping in, as I usually do, I convinced Adam to get up bright and early to drop the kids off at my parents house and head to the race site.  It's held at Evergreen Cemetery, the same place as the St. Patty's Day 10K, and is absolutely gorgeous.  Seriously, if you're ever in Jax for one of these races, you should definitely do them.
Andrea (from Once Upon a Run) and her husband met up with us at my parents house when we dropped the kids off and we all headed to the race together.  We got there not too long before the race started (which in my mind was a good thing, because it was COLD!) so we made a quick stop at the port-o-potties, then Andrea and I gave our pants that we'd worn over our skirts to her husband, and we made our way to the starting line.
On the way to the race, I realized I forgot my Garmin on the counter at home.  There wasn't time to go back and get it, so I was running this race naked.  Sort of.  There were timing clocks at each mile marker so I wasn't completely on my own, but that required me to do math while running and trying not to trip, which isn't exactly one of my specialities.
I wasn't quite sure what my goal should be.  Everyone kept telling me that since I'm in the middle of marathon training, this race would be easy and I'd probably get a huge PR.  Well, I've never run a 10 mile race, so it was going to be a PR no matter what.  Here's what I settled on:
Goals:
A – Finish with average pace under 9:30
B – Finish with average pace under 9:45
C – Finish and feel good.
I knew going into the race that I didn't want to really push it because I had my big 20-mile training run the next Saturday and I wanted to be sure that I was ready for it.  I've been running most of my long runs at a 10:30-11:30 pace, depending on who I'm doing them with, so I figured 9:30 would be a good A goal — definitely pushing it but not to an outrageous degree.
Andrea and I ran the first three miles together before she broke off to switch over to intervals.  I felt great pretty much the entire time.  I did kind of wish that I'd brought my own water though.  I think there were only 3 water stops and since the summer heat, I've gotten used to carrying my own water and having it available whenever I wanted.  I drink a LOT when I run.  I think the guy at one of the water stops got annoyed with me because I stopped and drank 3 cups of water.  They were itty bitty cups that were only half full and I was thirsty!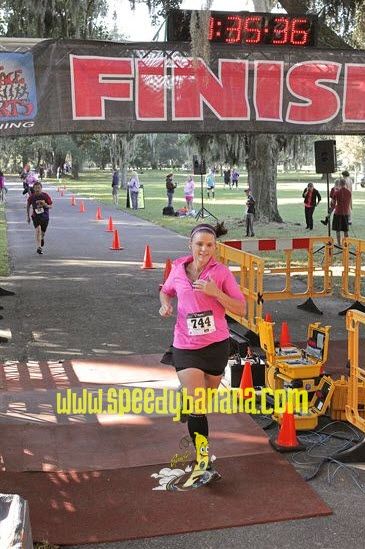 I got all turned around toward the end and I'm terrible at judging distances, so the last half mile or so was tough.  There was a spot where we ran through a lot of spectators and I figured we must be getting close to the finish line, so I started running as hard as I could.. then I rounded a corner and the finish line was nowhere to be seen.  Oops.  I took a quick walk break to catch my breath, then got back to it and eventually found the finish line.
My chip time was 1:34:53 for an average pace of 9:34.  So close to my A goal!!  That's okay though, every race can't be an A goal race.  I'm definitely adding this race to my calendar next year.  I love running local races and the venue for this one is really great.  In case you're wondering, Adam finished right behind me at 1:35:47 for an average pace of 9:39.  He keeps telling me how he's so much slower than me, but his race times do not agree.