We celebrated Braden's sixth birthday at home with a Pokemon Party!  Thanks to Netflix, he's really into Pokemon.  Apparently though, Pokemon isn't a big thing anymore?  Trying to find decorations and other party supplies to go with the theme was a bit difficult. I ended up ordering the invitations, cupcake toppers, and thank you bag toppers on Etsy.  Seriously, thank goodness for the crafty people on Etsy because without them, this would have been a not-quite-Pokemon party!
I'm so not creative, but I did manage to make his birthday banner.  Did you know there's an actual Pokemon font?  It wasn't perfect, but it worked and made Braden happy, which was all that really mattered.  I also made some Pokeball garland that we hung up behind the snack table.  I'm still not exactly sure what exactly a Pokeball is..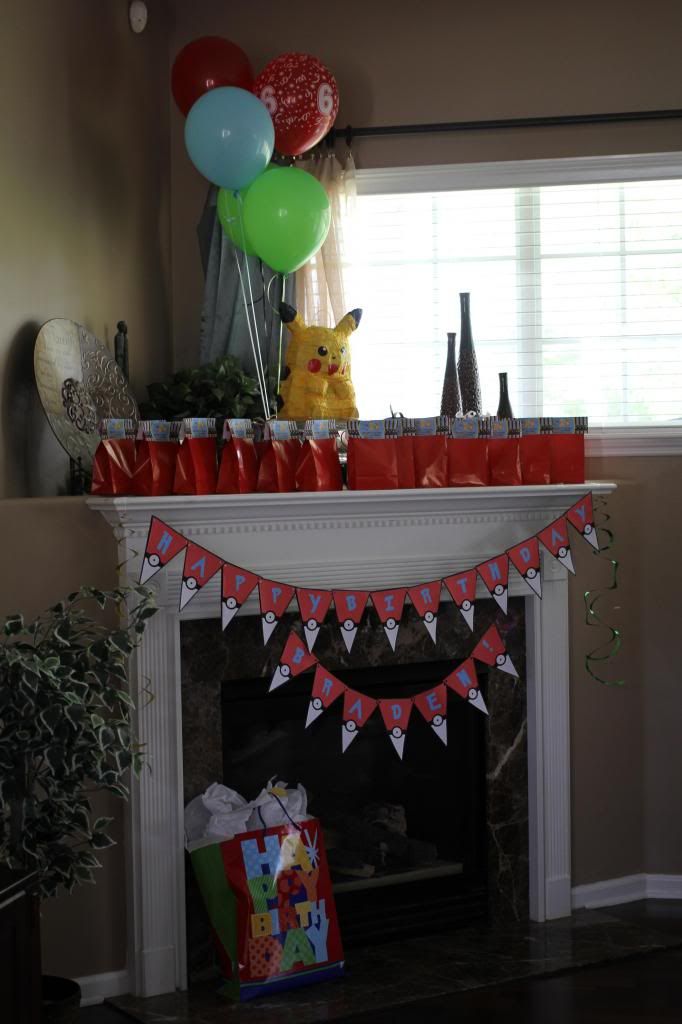 Since the party was at 1PM, we decided to just do some snacks, cake, and cupcakes.  It was so much less stressful than the other parties we've had at the house.  I had everything done the night before, so a few minutes before the party I set it all out and we were done!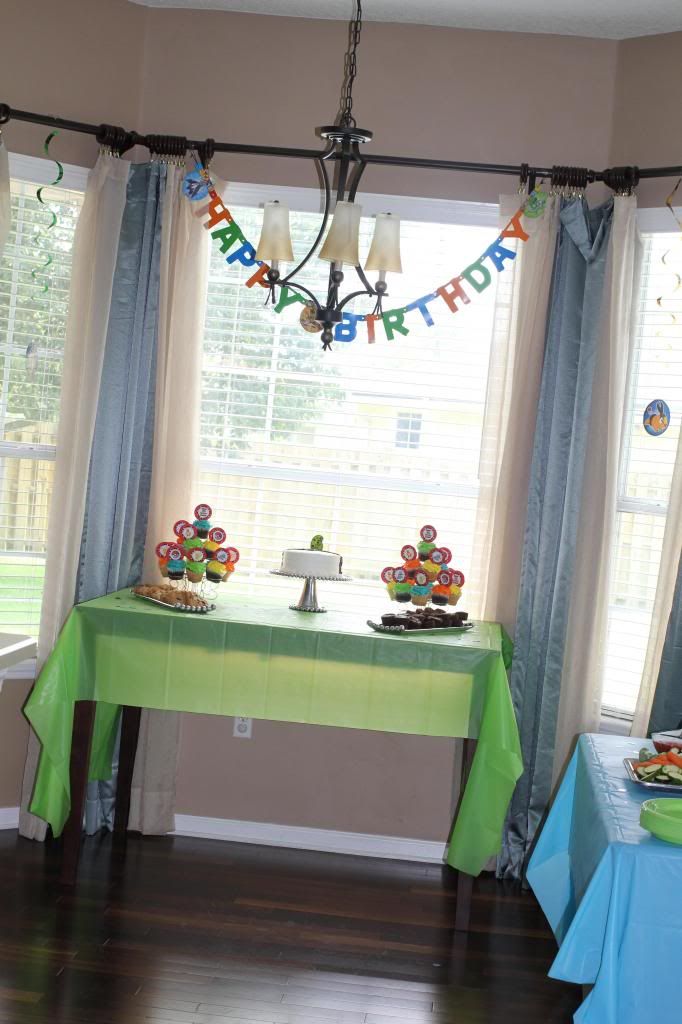 For a few months leading up to his birthday, we kept trying to figure out what we were going to do.  We almost settled on having a water slide bouncy house (which we did for his fourth birthday) but it was such chaos, that I really didn't want to do it again.  We were in the car on our way to Target trying to come up with ideas and Braden asked if he could get a new Skylander, which reminded me of a Skylander Play Date that Jill from Baby Rabies did for her son.
I couldn't find the Skylander specific Game Truck, but I did find a website for the Jacksonville Game Truck.  I showed Braden the video on their site and he was sold.  I loved that it was a way to keep the older kids entertained, in an air-conditioned area, that didn't involve them running around on hardwood floors all wet from a water slide.
The kids loved it!  Even Mackenzie wanted in on the action.  After the Game Truck left (we had it for two hours), we sang Happy Birthday and had cake.  The cake drove me CRAZY.  Apparently Publix is only licensed to make certain cakes and Publix cake is pretty much the best cake ever.  Even when I tried to order a chocolate cake with half red, half white icing and a black band in the middle, they said "oh, that's a Pokeball, we can't do that".  I ended up just ordering a half red/half white cake and I added the black band and circle.  It wasn't perfect, but I tried!
After cake, the kids ran around the back yard blowing off energy on the new swing set, blowing bubbles, and with the punch balloons I bought.  I swear, I wish I had half the energy of a kid, I'd get SO much done!
Finally, Braden opened his presents (and our house became FULL of Skylanders, B is in heaven!) and it was time for his buddies to head home.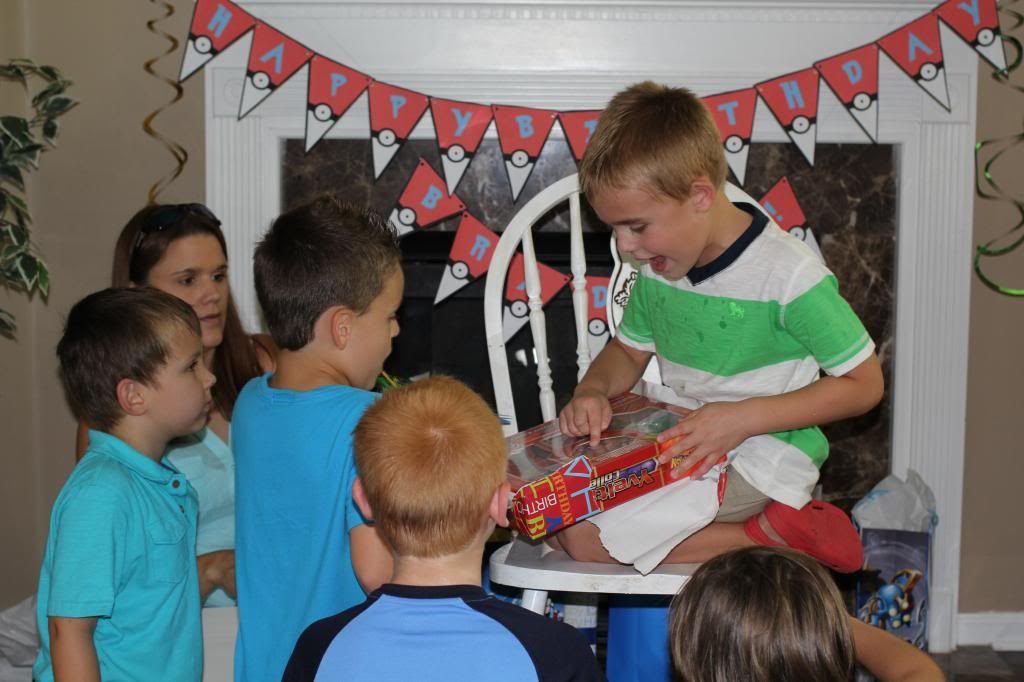 He's such a lucky little guy to have so many great buddies.  Pictured below are two of his best buds – Aidan and Aiden

Somehow, I managed to totally forget about the piñata.  I always forget them at parties!  Some of our good friends were still here though, so we let the kiddos have at it and we sent their little guys home with bags FULL of candy!

 Hopefully the sugar crash wasn't too bad.  The last thing I need is chocolate sitting around the house because I WILL eat it!

It was definitely a fun party and Braden is still talking about it.  Actually he's sitting beside me now asking when he can have another Pokemon party with the Game Truck.  We wore out the Grandpa's too.. My dad and Papa Larry passed out once the party was over!
Happy 6th Birthday, Braden!!
Connect with A Mom on the Run:
Twitter: @amomontherun
Facebook: A Mom on the Run
Instagram: @amomontherun
Pinterest: pinterest.com/kristinm1027
Daily Mile: dailymile.com/people/amomontherun
Follow on Bloglovin: bloglovin.com/en/blog/4935423