I'm not entirely sure how this happened. He's still supposed to be an itty-bitty baby.  He is definitely not supposed to be big enough to be headed off to school.  All official with his Spider-Man backpack that he picked out.  A big boy back pack.  No more baby stuff.  He's told me more times than I care to count that he is definitely NOT a baby anymore.  I suppose it's time to accept it.
He has been in "school" since he was 6-months-old, so you would think I'd be okay with it. This is different though. No keeping him home because I want to. No taking a day off here and there to head to Disney for the day, just because we can.  It's elementary school, the big school with the big kids.  And the cafeteria – he is stoked about the cafeteria.
I've been so worried about how he'd handle it.  He's been at his small school for pretty much his entire life.  He has a great group of friends there and we've been so happy with the staff and his teachers.  They've almost become like a part of our extended family.  Change scares me, but thankfully, it doesn't seem that Braden has inherited my irrational fears.  He wasn't scared at all, not even a little bit nervous.  He was thrilled and so excited.  We've been driving by the "big boy school" every day on our way to his pre-school and for the last few months, he's been asking me how much longer until it is his turn to go there.
Today was finally that day! We loaded his new backpack up with his brand new school supplies and packed his adorable little lunchbox full of his favorites. His school staggers the starting day for the kindergarten classes – half of the class started on Wednesday and the second half on Thursday. It gives the little ones a chance to get acclimated with a little less chaos. I was happy that he got to start on Thursday, so he went the full day Thursday with half of the class then returned the next day on Friday with the full class. The other half of the class started Wednesday, with the rest of the school, then had Thursday off and returned Friday for the full day.
One of the most exciting parts of "big boy school" for Braden, is riding his bike to school. He tolerated the picture taking before we took off, but was seriously itching to get on his bike and go. Adam and I both took the morning off so we could drop him off together. All of a sudden, watching the bigger kids zip past them on their bikes, he just looked so little.
He parked his bike in the bike rack and we headed in. Of course, being me, we were running just a bit late so most of the kids were already inside. He looks too little to be here, right? I mean, there are sixth graders here.. and they think my baby belongs here? How?! His backpack is practically as big as he is!!
We made our way to his classroom — thankfully it's the first one right inside the door, so when they don't let the parents walk them in anymore, I can at least watch to make sure he makes it to his classroom door. He found his desk and his teacher had a coloring sheet and a fresh box of crayons laid out for them to color their "First Day of School" picture. I wanted to take pictures and, well, be a ridiculous mom, but Braden wanted nothing to do with it. He had things to do and was just ready for us to get the heck out so he could have some fun.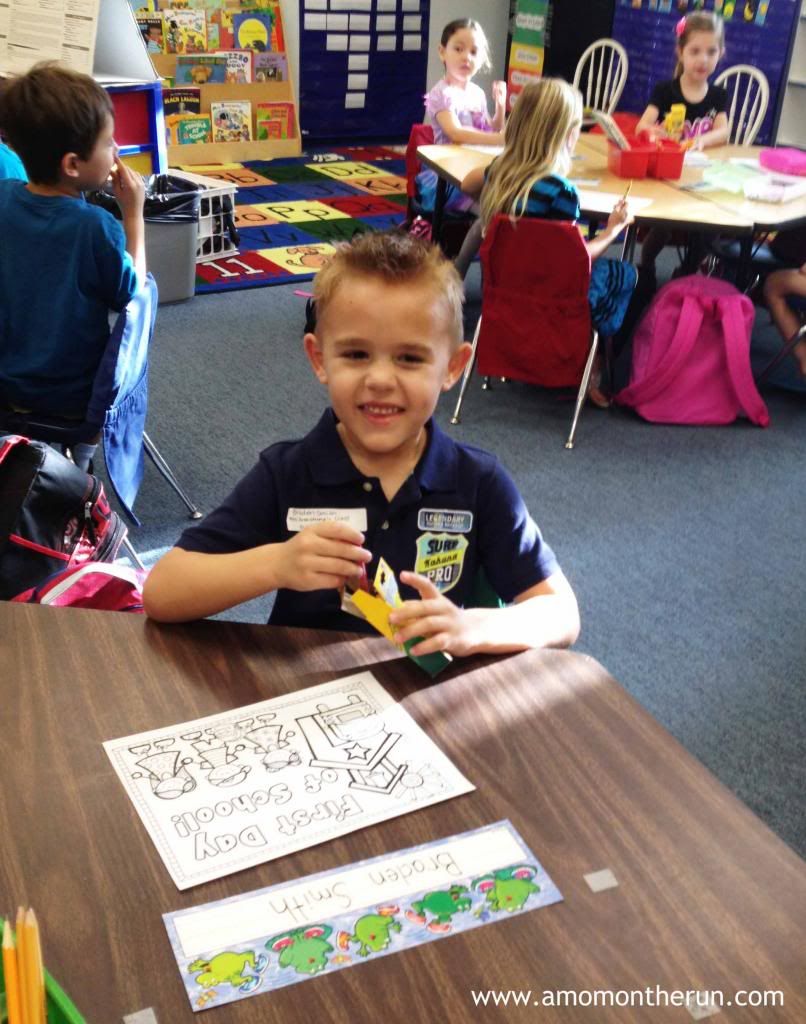 So we did. I really thought I'd cry, I didn't want to upset him though so I kept telling myself not to cry, to be strong for him. We gave him hugs and kisses and told him to have a great day, told his teacher goodbye and we left him for his very first day of Kindergarten! I fully expected to be a sobbing mess, but I didn't shed a single tear! I really think I was just all cried out.. it was an emotional week for us. I know it's good that I didn't though. Braden is sensitive and the type that would worry about me all day if I seemed upset when I left. So yay for no tears from any of us!
Adam and I planned to take the entire day off to spend together, but my work schedule is crazy busy right now so instead we went to breakfast, then spent the rest of the afternoon hanging out at our favorite coffee shop. He goofed off on the computer while I worked (and anxiously watched the clock, wondering what Braden was doing approximately 4,535,295 times). After what felt like an eternity, it was time to head back to pick him up.
Apparently they let the kindergartners that walk or ride their bikes out a bit early (they do it so the little ones can get out of the way and not get trampled over by the bigger kids), because when we got there to pick him up at the time school lets out, he was already outside waiting for us by the bike rack with one of the kindergarten teachers. He was so excited to ride his bike home and tell us about his day. He said he had so much fun, the cafeteria was the coolest thing ever, he loved his lunch except next time he needs a straw, and the playground is HUGE! I asked what else they did and was told "nothing". Nice to see some things don't change

Last year on the kids first day of school, we made chocolate chip cookies after dinner to celebrate and I thought it was a a fun thing to do, so after we picked him up we baked cookies for his after school snack. Fresh baked cookies and milk are pretty much the best after school snack, according to Braden.
Braden's teacher seems really great and he seems to like her. He has a few buddies from VPK in his class and gets to see a lot of his old friends during recess, so he's a happy camper. When I asked him at bedtime if he liked it and wanted to go back, he told me yes, he loves big boy school.. lets hope it lasts!
Did you have little ones starting school this year? Or going back to school?
How does your family celebrate the first day of school?