I have this thing about birthdays – I think that for kids, they should be a big deal. We should go out of our way to make them feel so special and so loved on their big day. Thankfully both of my kids have summer birthdays so we don't have to worry about going to school on their big day (what fun is that?!). I take the day off of work (Adam tries to, if his work schedule allows it) and we let the kids decide what they want to do, all day long. They decide where we go, what we do, what we eat, etc. They love it!
Last year was the first year we did this and Braden wasn't sure about the whole thing, so we suggested Adventure Landing's water park and he LOVED it.  When I asked him what he wanted to do this year, he immediately said he wanted to go back to Adventure Landing.
He woke up to a room kind of full of balloons.  We kind of failed on this one.  We forgot to buy the balloons until the night before and when we remembered, we had to rely on what Walgreen's had, which were these puny little things.  Usually we do the big ones that cover the floor!
Anyway, we got up and our first stop was Dunkin Donuts for breakfast.
Braden had a chocolate frosted donut, a box of munchkins (he swore he'd eat them all, he ate like 5) and an OJ.  We gobbled up our breakfast and headed over toward the beach to the water park.
He was going non stop all morning, running around like a crazy kid in the pirate ship and going on the big water slides.  He even went on the biggest one, all on his own!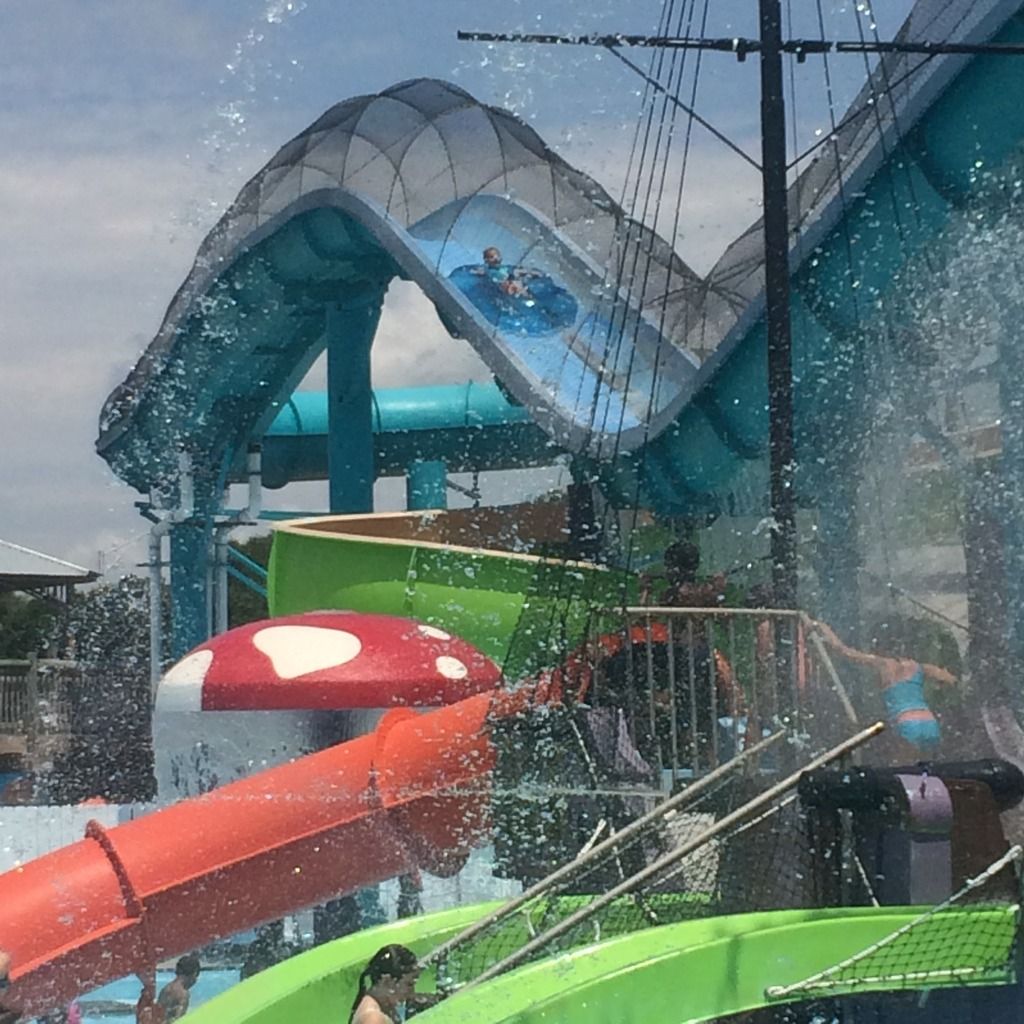 Around noon, I finally convinced Braden we needed to take a little break to eat something.  He wanted pizza and a big slushy, so he got pizza and a big slushy.
After lunch, we hung out in the wave pool for a bit.  We would have stayed longer, but a nasty storm was rolling in.
So instead of getting caught in the craziness of everyone leaving at once, we decided to pack up a bit early.  I asked Braden where we were going next and he said Rita's.  It's close to Adam's office, so we called him and he met us for Italian ice and frozen custard.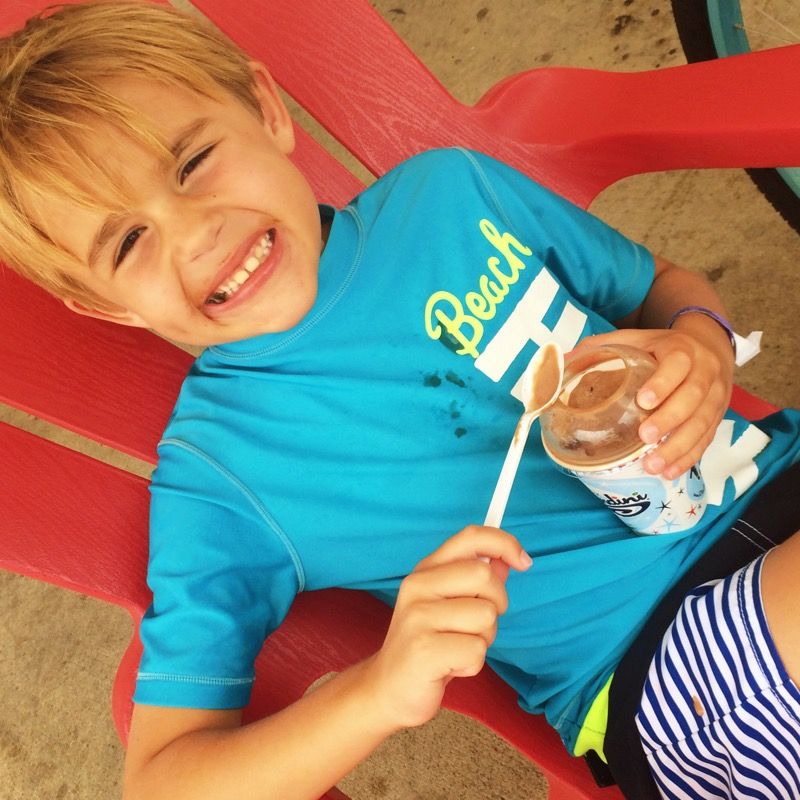 If you clicked back to look at B's birthday from last year, you may notice that this year was pretty much the same.  I kept asking if he was sure he didn't want to do something new and he said nope!  It was the best day ever so he wanted to stick to his plan.
He decided he wanted pizza and pretzels (drunken fun guys) for dinner, so we grabbed Kenz from school and met our parents at Mellow Mushroom for dinner.
When we got back home, Braden decided he wanted to open presents before we had dessert – so we did!  He got a bow and arrow from Grandma & Grandpa, a BB gun from Uncle D, a new Wii U game from Grandma Ruth, and… mommy fail, I can't remember what we got him!  It was a random hodgepodge of things he wanted.
Oh, and I can't forget, he got a birthday hug from Kenz!  I swear they love each other, even though they rarely act like it.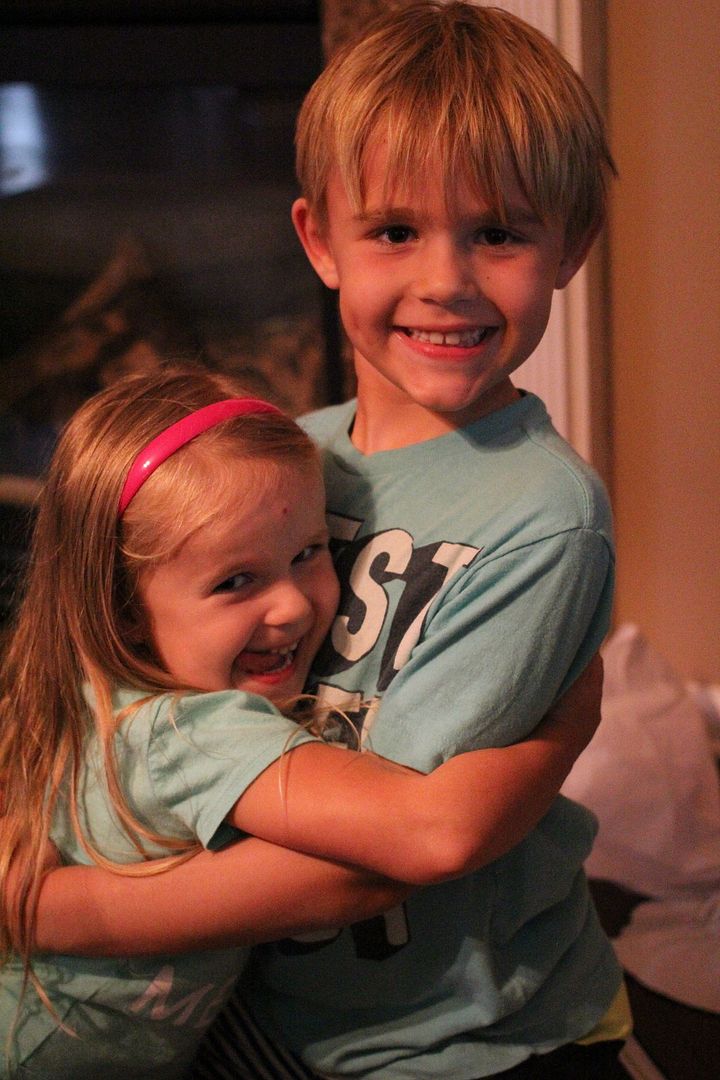 Finally, it was time to sing "Happy Birthday" to our big boy!  He decided he didn't want cake again this year, so instead we picked up a dozen donuts on our way home earlier in the day, and we stuck his candles in a donut!
Braden inhaled his donut and asked if he could pretty-pretty-please go outside and try out his new BB gun and bow?  How could we say no?
I think almost all of us took a turn shooting them.. and I learned an important lesson.  Even though the arrows don't look sharp, they are dangerous!  I didn't think they would be, but B shot one and missed the target and it got stuck in the palm tree in the yard!  Um, if it'll pierce a palm tree, it'll definitely break through skin.  No more archery in the back yard!!
Happy Birthday to my amazing little boy.  You're growing up so fast and mama doesn't like it one bit.  Slow down!!