I've never been a big fan of sweet potatoes.  At least that is what I thought.  I'm a super picky eater and they just didn't look all that appetizing, so I never tried them.  Orange and mushy just wasn't doing it for me.  Mature, right?  A few years ago, we were at Disney World with Adam's aunt and uncle and sweet potato chips came as a side with the sandwich I ordered.  I tried them, since they weren't mushy, and they were pretty good.  Lately, I've been trying to make healthier choices when eating out, so I'v been ordering sweet potato fries instead of regular fries.  I've become quite the addict too, they are SO good.
We were grilling burgers last night so I decided to try to make some at home.  All of the recipes I found were pretty similar and seemed easy enough.  One common complaint found in most of the reviews was that they came out mushy, so I tried my best to minimize that.  These turned out well.  Not crispy like fried sweet potato fries would be, but they weren't super mushy either.  I don't have specific measurements, I just eyeballed most of it.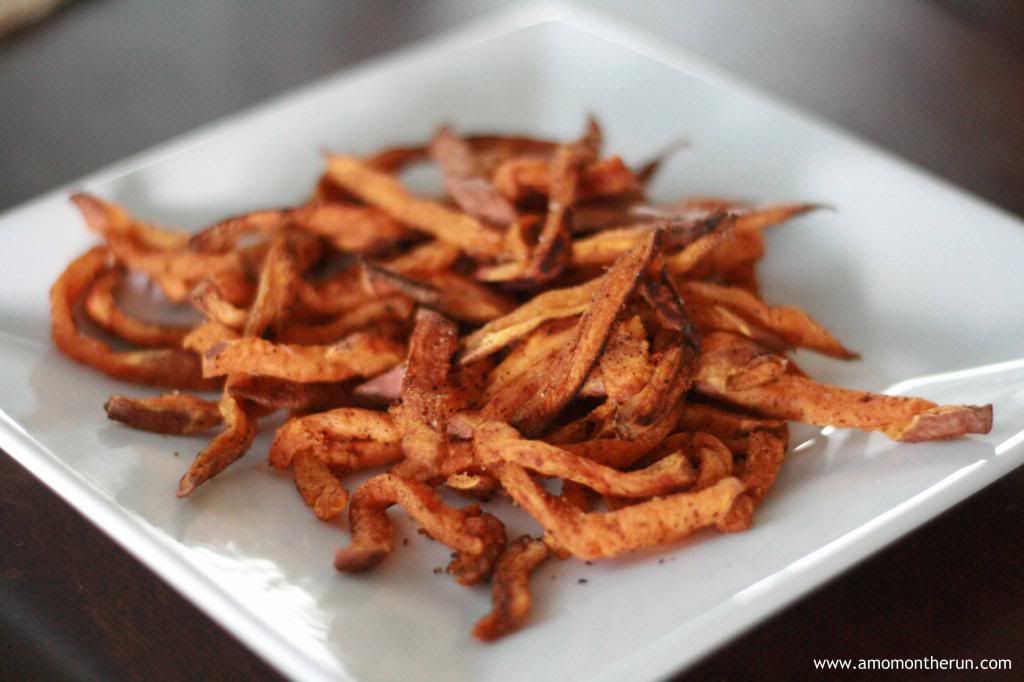 Ingredients:
olive oil, for tossing
sweet potatoes, cut into strips (I used a mandoline)
sea salt
black pepper
garlic powder
paprika
Directions:
Preheat oven to 450 degrees F.
In a small bowl, combine sea salt, black pepper, garlic powder, and paprika.  I didn't measure and I used just a bit too much salt.  It was mostly equal parts with just a bit less paprika.
Line a cookie sheet with parchment paper/aluminum foil.  In a ziploc bag, toss the sweet potatoes with just enough oil to coat.  Spread sweet potato strips in single layer on prepared baking sheet – make sure you leave some space between them.  Sprinkle the seasoning mixture over all of the sweet potato strips.
Bake until crispy and golden brown.  I baked them for 20 minutes, then turned them every five minutes or so.  In total, they probably baked for about 40 minutes.
Let cool 5 to 10 minutes before serving.
Kind of from Paula Deen's Baked Sweet Potato Fries.