I've been looking forward to this race since approximately 5.78 seconds after I crossed the finish line at the Space Coast Marathon.  When I finished feeling great, with a huge smile on my face, I knew I could have done better.  Much, much better.  I finished though, and for your first marathon, that's all that really matters.  I learned a lot, but most of all learned to respect the distance.  In case you didn't know, 26.2 miles is a really long way to run.
We headed down to Disney Friday afternoon — Adam ran the half on Saturday morning, so we had to get there in time to pick up his packet and grab dinner before checking into the hotel.  He had an early morning, so we both took advantage of the lack of crazy kids running around the hotel room (big thanks to my mom and dad for watching them!)  and went to bed early.  Adam's alarm was set to go off at 2:30 AM.. or was it?
Fast forward to the next morning and I wake up to an "Oh no…" so of course, being a mom, I bolted out of bed thinking someone was sick or had an accident.  Then I realized where I was and Adam told me his alarm didn't go off.  He forgot to switch it so it was still set for weekdays only.  Thankfully it was only 3:30 AM so he got ready quickly, I threw on some jeans and called the valet guys to bring the car around, and instead of him catching the shuttle to the race start, he had his own personal driver.  We made it just in time!  I went back to the hotel to go back to bed while he ran, then got up and met him at the finish line.  He ran a great race, although it was pretty humid. I was silently hoping that the weather reports were right and it would be much cooler the next morning.
Adam showered and we headed over to Downtown Disney to wander around for a bit — we checked out the new Fit 2 Run store, picked up some goodies for the kids, then had lunch at Splitsville
After lunch, we went over to the movie theater to see Catching Fire.  I was excited to check out the theater — I'd heard that it was set up so that you could eat dinner while watching a movie and I had dreams of a big glass of wine being delivered to my seat while I enjoyed the movie.  Not so much… or maybe just not in the theater we were in, since it wasn't a new release.  Instead, I sipped on a big bottle of water and made three trips to the potty.  Pre-race hydration, check!
We met our friend Jessi for dinner (she was in town for work) and I loaded up on carbs, then we headed back to the hotel to get to bed since we had another early wake up call.  Notice the "we".  Adam volunteered to drive me over to the starting area instead of making me catch the shuttle, since I'd done the same for him.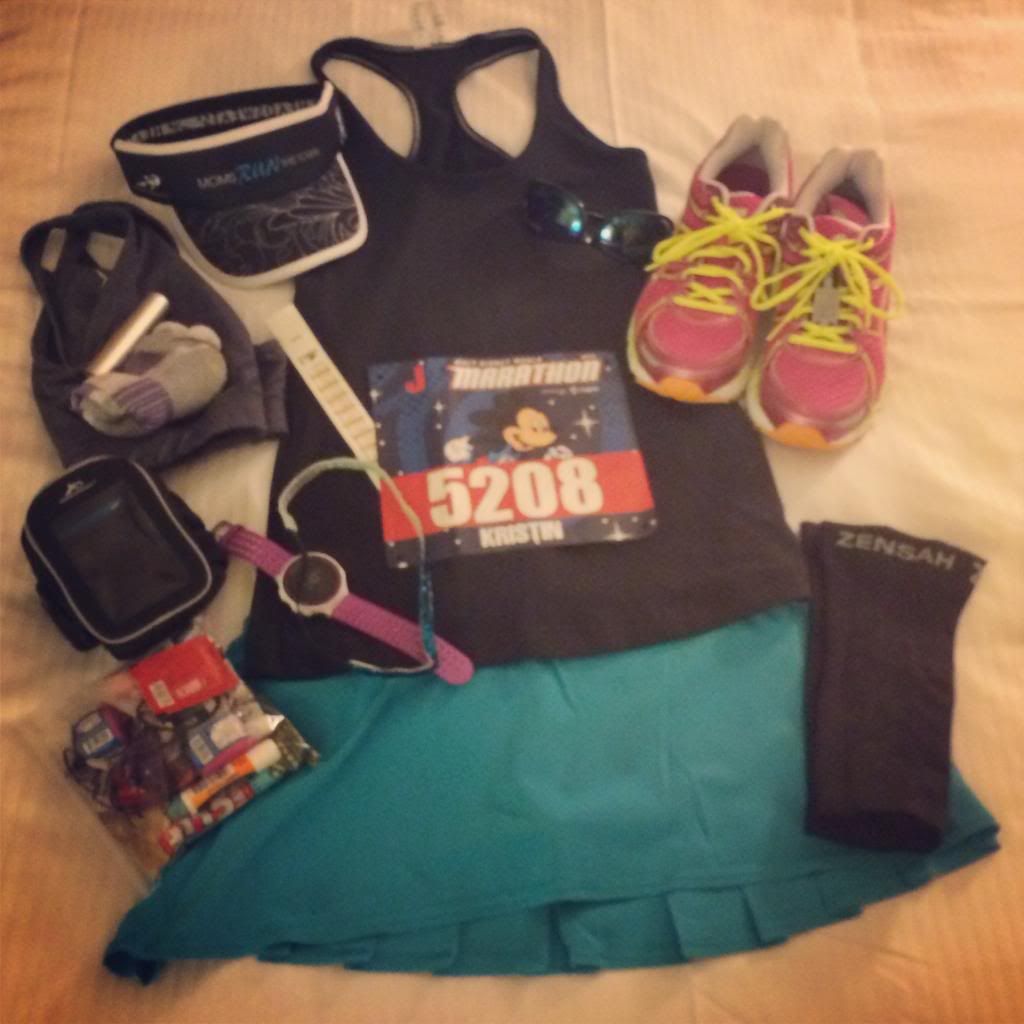 Lets rewind for a second though.  See the skirt?  I really wanted to get a new skirt for the race and pretty much they only thing I'll wear anymore when I run are pacesetter skirts from lululemon because they hold a good amount of stuff, fit well, the shorts don't ride up, and they don't chafe.  I was trying to decide between the one shown and the hot pink one, once I finally decided and went to the local store to buy it — no luck, they were out of my size in both!  Boo!  Oh well, I figured I'd just order it when I got home.  No luck there either, since the earliest I could have it delivered was the day after the race.
I emailed the store at the Mall of Millenia since it was on our way into town and they had one left in my size but couldn't hold it until Friday.. they did offer to hold it until the end of the day, but it's a 2 hour drive and work and kids and.. it wasn't happening.  I offered to call and pay for it using my credit card over the phone, but they couldn't do that since it wasn't secure.. so they told me not to worry, they wanted me to have what I needed to be ready for my race, so they were buying the skirt for me.  My jaw literally hit the ground when I read it, as I totally did NOT expect it.
We stopped by the store on our way into town and the staff there was so great.  They had the skirt set aside for me, and all wished me luck on my race.  They also had a cheer station set up around mile 22 and it was so nice to see them out there supporting us!  Since we were there, I picked up a few more cool racerback tanks — they're my absolute favorite tops to run in.  So long story short — if you're in Orlando, stop by and say hi to them, they're really great!
Back to race day.  We got there early, so I wandered around on my own for a bit and ate my bagel with peanut butter.  I found coffee too, yay!  Those who know me well know that I do not function well without coffee in the morning.  And lets be honest here, it has some other helpful effects, that are particularly beneficial when you're going to be running for quite a while.. After about 20 minutes, Andrea and Cori got there with some friends and we all chatted until it was time to head over to the corrals.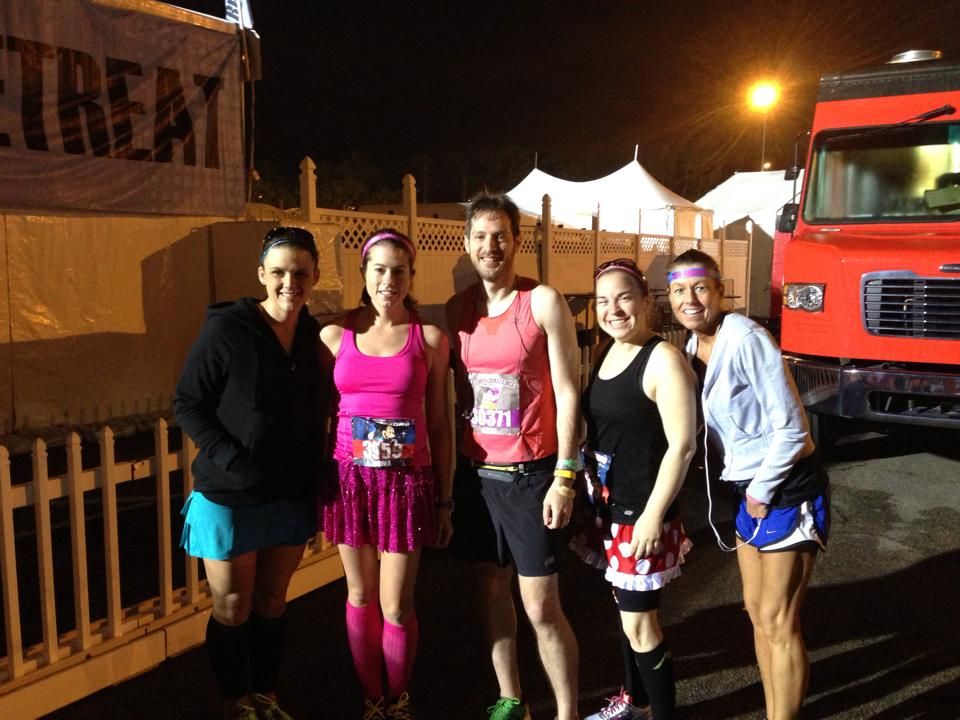 Andrea was a few corrals ahead of us, so Cori and I made a port-o-potty pit stop, then got comfy in our corral to wait for the start of the race..
I'll be back later today or tomorrow with the full race recap!  I'm tired and it's way past my bedtime!