I'm like a million years late writing this recap and it's not because I didn't have fun.  I had a blast.  How could you not with this craziness going on?!
I'll be honest and tell you that I'm not really a color run fan.  My experience was limited though and Jenn assured me that when done right, color runs can be a lot of fun.  So when the Flavor Run folks asked me if I'd be interested in a few free entries, I figured I didn't have anything to lose and signed up.  I'm so glad that I did, because we (Jenn and I ran with our friends Linds and Ashley) had such a great time.
The last color run I did was not done well at all and I left thinking "that's it?".  The Flavor Run did not disappoint and I was covered in a rainbow of tasty colors when we were finished.  The "flavor fairies" were kind and kept the color out of our faces (which was great since you kind of need to be able to breathe to run) but they completely doused the rest of our bodies as we ran through the color stations.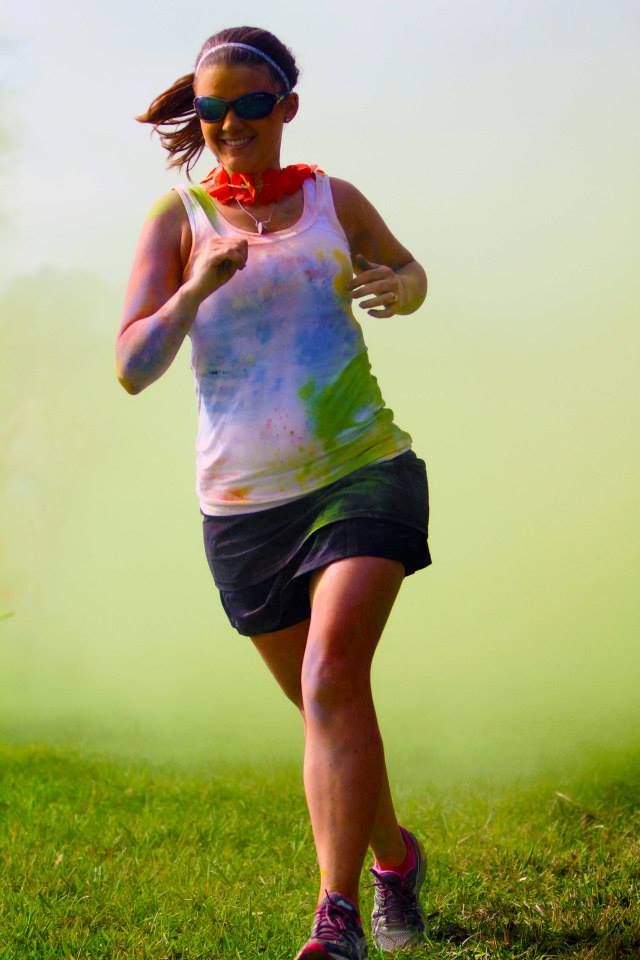 This is probably one of my favorite pictures of me running.  I may look like an oompa loompa (thanks to the orange color) but I look like I'm having a blast! Packet pick-up was a breeze.  I got there early since I didn't pick mine up the day before and the only issue was that they ran out of bibs (some lovely person stole 250 of them apparently, how kind of them) so they gave me a lei instead.  I can see where someone may be upset if they like to hang onto them, but it wasn't a big deal to me.  The Flavor Run people sent out an email earlier this week apologizing about it and with a link to download/print a bib if you didn't get one.  I thought that was nice of them.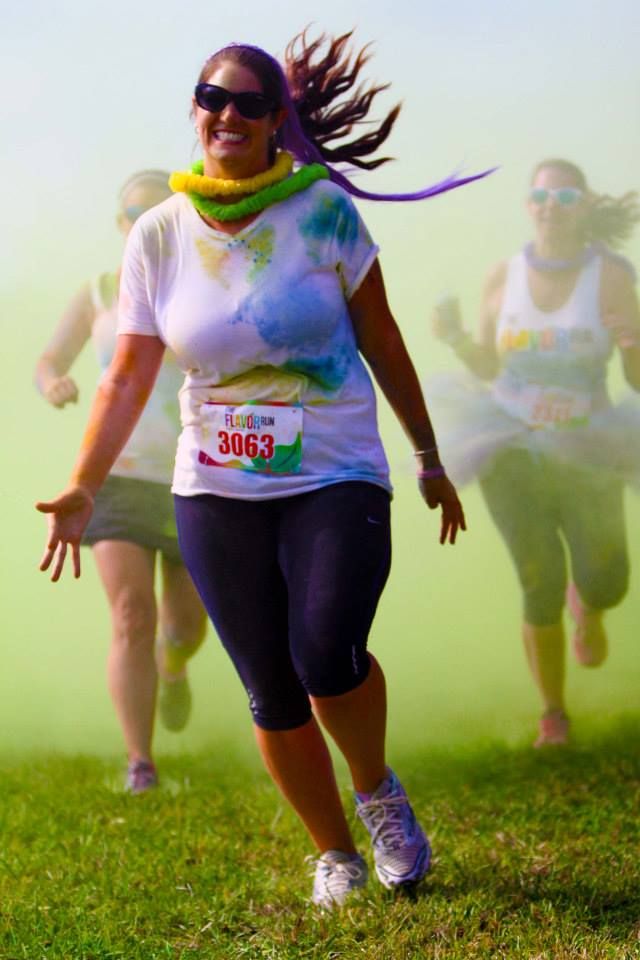 Anyway, back to the run.  The only remotely negative thing I can say is that it started late, which can be difficult with the Florida weather. It was hot and humid, but that can't really be avoided. It wasn't a huge deal for me, but could have been a problem if I needed to get somewhere afterward. Shortly before we started, Ashley's dad asked her if she'd like him to run in Publix to grab some donuts for when we were finished.  She quickly told him no, there was fruit at the finish line, and we were on our way.  Right around the halfway mark, Jenn mentioned that a donut and beer was sounding really tasty and Ashley made a quick pit stop to call her parents and make it happen.  I'm so glad Jenn spoke up!
The course was really nice, we ran through Nocatee and I thought it was marked well.  I'm directionally challenged and I didn't get lost.   The color stations were well-manned and had room for you to go around them if you didn't want to get doused with color.  There were water stops along the way and a few critters as well.  Gotta love Florida running.
After we finished and collected our medals, we grabbed some water and fruit and chatted for a bit.  I think I've mentioned before that nothing tastes better than a cold beer at the finish line of a race, but I may have to change that.  The watermelon at the finish was amazing.  Super sweet and so, so good.
We found our way back to Ashley's parents, along with the donuts and beer.  I don't think it's a coincidence that the donuts fit right over the bottles.  It's like they were made for each other.  They don't sound like they'd mix well, but it was carby and delicious!
Overall, I was really pleased with the Flavor Run.  We had a great time and I'm looking forward to doing it again next year.  I really loved that the race photos were totally free!  They sent out a link following the race to a Facebook album full of fabulous pictures.  You should definitely check it out!  I think I'll bring Braden along next year, he would have LOVED it!
Disclosure:  The Flavor Run provided me with two free entries into their run as well as two free entries to give away to my readers in exchange for an honest review.