Sometimes I have a habit of underestimating things.  It's a fault of mine.  My husband can vouch for this.  I was a little worried after the Tour de Pain was over on Saturday that I wasn't going to be able to do the Drenched 5k.  It was the next morning and I was worn out after the mile sizzler.  I'm stubborn though, so I knew I'd do my best and since Braden was tagging along and I wasn't planning to race (it's not a timed event), I figured it would be fine.
Thankfully, it was.
We were a little confused about the start time – it was originally posted as 10AM and then later there was an email saying 9AM.  Somehow I missed the second email, but thankfully Andrea read it so we showed up right on time.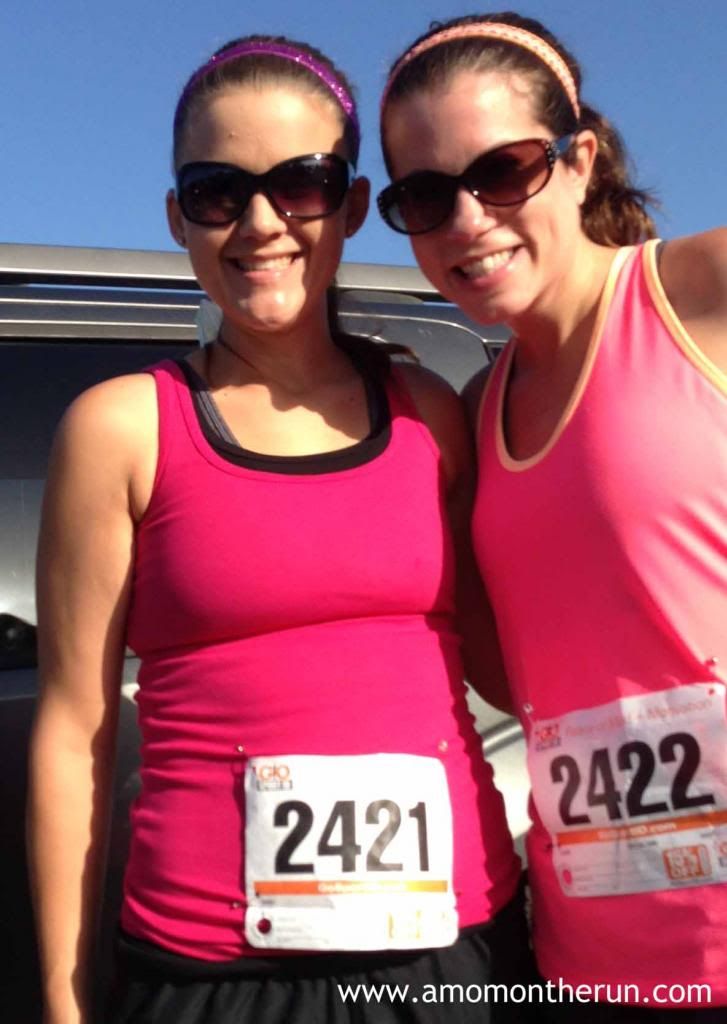 Parking was a breeze, there was a ton of it near the stadium and it was a quick walk over to Metro Park, where the race started and finished.  They had a starting corral set up with water hoses hosing everyone down at the front and it looked like the participants were all having a great time.  We lined up at the back and were quickly on our way.  As soon as we crossed the starting area, we were pretty much soaked and we were all excited to get started and have some fun!
I wasn't wearing my Garmin, so I'm going to have to guess on distances.. and I'm terrible at judging distances.  I'd guess for the next mile or so, there wasn't much going on.  We walked and walked and walked.. zero entertainment, zero places to get wet.
Braden started complaining that his legs hurt, so Andrea and I took turns giving him piggy-back rides.  We kept him entertained by talking about Kindergarten starting and high-fiving the police officers along the course.  I decided not to bring the jogging stroller because I figured there'd be so much going on that he wouldn't want to sit in it and we'd have to constantly stop to get him in and out of it.
When we reached the water stop (there was only one), we were going right past the parking lot so I sent Braden and Andrea off to get cups of water while I ran over to the car to get our water bottles and the jogging stroller.  It's a good thing I grabbed our bottles, because the water stop was completely out of water.
At that point, we were dead last, so we ran to catch up to the back of the pack.  We caught up quickly and kept running until we rounded a corner and saw the flag indicating a foam zone was up ahead, so we stopped to let Braden get out.  This is what I was expecting.
This is what we saw.
Now, I'm guessing since they have the little PVC fence thing over to the side, like you can see in the race promo picture, that maybe earlier in the race there was a bigger foam zone earlier in the race?  I hope there was anyway.  We were pretty let down when we got there.  At this point there were still a lot of people behind us and there was very little foam.  We made the best of it and had fun anyway!
As we were walking away from it though, I was really beginning to wonder.. I could be wrong, but from what I remember so far all we'd encountered was a few people with big hoses and then a not-so-foamy foam zone and at this point, we were probably halfway done.
The rest of the race, Braden stayed in the jogging stroller and Andrea and I alternated running and walking.  There were a few more stations where we got hosed down and a father/son team with water guns shooting at us.  Braden got a kick out of that.
As we made our way back into Metro Park, we were directed over to another foam zone and Braden thought it was pretty much the coolest thing ever.  He played in it for a bit and threw bubbles at us, then wanted to try out the slip and slide.
Below is Braden's "um this thing is broken" face.  There were two guys standing on one side of the slip and slide with hoses ensuring that it stayed wet, but it wasn't very slippery.  Despite being on a hill, I still had to pull Braden down the slip and slide.  It was covered in sand, so when he got up he was covered in sand and not a happy camper.  Thankfully the guys with the hoses didn't mind giving him a quick rinse.  He didn't want to go down it a second time.
Braden was pretty much over the water stuff and said he was hungry, so we grabbed a bottle of water (which wasn't cold) and half a banana that appeared to have been torn in half instead of cut.  It was strange and I wish I'd thought to take a picture of it.  Braden refused to eat it because of all of the brown gooey stuff on it.
Overall, we had fun.  I'm glad we did it and it's fun to do more family-oriented fun races with the kids.  I'll be honest though and say that I'm glad I didn't pay to run it.  If I had, I would have felt like I didn't get what I paid for.  Maybe it was because we were toward the back, but I'm a firm believer that the last finisher is just as important as the first finisher and should have the same treatment and perks. I'd do it again, but only if the price was less or the course was improved to provide more than a few big hoses, a not-so-foamy foam zone, one nice foam zone at the end, and a not-very-slippery-or-slidey slip and slide.
Have you ever been let down by a race before?