Never heard of a runDisney meet-up? You're not alone, neither had I until I signed up for the race and started connecting with other runners on twitter and facebook.  Once I heard about them, I was determined to get in.  When else would I get the opportunity to run alongside Jeff Galloway?!   In order to attend the meet-up, you have to be one of the first to RSVP once the event is announced on the Disney Parks Blog.  In the past, they have filled up in just 2 to 3 minutes.  It's crazy, so crazy that the Disney Parks blog actually crashed a few times on the Friday before the event, when the meet-up details are usually posted.
This year, runDisney threw everyone for a loop and posted the details at 2:30 on Monday morning, so it actually took a few hours to fill up!  Thanks to my beautiful girl, I was up just before 5AM and decided to check the blog to see if anything had been posted.  Imagine my surprise when the elusive blog post was there and the message indicating that the meet-up was full was not there!  I quickly fired off my RSVP email, and then waited to hear back from runDisney.  A few hours later when I received an email congratulating me on being selected to be a part of the meet-up, I may have done a little dance.. maybe even squealed a bit.  Maybe.
We had to be at Epcot at 6:30AM to get registered and changed into our runDisney shirts.  It was so quiet and peaceful that early in the morning.  We spent a bit of time chatting with one another, all excited to see what the morning would bring.
Right around 7AM, we split into two groups.  The first group did a straight run through Epcot at a 9-ish minute per mile pace and was led by Rachel Booth.  I was tempted to run with them, we weren't running far (just under 3 miles) and I knew I could keep up, but I also knew I'd be worn out when we finished.  Plus, when am I ever going to get the chance to run with Jeff Galloway again?  The second group followed the Galloway Run-Walk-Run method with 30 second run/walk intervals.  I don't typically run intervals, so it was a bit odd.. a few times I accidentally kept running when I was supposed to be walking because I was talking and not paying attention.  Oops!
Ali Vincent, the first female winner of The Biggest Loser, also ran with our group. I'll be totally honest and say I wasn't sure who she was at first, I've never actually watched The Biggest Loser (hey, I have 2 little ones, doesn't leave a lot of time to watch tv!) but I really enjoyed talking to her. She was so easy to relate to, so motivating. I'm really glad I had the chance to meet her!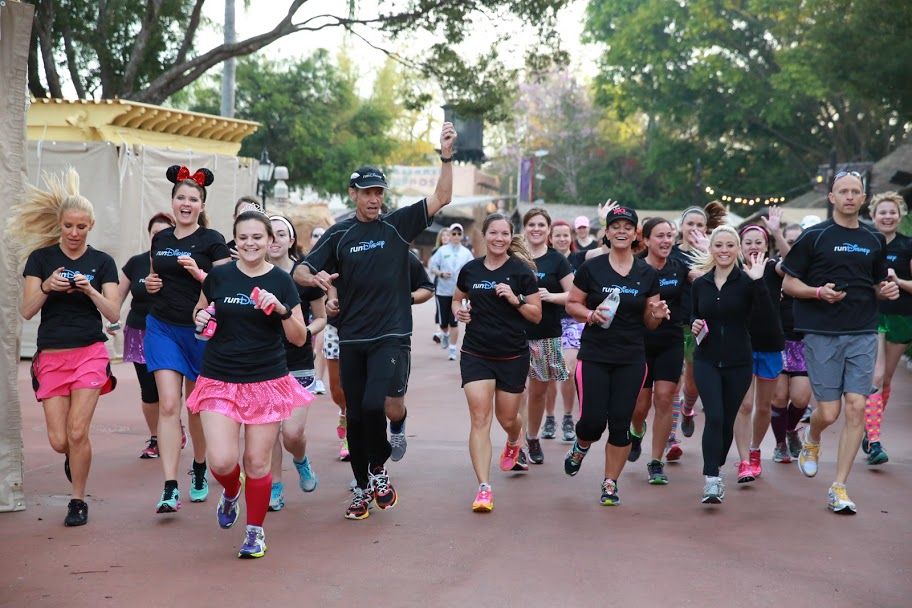 Our run took us through the World Showcase in Epcot, out through Disney's Boardwalk, and then we looped back through Epcot and ended in Germany, at Biergarten.  Breakfast was waiting for us, so we all grabbed a plate and settled in to listen to the speakers.  First up was Faron Kelly.  He told us a bit about the history of the Princess Half Marathon and thanked us for making it such an incredible event.  He said this year was the first year that female runners outnumbered male runners at the Disney Marathon.. amazing!  I'm thinking about running it next year, but lets see how my first half marathon goes first!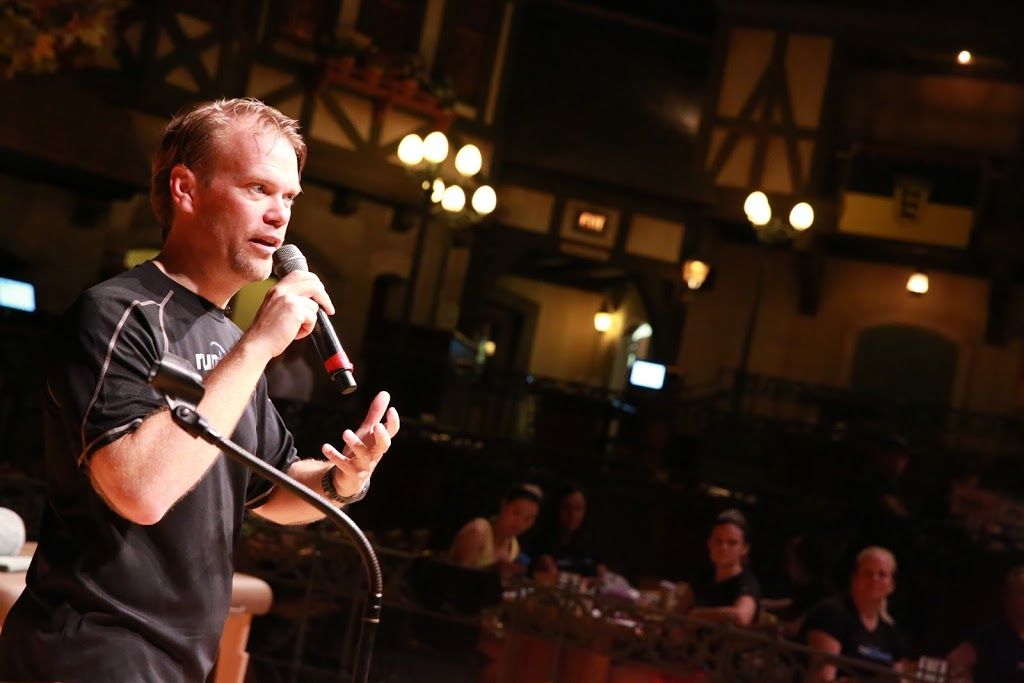 Next up, Jeff Galloway (the offical training consultant for runDisney) and Tara Gidus (runDisney nutritionist) gave us some training tips and reminded us that it was going to be a warm weekend, so hydrating was very important. Tara also mentioned that we should keep an eye out on the runDisney blog every Tuesday for her running related nutrition tips!
Rachel Booth, the winner of the 2012 Princess Half marathon took the stage next. She told us that she has been cutting back on her training lately and has really enjoyed running when and where she wants to, instead of because her training plan says she has to. Her cutting back is still nearly double my busy running weeks! I don't know how she does it, since she has two little ones too, and is very active in the running community in Lousiana, where her husband is currently stationed.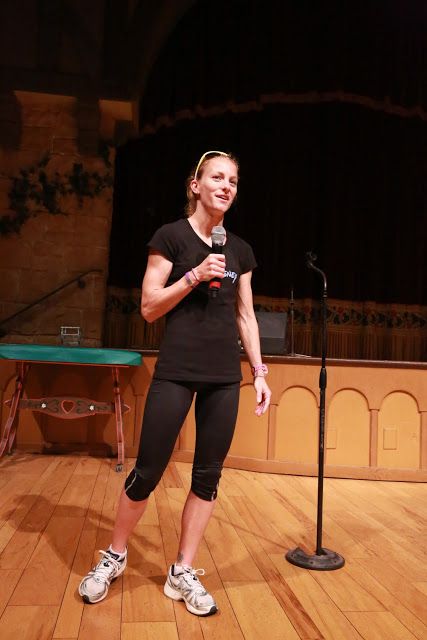 Next we heard from Ali Vincent, the first female winner of The Biggest Loser. I adored her, she spoke very candidly about things that a lot of women tend to shy away from. She lost 112 pounds on The Biggest Loser – how incredible is that? I loved that she even admitted that she doesn't love running, she does it for the sparkle. She said that running should be about celebrating what we can do. I totally agree.
Some of the staff from Senses Spa at the Grand Floridian spoke about the importance of massage (once a month, do you hear that Adam!?) and gave us some tips for self massage to help work out all of the issues that running can cause. Two lucky runners were selected for the demonstrations (aka, massages!) and a few others took home spa robes and a gift card for a post-race massage!
Josh Rowe from New Balance spoke briefly about the crazy demand for the runDisney New Balance shoes. He said that the folks over at runDisney warned him that they were going to be big sellers and that he needed to make more than 500 for the marathon expo and he didn't listen! They ended up shipping in an additional 500 that were slated to be sold at the Tinkerbell Half expo. He said not to worry though, they brought PLENTY for this weekend and they should not sell out. Then he gave away vouchers for a free pair of the highly sought after shoes – and I won!!  Thanks so much New Balance and runDisney, I'm sure I'm going to LOVE my new Minnie shoes!
We also heard from April Holmes, who is quite possibly one of the most inspirational people I've ever had the chance to meet. In 2001, she was in a train accident and one of her legs was amputated below the knee. While she was in the hospital recovering, one of her doctors mentioned the Paralympic Games to her and she didn't think it wasn't possible.  As she healed, she decided that she wanted to give it a shot, and if she was going to try, she wanted to be the best. And she is, many times over! She's broken her own world record 18 ties! She was so humble, very down to Earth. She really made me laugh when she said she has won so many gold medals that she can't even find them all!
A few closing remarks from Bob Hitchcock and we were on our way! We all received great swag bags with a water bottle, H20 body butter and facial wipes, plus a one-day park hopper ticket!  We also had a very special guest!
A few other celebs were in attendance but didn't speak, Sean Astin (The Goonies, Lord of the Rings, Rudy) and the authors of Run Like a Mother and Train Like a Mother, Sarah Bowen Shea and Dimity McDowell. We spent a few minutes chatting with them and the speakers and then it was time for pictures with some real royalty!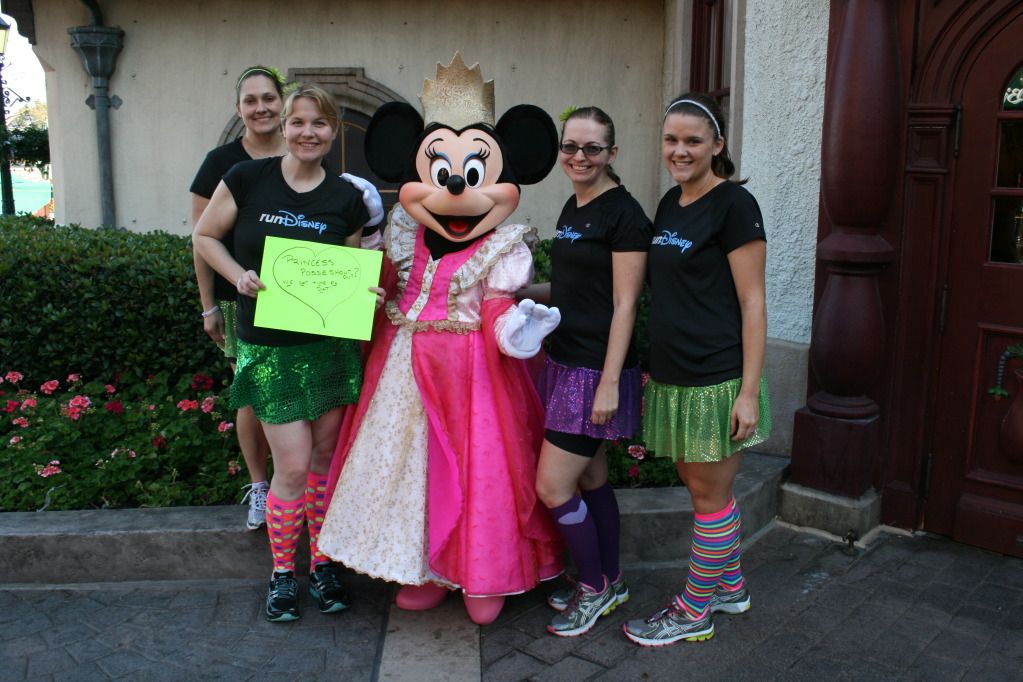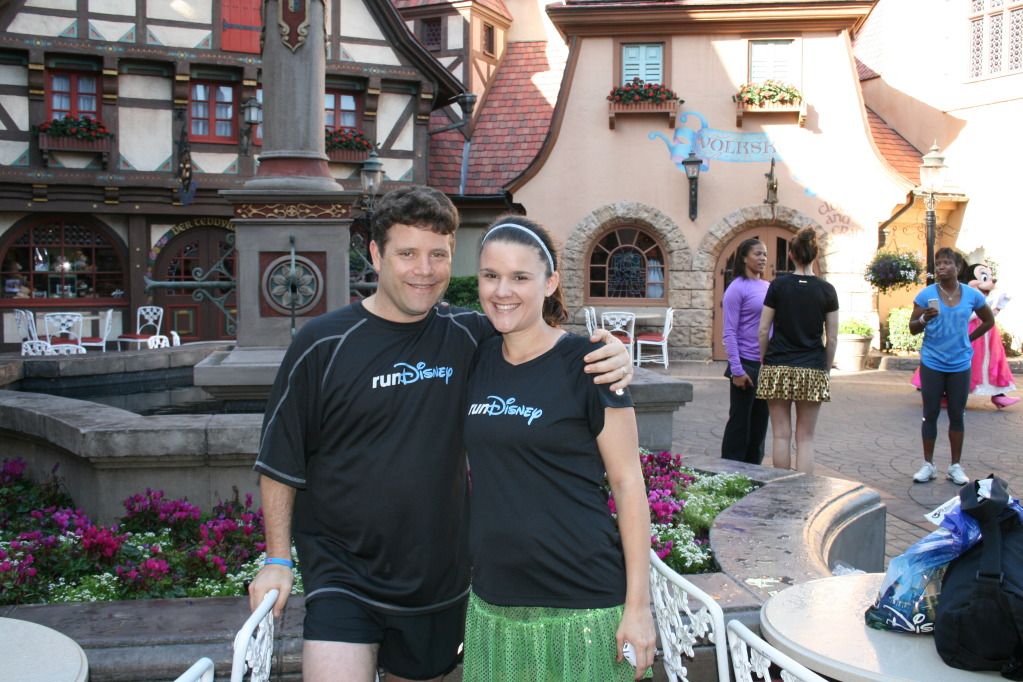 To read more, check out the other attendees recaps!
Running with Sass
Running at Disney
Disney Everyday
Disney with Children
Runners Trials
We Run Disney
Toenails Are So Overrated
Disney Parks Blog