I need to work on my food picture taking skills. This does not look all that appetizing, but it was SO good. I've never tried leeks before so I was a bit hesitant (I'm a horribly picky eater), but this was just amazing. Adam loved it too. We had it with zucchini roasted with balsamic vinegar – YUM!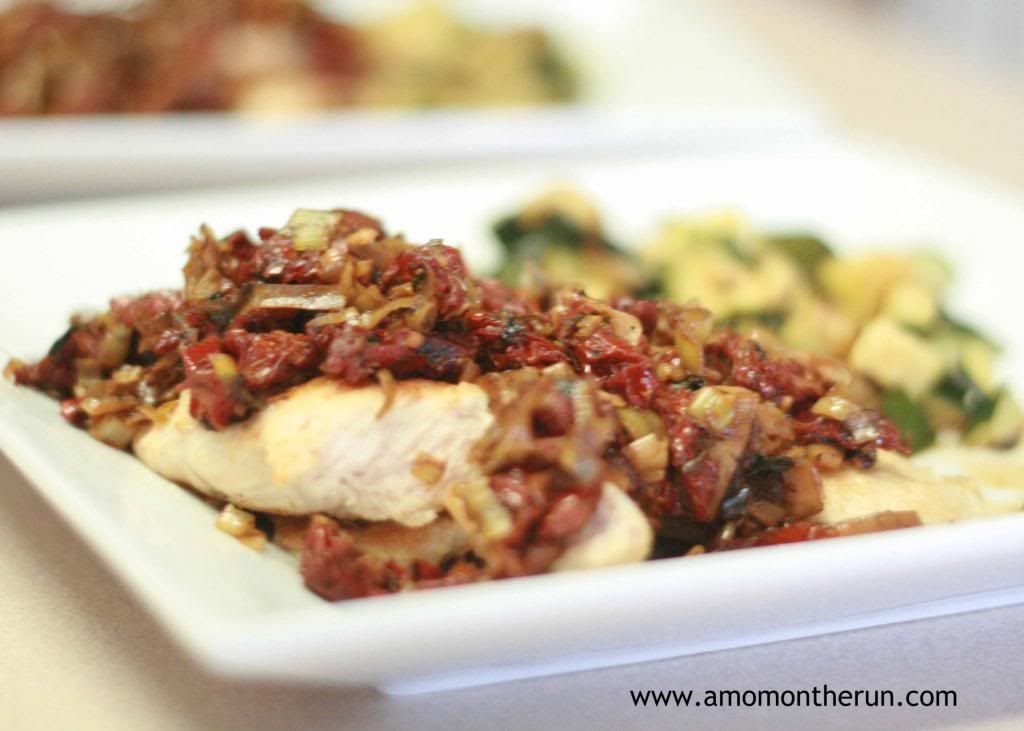 Ingredients:
1 or 2 leeks (3/4 cup) white part and light green only
16 oz (6) skinless chicken breast cutlets, sliced thin
2 tsp butter, divided
2 tsp olive oil, divided
1/4 cup all purpose flour
1 clove garlic, minced
2 oz ready-to-eat sun dried tomatoes (not in oil), sliced
1/4 cup white wine
1/2 cup fat free low sodium chicken broth
salt and fresh pepper to taste
2 tbsp chopped fresh parsley
Directions:
Cut off green tops of leek and remove outer tough leaves. Cut off root and cut leeks in half lengthwise. Fan out the leeks and rinse well under running water, leaving them intact. Slice leeks into 1/4-inch slices. Set aside.
Preheat oven to 200°. Season chicken with salt and pepper. Lightly dredge in flour shaking off excess.
Heat a large skillet on medium heat; when hot add 1 tsp butter and 1 tsp olive oil. Add chicken to the skillet and cook on medium heat for about 3 – 4 minutes on each side, or until chicken is no longer pink. Set aside in a warm oven.
Add additional oil and butter to the skillet, then garlic and cook a few seconds; add leeks, salt and pepper. Sauté stirring occasionally until golden, about 5 minutes.
Add sun dried tomatoes, wine, chicken broth, parsley; stir the pan with a wooden spoon, breaking up any brown bits from the bottom of the pan. Cook 2 more minutes or until the liquid reduces almost by half. Top the chicken with the sun dried tomato/leeks mixture and serve.
From Skinny Taste.