A few weeks ago, I was invited to a meet and greet at a new Tropical Smoothie Cafe location with the franchise owner and CEO Mike Rotondo.  If you haven't been to a Tropical Smoothie Cafe (it's okay, I hadn't!) lately, I suggest you stop in soon!  Their big focus is inspiring healthy lifestyles through their better-for-you food and smoothies that combine flavor and nutrition. As more consumers are embracing healthy eating habits and fruits and vegetables are becoming central to their diets, Tropical Smoothie Café's strong focus on healthy menu innovation using fresh fruit and vegetables could not be more relevant.  They've been working on revamping the restaurants to make them more of a place where you want to stay, relax, and grab a bite to eat.  They're not just smoothies and they are doing some really great things with their menu!
The new store concept opens up the kitchen so everything isn't behind the scenes, it's all out in front of the customer so you can see exactly what is going into your meal or smoothie and how fresh it is.  They have a smoothie bar where you can sit and watch your smoothie being made and chat with the staff.  They're a pretty friendly bunch, as I learned first hand.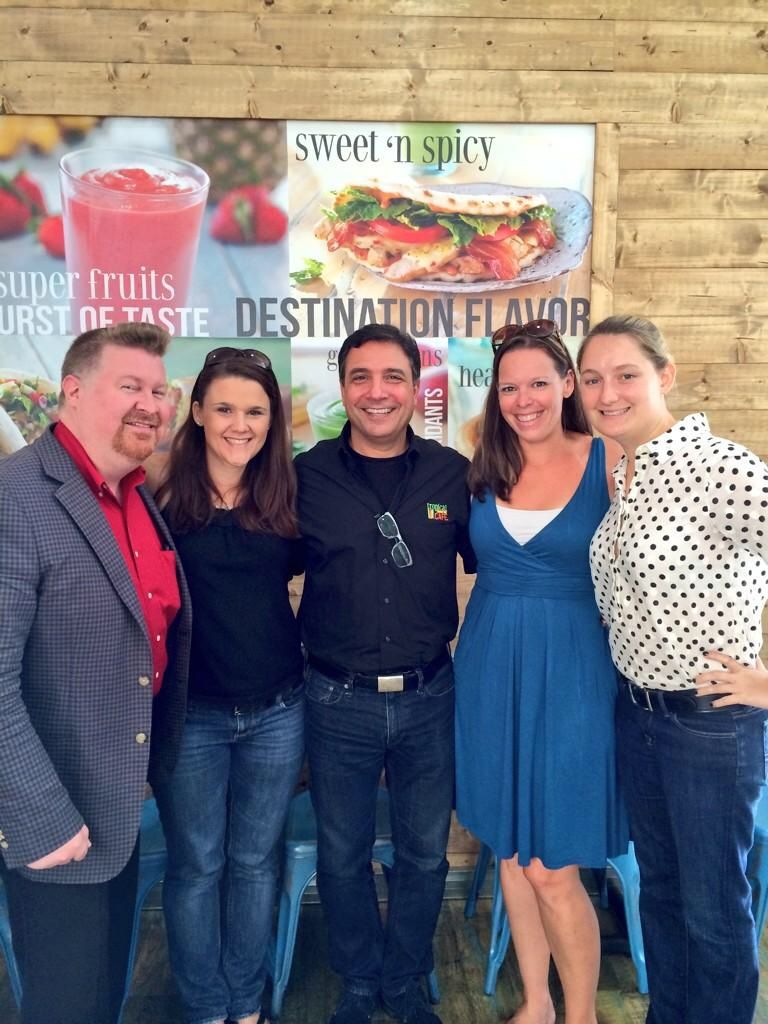 Stan, Me, Mike Rotondo, Jenn & Daisy at Tropical Smoothie Cafe.
This wasn't just a meet and greet — it was a "feed the bloggers anything they want to try" fest too, and they fed us well!  The first thing we sampled was the Island Green smoothie.  I'm a big fan of green smoothies, particularly for my kiddos.  Any way I can sneak veggies into their bellies works for me.   It was delicious and I've been back a few times for another.  Braden even gave it a thumbs up!  Mike mentioned that they are doing away with their soda machines in a lot of their restaurants too, something I personally love.  They'll have water and fresh-made lemonade, as well as smoothies.  I cut soda out of my diet a year and a half ago and haven't missed it.  It's nice that I won't have to explain to my kids why they can't have a drink from the soda fountain!
Next up was the all new UnBEETable Berry Smoothie.
Yes, beets in a smoothie.  I won't lie, I was scared.  Y'all, I'm a seriously picky eater.  I've never even tried a beet because they just don't look or smell appetizing at all to me.  I decided to put on my big girl pants and be brave though and try it.  Tropical Smoothie is actually the first national restaurant chain to release a beet smoothie and they make it with fresh whole beets—not beet concentrates or juices.  Still not sold?  They blend it with ripe strawberries, blueberries, bananas and cranberries, ensuring that we get the highest nutritional benefit out of this tasty superfood smoothie.
It was not love at first sip.  It wasn't nearly as bad as I expected though and I was pleasantly surprised that as I sipped on it, the "earthy" flavor of the beet kind of fell to the back and you could taste the fruit flavors coming through.  I wouldn't order it again, but the others in the group (all beet lovers!) really enjoyed this one, so if you're a fan of beets then I'd definitely recommend trying it!
UnBEETable Berry Smoothie
Next we tried another green smoothie, Totally Green.  It's an amazing blend of cucumber, green apple, kale, spinach, celery and kiwi.  Seriously delicious.  It's not as popular as the Island Green, but I think I actually liked this on better.
Finally, we got our hands on their delicious new noodle bowls.  I probably shouldn't tell you exactly how many of these I've consumed since they rolled out last month.  Mike told us that Tropical Smoothie really works hard to make sure that their menu offerings are fresh and new, they try new things and if they're popular then they will probably be added to the menu and if not, they'll try something else.  I definitely hope the noodle bowls become a permanent addition to the menu.  "Our consumers seek out unique tastes and flavors inspired by global cuisine," said Lisa Wenda, CMO of Tropical Smoothie Café. "Our noodle bowls use a blend of real Asian spices —like sesame, red pepper and ground ginger— and flavorful, one-of-a-kind sauces that create two truly unique, authentic tastes that will transcend your taste buds to another place."
First we tried the Grilled Miso Chicken, which is a mix of grilled chicken, edamame, shredded carrots, scallions, cucumber, sesame seeds, noodles, and a bed of baby spinach, topped with a Carrot Ginger Miso Sauce. I really loved the dressing in this and the edamame was a very nice surprise. If you're not a meat eater, they'll happily substitute a meat-free option or you can nix the chicken and ask for any extra topping.  You can also swap out the chicken and steak in the noodle bowls — yay for customization!
Last up was the Spicy Mongolian Steak. It is sliced, marinated steak that is tossed with green and red peppers, scallions, sesame seeds, noodles and a Spicy Asian BBQ sauce on a bed of noodles. I'm not a steak eater. I actually couldn't tell you the last time I had steak. I wanted to give a fair review though, so I closed my eyes and dove in. I was definitely pleasantly surprised.  I think I actually liked the Mongolian Steak bowl better than the Grilled Miso Chicken. The sauce definitely had heartier taste to it than the Ginger Miso sauce and it had a kick. Not too spicy, but a bite that I really enjoyed.
So now that you're hungry for noodles and smoothies, I have some really great news for you!  Tropical Smoothie Cafe gave me a $25 gift card to give away to one of you so that you can try out their new menu options as well!  All you have to do is enter to win using the Rafflecopter below!  Good luck!!
Disclosure:  Tropical Smoothie Cafe provided me with free gift cards and samples in exchange for an honest review.  I also won a VitaMix blender in a raffle at the Meet and Greet event.  All opinions are my own.