If you're like me, there's a good chance that you've never heard of Earth Fare.  I didn't even know that they were coming to Jacksonville until I received an email asking if I'd like to come in and take a sneak peek at their store.  After checking out their website, I was eager to head over and see what they had to offer!  Actually, a better way to look at it is what they do NOT offer:
NO High-Fructose Corn Syrup
NO artificial fats or artificial trans fats
NO artificial colors
NO artificial flavors
NO artificial preservatives
NO artificial sweeteners
NO antibiotics or synthetic growth hormones in our fresh meat or dairy
NO bleached or bromated flour
When Earth Fare bans an ingredient, it goes on their Boot List, and items containing it get the boot from the store.  I cannot explain how happy this makes me.  I feel like I waste so much time in the grocery store weeding through the junk and trying to find foods that I feel comfortable feeding my family, specifically my kids.  I spend half the time arguing with my kids over why they can't get the junk-filled snacks that fill the shelves of the traditional grocery store.  As Braden and I walked around Earth Fare, he pointed out several things that he wanted to try and I loved being able to tell him "Sure buddy!" instead of trying to explain why artificicial sugar is bad to a 6-year-old.
Another huge perk, especially for those with kids, is that they'll let you try most of the products on their shelf.  If you don't like it, you don't have to buy it.  Braden was thrilled that our tour guide let him sample one of their kids line of vitamins and some of the treats from the bulk candy bin.  And also, if you do happen to take something home and you're not satisfied with it in any way, you can bring it back in for a full refund!
Earth Fare's mission is to connect communities and improve lives through food.  Their vision is to be the most trusted organic and natural food market in the country – a place where healthy decisions are easy, people have confidence in the food they buy and everyone feels welcome.
Another thing I was thrilled to learn is that Earth Fare loves to buy local!  Their shelves were stocked with LOTS of local options.  When they say local, they don't mean in our region or even in Florida – it has to be 100 miles or less from the store or it's not considered local.  They make it easy to find local options on their shelves with this icon.
The cheese selection at Earth Fare was incredible and I had to resist the urge to buy one of everything when I stopped in during their grand opening this morning! The staff is also super friendly and can give you lots of ideas for what to pair their cheeses with. I definitely plan to pay them a visit before our next party.
Forgive the quality of the next two pictures – I forgot to take pictures during the tour yesterday (blogger fail!) and it was packed this morning and I had a 33 pound pre-schooler on my hip. As a pasta lover, this was possibly my most favorite thing in the store. Scoop your own ravioli! The flavors sounded incredible and I love how fresh it is!
And this.. this makes me wish that they were closer to my house. They have a great salad bar and hot bar – all for just $6.99/pound. Having this closer to home would make it so much easier to get dinner on the table on the nights we are running around to karate, ballet, gymnastics.. and on Thursday nights, up to six kids eat free for every $5 or more adult entree you buy. I could feed Braden's entire t-ball team for free when I buy dinner for myself and Adam! Maybe if I ask really sweetly they'll open a store in Fleming Island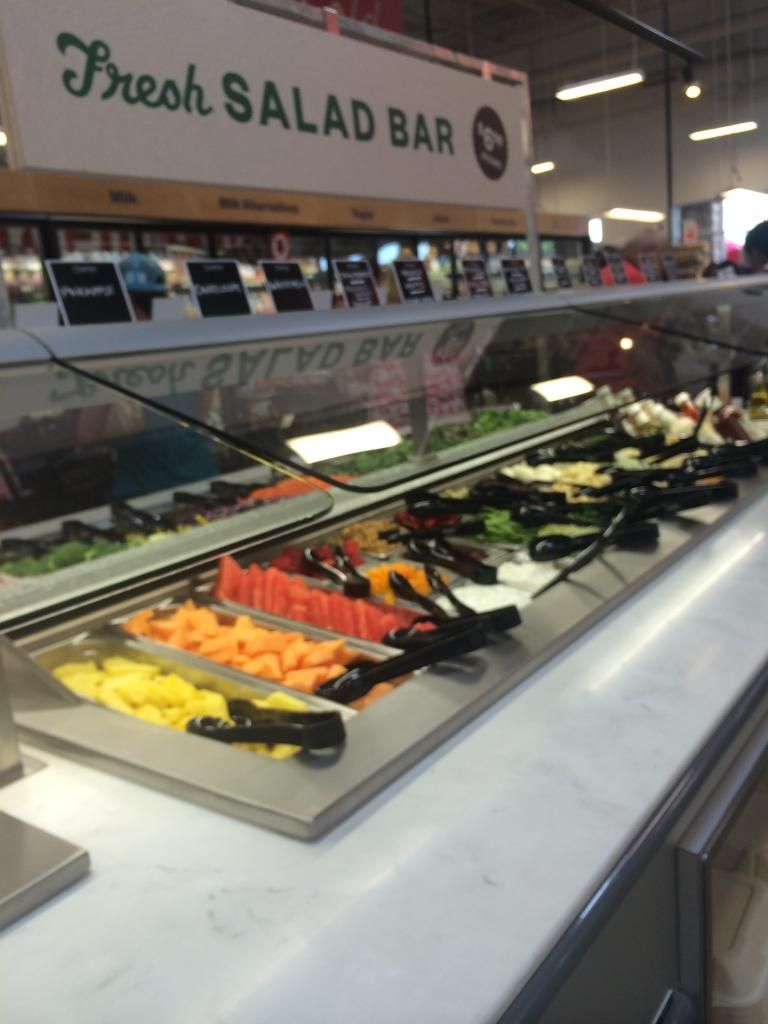 Sounds great, right? You want to check it out right now, right? I thought so! The Jacksonville location has fun grand opening events going on for the rest of the week and through the weekend so you should definitely check it out! You should also enter to win a $50 giftcard so you can stock up on old favorites and maybe find a few new ones!
To enter to win the $50 Earth Fare giftcard, enter using the Rafflecopter below! Just a note, while the giftcard was given to me by the Earth Fare Jacksonville location, it is good at any of their other locations too. Good luck!
Disclosure:  Earth Fare provided me with two $50 gift cards in exchange for an honest review – one to keep and one to give away.